Our Partnerships in Australia

We work with the Australian community, our partners and other organisations to arm the innovators and community leaders of tomorrow with the skills and experiences that will be critical to Australia's future success.

Samsung has worked with various partners across a range of projects, collaborations and strategic partnerships. Each year Samsung supports every state and territory in Australia through our relationships with the CSIRO, University of Canberra, Questacon, Social Ventures Australia and University of South Australia.
Samsung SMARTSchool at UniSA
UniSA and Samsung have created one of the most technologically-advanced teacher-training facilities in the country.
The Samsung SMARTSchool at University of South Australia joins a community of more than 3,000 Samsung Smart Schools globally.
The Samsung SMARTSchool provides an enriched learning environment for students from reception to Year 12, as well as an advanced teacher training, informed by practice-based learning and research into the future of learning.
Questacon, The National Science and Technology Centre
Samsung's support is particularly focused on Smart Skills Workshops. The workshops tour regional and remote Australia, providing hands-on learning for students and teachers.
Over the past three years, the Questacon Smart Skills program has engaged more than 20,000 students and more than 2,000 teachers from 290 schools across the Australia.
We work together with Questacon to provide students in regional Australia access to quality learning experiences supported by cutting-edge technology through the Smart Skills workshops. The workshops provide teachers and students the opportunity to learn how to harness the power of smartphones, tablets and VR to innovate, design and experiment.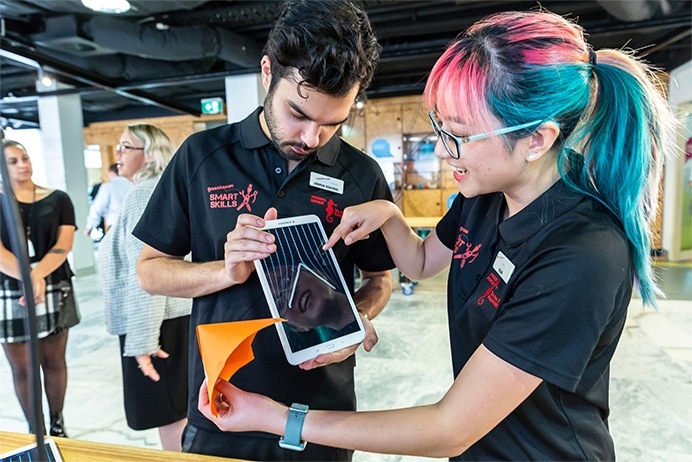 Social Ventures Australia's Bright Spots Schools Connection
The Bright Spots Schools Connection is a network of approximately fifty schools across three states, convened and supported by Social Ventures Australia. As Technology Partner of the Connection, Samsung learns from as well as supports and champions these schools, as they deliver the highest quality education to their students.
With our support, Social Ventures Australia has expanded the Bright Spots Schools Connection to include the STEM Learning Hub; these schools are investigating what effective STEM education looks like in Australian schools.

The program offers professional development and support for school leadership, as well as access to STEM intervention strategies and resources, enabling teachers to advance their students' knowledge, and respond to their changing education demands, students are equipped with the STEM skills needed for future prosperity.

Samsung contributes to Bright Spots in a variety of ways including funding and provision of technology and technical expertise.