Our Commitment
PlanetFirst: Earth as our priority
"PlanetFirst"
Our slogan incorporates Samsung Electronics' determination and action to put Earth and the environment. Samsung Electronics laid the foundations for Eco-management as a philosophy for the 21st century in the Samsung Environmental Declaration in 1992. Since then, we have gone beyond mere passive adherence to environmental regulations and laws. We have put Eco-management into action, offering our customers eco-friendly solutions and leading the way to a sustainable future. A healthy environment is essential to our future.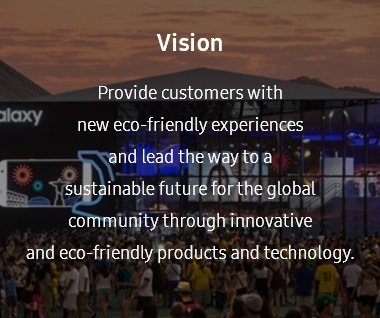 KPI : Green Management
At Samsung Electronics, we have set the following green management goals to reduce greenhouse gas, to manufacture products with minimal environmental impact, and to achieve a circular economy.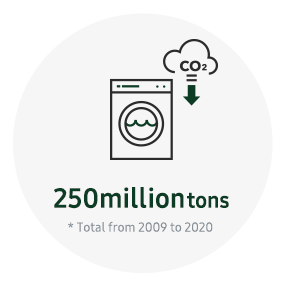 Greenhouse gas reductions in product use phase
Compliance of newly developed products with Eco-Label standards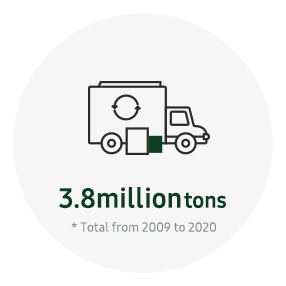 Waste product collected globally
Waste recycling rate of Samsung Locations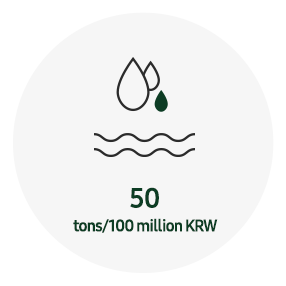 Climate Action
Climate change affects every part of the world.
Through greenhouse gas reductions and related initiatives, our climate change response is focused on change for a sustainable, green future.

Environmentally Conscious Products
Electronics can be made more environmentally conscious.
At Samsung Electronics, we consider the environment when developing all of our products, starting with the planning phase.
We strive to use advanced technology to make life more convenient and eco-inspired.

Resource Efficiency
The Earth's limited resources need to be conserved, used longer, and recycled.
Samsung Electronics is continuing its research to maximise resource efficiency.

Environmentally Conscious Worksites
The worksites where products are made are not exempt from environmental concerns.
Humans and nature coexist at Samsung Electronics' environmentally conscious worksites.
Sustainable Supply Chain
By sharing the value of Eco-management with our partners,
we are building a safer and more environmentally conscious supply chain.
Communication & Engagement
Samsung Electronics publishes its environmental policies and performance transparently.
To preserve the environment, Eco-management takes into account even the smallest voices, making communication and engagement open to all.