Report & Policy
Accountable Information Disclosure and Clear Communication
We publish Sustainability Report annually and disclose relevant policies in order to communicate our sustainability management performance with the stakeholders.
On Main Approaches to Sustainability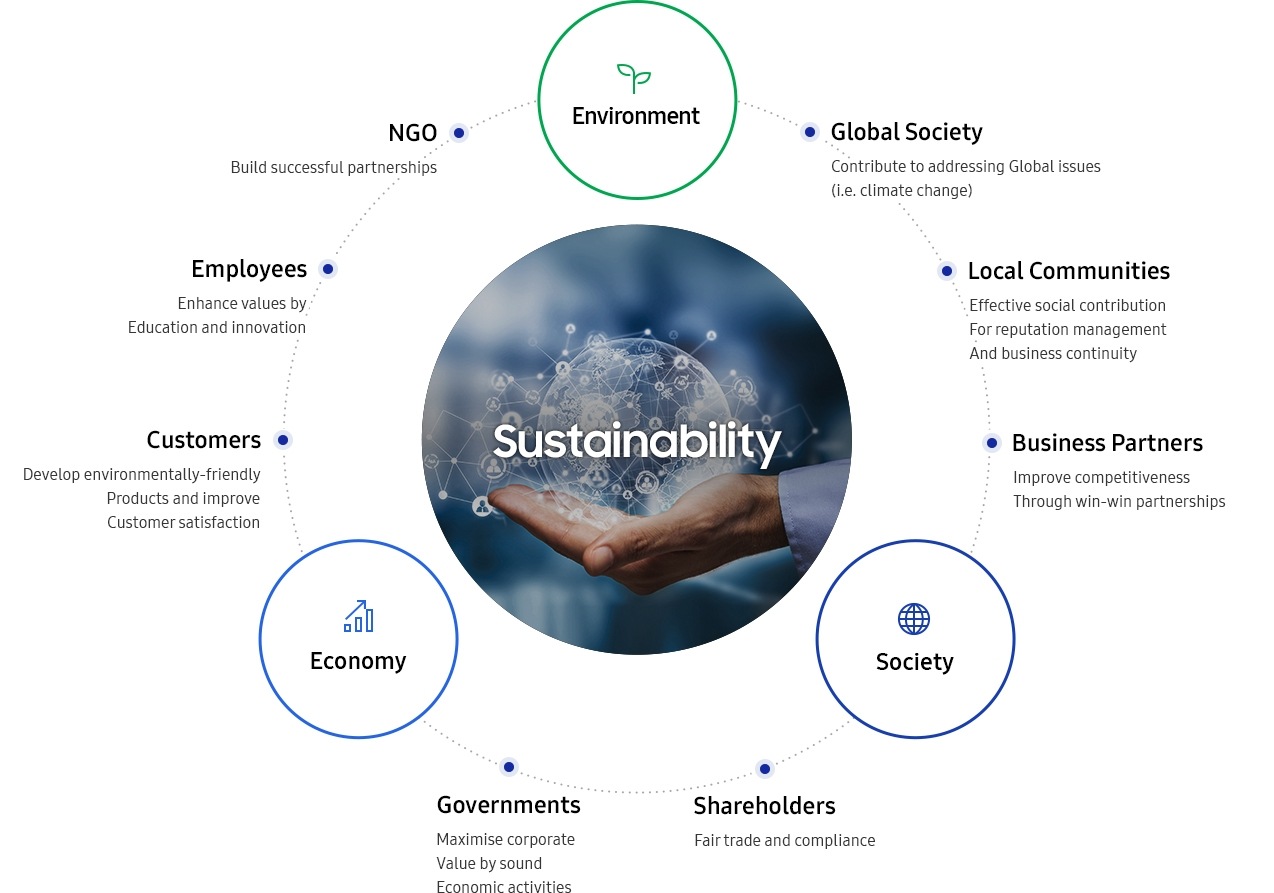 Global Society
Contribute to addressing Global issues
(i.e. climate change)
Local Communities
Effective social contribution for reputation management and business continuity
Business Partners
Improve competitiveness through win-win partnerships
Shareholders
Fair trade and compliance
Gobernments
Maximise corporate value by sound economic activities
Customers
Develop environmentally-friendly products and improve customer satisfaction
Employees
Enhance values by education and innovation
NGO
Build successful partnerships
Sustainability Report
Integrating corporate management and sustainable development is an issue of increasing importance in the business world, amid increasing expectations for social and environmental responsibility. In response, we have been improving the process of collecting stakeholders' ideas and setting up corporate-wide vision and strategies for sustainable development. We have designated economic, environmental and social responsibilities as the key elements of our sustainable management. We are committed to continuing to identify our various stakeholders, build positive relationships with them and ultimately enhance our value for both the company and the stakeholders.

*The Sustainability Report has been created by Samsung Electronics Co. Ltd based in South Korea. The report is intended to be a global sustainability report and may contain material which may not be applicable to Australia and local Australian standards.
Business Conduct Guidelines
In 2005, Samsung Electronics introduced the 'Global Code of Conduct' as a reference guide to our approach to accountable and responsible business practices. Over the years, expectations from various entities - including NGOs, governments, customers, shareholders, suppliers and employees - have grown along with our responsibility as a global corporate citizen. In this spirit, Samsung Electronics has updated and revised the 'Business Conduct Guidelines' that provide a specific direction for sustainable management, published for the first time in last year's Sustainability Report.
Supplier Code of Conduct
Samsung will also seek partnerships with key stakeholders such as NGOs, governments and local communities in order to improve the Guidelines continuously and make sure they are consistent with local labour law and Samsung's Business Conduct Guidelines.
Supplier Code of Conduct Guide
Policy to Responsible Sourcing of Minerals