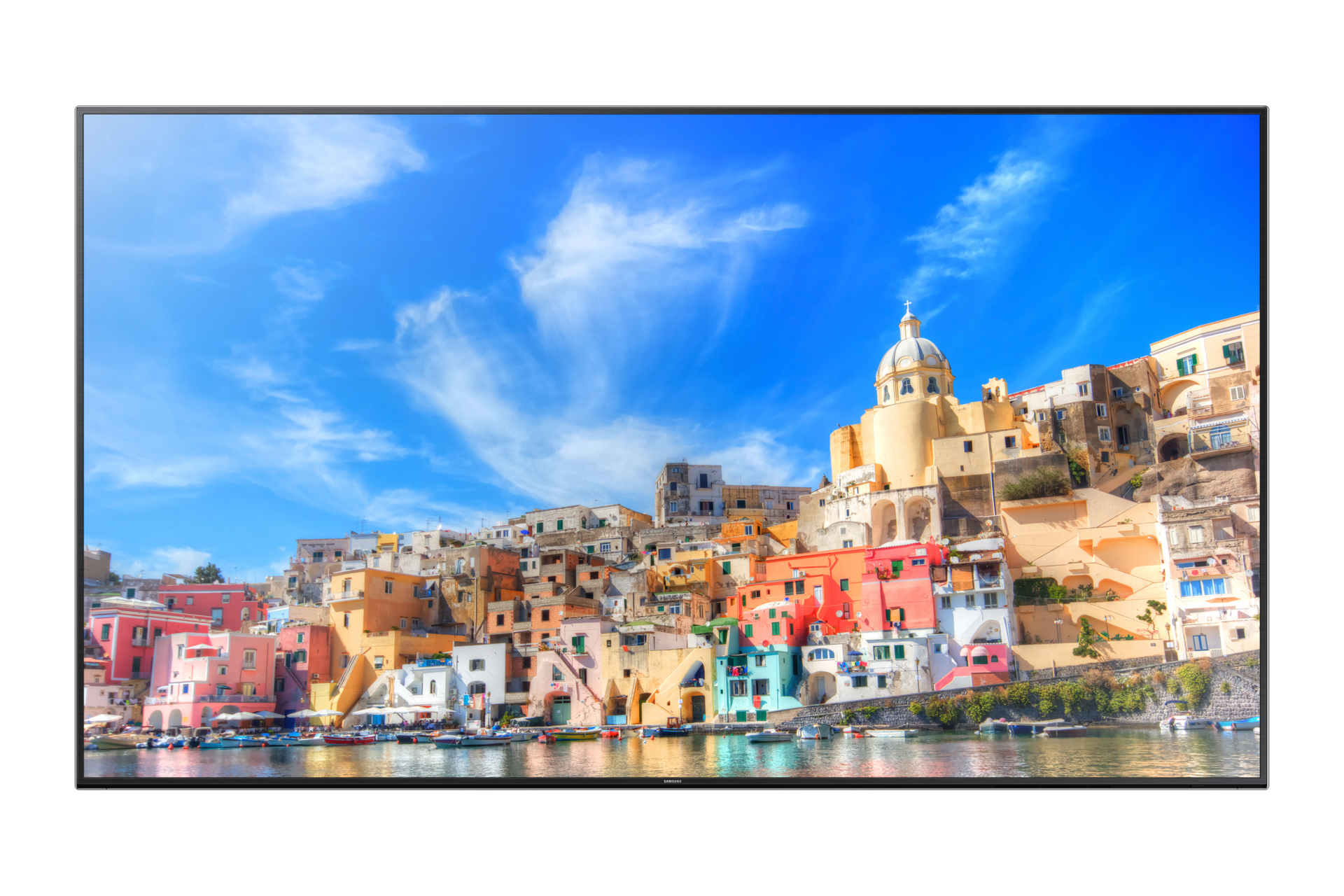 LH85QMDPLGC/XY
Professional Display QMD Series 85"
Deliver your business message in ultra-realistic detail
Display content in vibrant colours
QMD Series SMART Signage delivers four times the number of pixels as a Samsung FHD resolution display Samsung's upscaling technology helps adjust lower resolution content to fit on the UHD resolution QM85D Series display. The QMD Series supports DisplayPort® (DP) 1.2 connectivity, which is capable of streaming UHD video at a refresh rate of 60 Hz. This high refresh rate helps to provide smooth video playback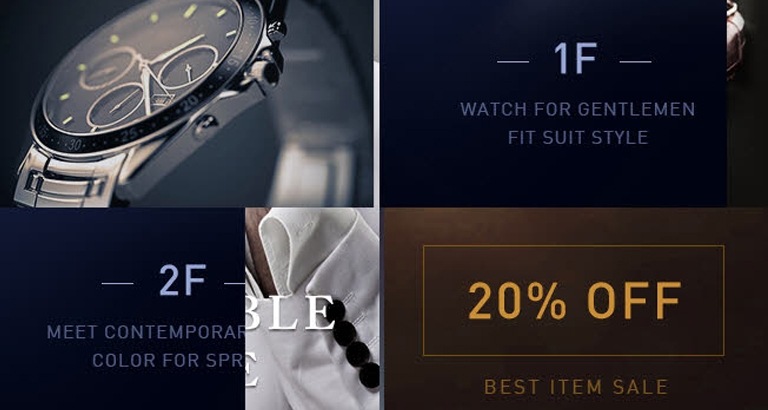 Display content from four FHD sources on a single UHD display
With the QMD Series you can display content from four FHD sources on a single UHD screen. This feature includes the ability to display content from four separate FHD digital input devices on the same screen. (cables and digital input devices not included). Picture-in-Picture (PIP) and split-screen scenarios are possible for dynamic and efficient display usage, such as displaying a video conference on a large part of the screen along with reference documents sourced from a different compatible device on another part of the screen. Or retailers can display a large product image next to a specifications list on the same screen. QMD Series SMART Signage is equipped with three DPs (1.2*2, 1.1*1), three High-Definition Multimedia Interface® (HDMI) ports, DVI ports and one D-sub port for added flexibility (one DP cable included).
Superb usability with flexible configurations and 16/7 operation
The QMD Series has been engineered to meet the demands of traditional commercial environments with 16/7 reliability and flexible features for enhanced viewing. Features include the pivot mode, which enables you to install the displays in a landscape or portrait orientation to suit your environment while still delivering the impactful qualities of digital signage. And the sleek, modern design of the displays fits into virtually any business environment, helping to create ambiance.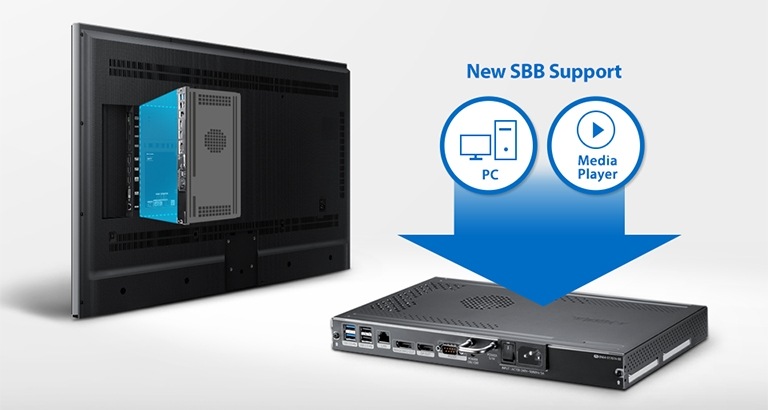 Create a streamlined display area with Samsung's detachable SBB option
Because UHD is relatively new to the commercial market, few media players currently support UHD streaming. To meet this demand, Samsung plans to introduce an optional UHD-capable set-back box (SBB) in the late third quarter of 2014. The small-sized SBB is designed to attach to the back of the QMD Series displays, simplifying installation and eliminating unnecessary wire clutter and the need for a separate media player housing. This high-performance SBB features an embedded Haswell 4th Generation Intel® Core™ i5 CPU with a 4 GB DDR3 memory and comes with Samsung MagicInfo® software for easy content management.
Intel and Intel Core are trademarks of Intel Corporation in the U.S. and/or other countries.
Interactive Touch Option
Transform Samsung's QM85D SMART Signage Displays into Interactive Touchscreens
The adaptive touch module option model CY-TQ85LDAF (sold separately) can convert a QM85D display into a touchscreen for an impressive interactive viewing experience. A low glare treatment on the front of the glass is designed to assist with the writing experience.
Features and specifications are subject to change without prior notification. Images are used for illustrative purposes only.
Images used for display purposes only
Manual Download
Professional Display QMD Series 85" (LH85QMDPLGC/XY)
Manuals

2017.04.12

User Manual ver 03

(ENGLISH)

2015.03.18

User Manual ver 1.0

(ENGLISH)

2014.08.05

Quick Guide ver 00

(ENGLISH, INDONESIAN, VIETNAMESE)