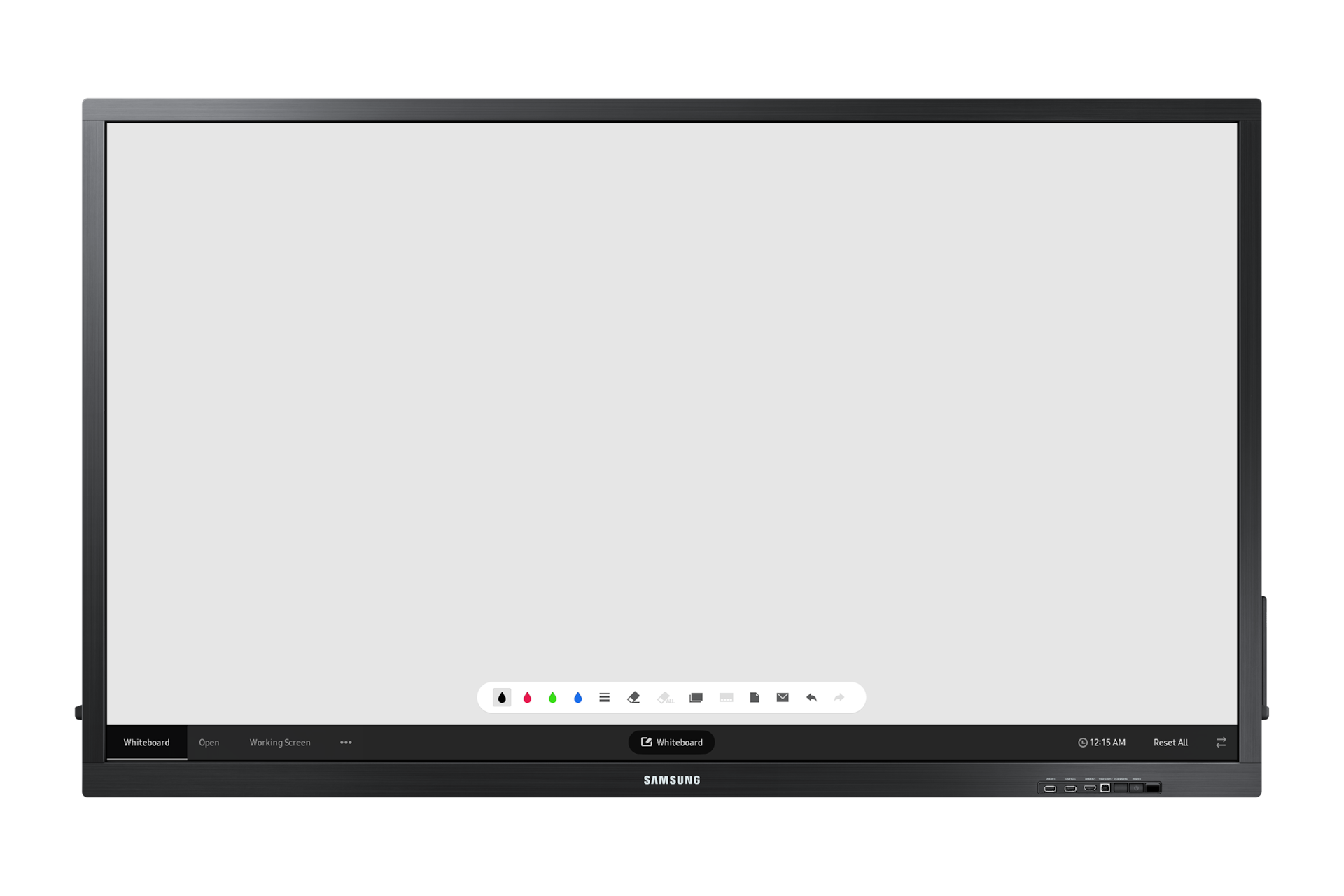 LH65QBHRTBC/XY
65" Q Series Touch UHD Commercial Panel QB65H-TR
Enhanced touch unctionatity
Heightened collaboration with embedded MagicIWB S5
Crisp, clear UHD resolution
Revitalise productive collaboration
An all-in-one arena, where enhanced touch technology, intuitive MagicIWB S5 solution and UHD picture quality come together to help boost productivity and collaboration through engaging, efficient interaction.
Enhance touch, enhance capacity
Leverage heightened touch functionality for a smooth and versatile digital writing experience. Up to four users can write simultaneously using the provided pen or other compatible tools.
Elevate collaboration quality
The embedded MagicIWB S5 facilitates discussion management, with an intuitive interface for quick access to vital collaborative functions, such as screen mirroring and real-time notation.
Switch sources seamlessly
Through the Working Screen function, users can quickly switch between multiple screens, such as the whiteboard, internet browser and connected input sources, with just a few touches.
Retrieve and control content remotely
Pull and edit content on compatible remote laptops directly through the central screen utilising touch functionality. The powerful Knox system secures the Remote Workspace connection to help protect information.
Connect with convenience
Each e-board offers a wide range of connections including HDMI, DVI-D, DP and USB ports, where users can load, share and revise content directly from their compatible personal devices.
Amplify visual presentation
Help bring collaborative ideas to life with UHD picture quality. Through ultra-high resolution, ensure all notations and introduced content are clear and legible for every participant.
Maintain organisation with style
Drive organised collaboration with a sleek, sophisticated design. The magnetic side pen holder and frontal connection ports help keep necessary functions within reach, without the mess.
Features and specifications are subject to change without prior notification. Images are used for illustrative purposes only.
Manual Download
65" Q Series Touch UHD Commercial Panel QB65H-TR (LH65QBHRTBC/XY)
Manuals

2018.05.18

User Manual ver 01

(ENGLISH)

2018.01.30

Quick Guide ver 00

(ENGLISH, ARABIC, CHINESE, FRENCH, PORTUGUESE, VIETNAMESE)

2018.05.02

Install Guide(MagicInfo Express 2 Setup for Windows ) ver 3.0 1011.8

(KOREAN, ENGLISH, ARABIC, BULGARIAN, CHINESE, CHINESE, CROATIAN, CZECH, DANISH, DUTCH, DUTCH(BEL), ESTONIAN, PERSIAN, FINNISH, FRENCH, FRENCH(FRANCE), GERMAN, GREEK, HEBREW, HUNGARIAN, INDONESIAN, ITALIAN, LATVIAN, LITHUANIAN, NORWEGIAN, POLISH, PORTUGUESE, ROMANIAN, RUSSIAN, SERBIAN, SLOVAK, SLOVENIAN, SPANISH, SWEDISH, THAI, TURKISH, UKRAINIAN, VIETNAMESE)

2018.05.02

Install Guide(MagicInfo Express 2 Setup for MAC) ver 3.0 1011.8

(KOREAN, ENGLISH, ARABIC, BULGARIAN, CHINESE, CHINESE, CROATIAN, CZECH, DANISH, DUTCH, DUTCH(BEL), ESTONIAN, PERSIAN, FINNISH, FRENCH, FRENCH(FRANCE), GERMAN, GREEK, HEBREW, HUNGARIAN, INDONESIAN, ITALIAN, LATVIAN, LITHUANIAN, NORWEGIAN, POLISH, PORTUGUESE, ROMANIAN, RUSSIAN, SERBIAN, SLOVAK, SLOVENIAN, SPANISH, SWEDISH, THAI, TURKISH, UKRAINIAN, VIETNAMESE)

2016.09.09

Install Guide(MagicInfo Express 2 User Manual) ver 2.6_1.2

(ENGLISH, ARABIC, BULGARIAN, CROATIAN, CZECH, DANISH, DUTCH, ESTONIAN, PERSIAN, FINNISH, GREEK, HEBREW, HUNGARIAN, INDONESIAN, LATVIAN, LITHUANIAN, NORWEGIAN, ROMANIAN, SERBIAN, SLOVAK, SLOVENIAN, UKRAINIAN, VIETNAMESE)