A next generation phone for the next generation.
Building on 10 years of smartphone innovation come Galaxy S10e, S10, and S10+, ready for the challenges across diverse business industries. Make your workday more productive with Samsung DeX. Use the Ultrasonic Fingerprint built into the bezel-less display,* and take advantage of outstanding security from Samsung Knox. Introducing the Galaxy S10e, S10, and S10+. Next generation mobile technology, productivity, and security, all designed for the next generation of business.
*Ultrasonic Fingerprint only available on Galaxy S10 and S10+. Galaxy S10e has a Fingerprint Scanner located on the power button.
Innovation to help you outperform across industries.
The next generation of business is here. Always open. Always mobile. Always connected. Whether you work remotely, out in the field, or from the office, Galaxy S10e, S10, and S10+ helps your workday run smoothly even at your busiest across diverse businesses and industries. Meet the next generation Galaxy S10e, S10, and S10+, innovated to enable next generation business to succeed.
GOVERNMENT
The phone that helps you go further to take your mission to the edge.
Samsung is working to deliver cutting-edge, government-focused, mobile technology solutions for endpoint security, immersive training, and workforce productivity that meet your mission needs.
Finance
Solutions that help you move finance forward.
In a changing industry, Samsung technology helps financial professionals to serve customers anywhere, reimagines bank branches for a mobile world, and helps safeguard solutions with outstanding mobile security.

Manufacturing
Manufacture.
At the speed of business.
Connect to workstations and work on the go with one easy-to-carry device. So tasks from pulling up equipment records to checking inventory, resource planning, and schematics are seamless. From anywhere, anytime.

Retail
Reimagining
and reconnecting retail.
Give more attention to customers without disrupting your work. Your work can start at the desk and finish on the go with one device. So you can seamlessly bounce between your customers' needs and managerial tasks, and still get it all done.




*Onscreen image simulated for illustration purposes.
Productivity
Phones are now one of the most used work devices. You need to be able to edit documents, multitask, and share ideas while on-the-go. Powered by Samsung DeX and created with groundbreaking technology and design, Galaxy S10e, S10, and S10+ help keep you on track and focused, wherever you work.
SAMSUNG DEX
Mobile-powered desktop-like computing.
Set up your office when and where you need to. Connect your S10e, S10 or S10+ to any screen with a simple DeX Cable or USB-C to HDMI adapter, and it has the power to turn your smartphone into a laptop-esque experience.* The dedicated PC-like UI lets you drag and drop, right click, and type, using your phone as a touchpad and keyboard. Take notes, watch videos, edit presentations, all at once. Powered by Samsung DeX, Galaxy S10e, S10, and S10+ turn into a full workstation that works almost like your laptop wherever you go.
*Requires compatible monitor and USB-C to HDMI cable, sold separately. Certain apps may not run or require license (for purchase) on Samsung DeX. Some functions of Samsung DeX with HDMI adapter or cable may differ from those with DeX Pad.
GO TO SAMSUNG DEX
DESIGN
A big work space for big ideas.
The Infinity-O Display offers a truly uninterrupted view. So it's excellent for viewing and editing documents on-the-go and makes it easy to multitask across different apps. The stunning display with durable Gorilla Glass 6* gives you an amazing view of presentations, photos, or anything you need for work. With the S10 and S10+ in-display fingerprint sensor,** it's quick and easy to unlock in various work environments.
*Gorilla Glass 6 only available on Galaxy S10 and S10+ front glass. The rear glass on Galaxy S10 and S10+ and all of Galaxy S10e are made with Gorilla Glass 5.
** In-display ultrasonic fingerprint sensor supported on Galaxy S10 and S10+ only. Not available on S10e.
DISPLAY
Next generation Dynamic AMOLED Display.
The Dynamic AMOLED screen helps you see clearly in bright daylight or low light. The Eye Comfort Display can intelligently block harmful blue light to help minimize eye strain without distorting the image colors. And the cinematic display equipped with HDR10+ uses dynamic color mapping to deliver realistic color and contrast in every scene — even the dark ones, so you won't miss any details.*
*TUV Rheinland, a globally recognized certification institute, awarded Galaxy S10e, S10, and S10+'s display the Eye Comfort Certification based on its ability to drastically reduce the harmful effects of blue light. This certification can be found on www.tuv.com with the ID 1419064785. Galaxy S10e, S10, and S10+'s display has been also endorsed for Color Gamut 100% of DCI-P3 (Digital Cinema Initiatives) coverage, which is a common RGB color space for digital movie projection in the film industry.
*HDR10+ content required.
MULTI-CAMERA
Capture the bigger picture.
Capture the scene as you see it whether you're in the field or a meeting room. Galaxy S10+ has 3 rear cameras and 2 front cameras, helping you take true-to-life pictures, even in low-light environments.* If you're capturing the presentation stage or a building interior, the 16MP rear Ultra Wide Camera helps ensure you don't miss the details. The pro-grade camera gives you a full kit of lenses,** pro-level action camera and a built-in intelligent photo assistant.
*3 rear cameras and 2 front cameras available on Galaxy S10+. 8MP RGB Depth Camera only available on Galaxy S10+. Galaxy S10 has 3 rear cameras and 1 front camera, and Galaxy S10e has 2 rear cameras and 1 front camera.
** Zoom lens not available on S10e.
BIXBY ROUTINES
The phone that's ready for your business.
Galaxy S10e, S10, and S10+ can adapt to your life. Start your workday right by getting into the car, playing music, and having Maps pull up directions to the office. Have your email and calendar app provided as lockscreen shortcuts before you arrive at work. When you get into the office, thanks to Bixby, your phone can automatically switch to office settings, like turning on vibrate and Wi-Fi. With Bixby, Galaxy S10e, S10, and S10+ can learn your habits and suggest apps to help your work day go smoother, or you can create your own custom routines to be ready on your own time.
Performance
Our working lives are busier than ever. To succeed, you need the right phone that can keep up with your business. Galaxy S10e, S10, and S10+ are the ideal companions to enhance your workday. With a powerful All Day Intelligent Battery* and an intelligent system that optimizes your phone to launch apps faster and save power, now you can get it all done.

*Simulated image for illustration purposes.
*Battery assessed against the usage profile of an 'average' user as determined and independently assessed by Strategy Analytics with pre-release versions of the Galaxy S10e, S10 and S10+ (128GB variant). Actual battery life varies by network environment, features and apps used, frequency of calls and messages, number of times charged, and many other factors. Please see user manual for instructions on how to care for the battery and achieve optimum battery life.

POWER
Charge up and share in an all new way.
Galaxy S10+ boasts up to 4100mAh battery capacity,* designed to keep you working no matter how busy your schedule. The battery is so powerful it can act as a wireless charger, sharing a charge with compatible devices, like your Galaxy smartwatch.** Then when your phone's in need of a recharge, Fast Wireless Charging 2.0 can bring your phone back to life with the Samsung Wireless Charger Duo Pad.***
*Based on independent third party testing of 128GB variant. Battery capacity value of a 'typical' user. Based upon independent third party testing. Rated (i.e. minimum) battery capacity value is 4,000 mAh. Actual battery capacity value may vary. See user manual for instructions on optimum battery life.
** Compatible with devices that support WPC Qi wireless charging (click https://www.wirelesspowerconsortium.com/products for details). Requires at least 30% battery life on Galaxy S10. For optimal charging speeds, it is recommended to remove any cover from your Galaxy S10e, S10, or S10+.
***Fast Wireless Charging 2.0 only available with Samsung devices that support 10W+ wireless charging. Wireless charger requires mains power connection. Samsung brand power cord and adapter recommended as third party items may cause damage to or a decrease in charging speed.
INTELLIGENT PERFORMANCE MANAGEMENT
The truly intelligent smartphone.
Work smarter with an intelligent phone. Galaxy S10e, S10, and S10+ have Intelligent Performance Enhancer, which optimizes your experience based on behavior and preference. It preloads your most frequently-used apps, helping you work more efficiently. And it learns your daily routine and usage pattern to intelligently manage the battery — closing apps that you don't need. Plus, Adaptive Power Saving Mode helps manage your battery life based on the prediction of your day.
POWERFUL PERFORMANCE
Next generation performance for your business.
A fast, intelligent mobile processor powers the incredible Galaxy S10e, S10, and S10+. Enhancements help make your phone work as efficiently as you do. And it has the storage of a laptop so you can keep your work on hand without running out of space.*
HYBRID SIM
Two worlds, one phone.
Easily insert a local SIM on a business trip while your domestic line stays active. Or utilize both your business number and personal number on one phone. Hybrid SIM capabilities on Galaxy S10 and S10+ allow you to easily use two lines.* And if you don't need a second SIM, insert a microSD card (sold separately) into the hybrid tray for a simple storage boost.
*SIM card sold separately. Hybrid SIM is only available on selected Galaxy S10 512GB, Galaxy S10+ 512GB and 1TB, and only from selected retailers.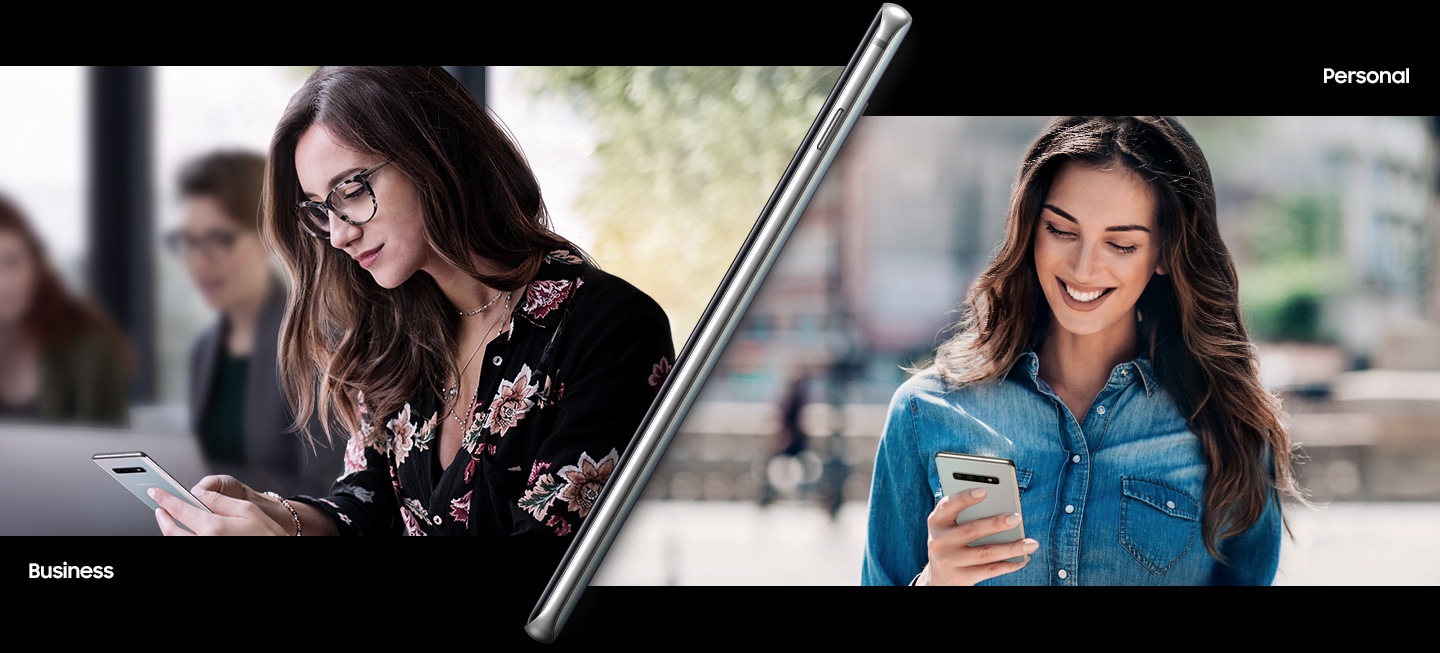 CONNECTIVITY
Incredible connectivity that connects your business.
Access a next generation connection with Galaxy S10e, S10, and S10+. Intelligent Wi-Fi can reach faster speeds with Wi-Fi 6,* and can connect reliably and securely even on public networks in a crowded area, like the hotel or the airport.** Then when you're out of Wi-Fi range, it seamlessly switches to LTE to hit incredible data speeds up to 2.0Gbps.***
*Compared with Galaxy S9. Actual speed may vary depending on user environment.
**Availability of Wi-Fi 6 support may depend on country or region.
***Actual speed may vary depending on the carrier, and user environment.
Security
As you work more flexibly and collaboratively, it's never been more important to keep your company data protected. With an Ultrasonic Fingerprint built right into the S10 and S10+ screen and Samsung Knox platform, enjoy peace of mind that data is safe. Work wherever you are with confidence.
ULTRASONIC FINGERPRINT
Ultra security at your fingertips.
The revolutionary in-display Ultrasonic Fingerprint Sensor uses ultrasonic waves to detect your fingerprint against the glass,* designed to be practically spoof-proof. It's quick and easy to use so you can access files and get to work in an instant. It's secure and helps ensure your sensitive data won't fall into the wrong hands.
*In-display ultrasonic fingerprint sensor supported on Galaxy S10 and S10+ only. Not available on S10e.
*Fingerprint Scanner GUI simulated for illustration purposes.
SAMSUNG KNOX
Security from the chip up.
Samsung Knox offers multi-layer protection infused into both hardware and software. It even creates a separate area on your phone to keep personal and business apart. No matter where you go or what you do, help keep your business data secure with protection that's easy to manage.
GO TO SAMSUNG KNOX

SIMPLE AND EASY MANAGEMENT
Deploy and manage your fleet with ease.
Each business has individual demands for their devices, and with Samsung Knox solutions, it's easy to manage your workforce devices to meet those needs. You can even remotely configure devices or deploy updates without hard connections to the device or manual enrollment. From initial device setup to ongoing management, Samsung Knox solutions help make your work more efficient.
GO TO KNOX SOLUTIONS
The Next Mobile Economy
Discover how Samsung can help your business realize the potential of mobile.
LEARN MORE
Explore more the next generation Galaxy S10e, S10, and S10+.
LEARN MORE