Create images that resonate
Premium S Lens
Experience high-resolution clarity with quality rendered details, colours and contrast with the Samsung Premium S Lens. Precision engineering, quality control and Samsung's latest technological advances coalesce into a series of durable high-performance lenses. Our enduring lenses allow photographers to bring their visions to life.
Designed to deliver image quality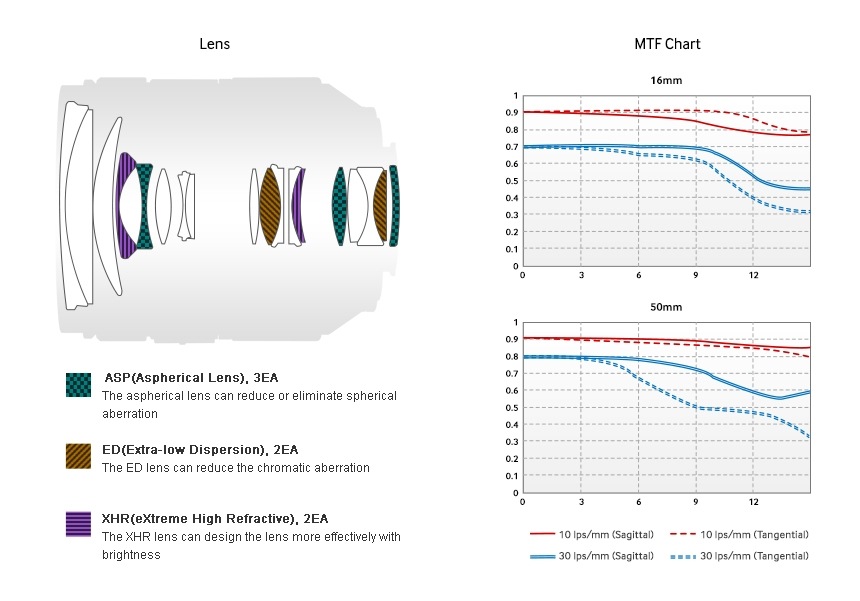 The Samsung 16-50mm Premium S Lens contains 18 elements in 12 groups—including three aspherical, two ED and two XHR lenses—to help produce sharp images. The lens is crafted with an optical lens design that incorporates SPMC (Superior Multi-Coating) technology to address ghosting and flare effects. As a result, in some conditions you can shoot bright and clear low-lit images with an aperture setting as low as F2. This lens meets the CIPA's OIS 4-Stop* optical image stabilizer guideline.

*Lens meets CIPA OIS 4-Stop guideline only at 50mm focal length with Samsung NX300 and NX30 model cameras.
A bright way to capture life

A bright F2- F2.8 aperture The Samsung 16-50mm Premium S Lens aperture, due to its meticulously crafted optical lens design, can go as low as F2 while still maintaining high resolution. This means you can shoot bright and clear low-lit images in some conditions with an aperture setting as low as F2—and capture a whole world in the dark or create stunning photos with an out-focusing effect.
Designed for life in varying conditions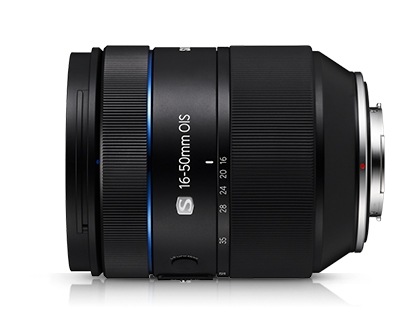 Reliable lens design Elegantly crafted of metal, this new addition to the Samsung 16-50mm Premium S Lens series defines rugged luxury. Every element of the lens, including the zoom and focus rings, is manufactured to exact standards so you can smoothly adjust settings with precise control.
A smooth, fast, quiet autofocus
Still / Video High-speed AF Samsung's newly developed Ultra-Precise Stepping Motor (UPSM) may be less noisy than Samsung's conventional autofocus (AF) systems. You'll appreciate its quiet AF performance every time you record video. And the UPSM allows for accurate incremental positioning, for smooth AF performance.
A superb system for capturing video
Inner Focus System The lens's inner focus system does not change length during focusing, delivering stability for recording steady video. Nor does the lens barrel rotate, so you can use a non-rotating front lens assembly, such as a polarising filter or a lens hood. The inner focus system also delivers fast and smooth operation while helping to keep the lens compact and portable.
One-touch access a stunning picture
i-Function Integrated into the lens barrel design, the intuitive i-Function system lets you frame the shot, adjust manual settings and preview changes—all at the same time. To capture the image you envision, press the i-Function button on the side of the lens and twist the value ring to change variables such as aperture, shutter speed, ISO and white balance.
* Key feature may different from Key Spec