Samsung Electronics Australia recognised at 2018 Frost & Sullivan Australia Excellence Awards
Feb 10. 2019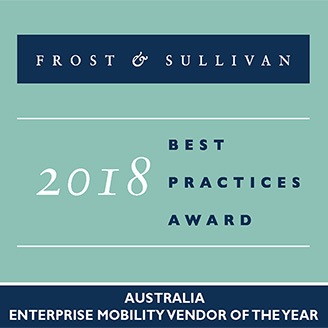 Samsung Australia has been recognised as the Australia Enterprise Mobility Vendor of the Year by highly respected technology research group, Frost & Sullivan, for the 2nd year in a row. Now in its 13th year, the Frost & Sullivan Australia Excellence Awards recognise industry success and organisations for their ability to develop and deploy business solutions in the Australian market.
"As a brand we are committed to helping our customers utilise technology to achieve their best and break down barriers. This approach drives Samsung and our teams to continually deliver the best possible experience for our customers around the world and in Australia," said Garry McGregor, Vice President, IT and Mobile, Samsung Electronics Australia. "We are honoured to be recognised for the work that our team has delivered for our business customers in Australia and look forward to sharing our story in product and solution innovation in future."
Samsung Australia provides a range of business and enterprise technology, products and solutions to local organisations through a range of key industries including; finance, transportation, healthcare, manufacturing, and more.
"Samsung Australia is committed to developing and delivering mobility products and solutions that help to solve challenges and enable businesses to achieve more," said Danny Mandrides, Head of Enterprise, Samsung Electronics Australia. "At the centre of how we work is an open and collaborative approach combined with an incredible portfolio of innovative products that help businesses achieve what wasn't thought possible."
Audrey William, Senior Fellow and Head of Research ICT, Frost & Sullivan, commented that Samsung Australia was recognised for its understanding of the enterprise mobility ecosystem, which has allowed it to successfully deliver customised mobile enterprise products and services for Australian enterprises.
"Built together with its partners, the businesses' Enterprise Mobility solutions include customisation of applications on top of its KNOX platform, DeX software, and other IoT applications, enabling Samsung Australia to be successful in the enterprise segment across mining, transportation, logistics, healthcare, and manufacturing," William said.
Samsung Electronics Australia will share case studies and examples of enterprise deployments across its business website – https://www.samsung.com/au/business/insights/.