Reach New Levels of Clean with Samsung's POWERstick PRO™
May 10. 2018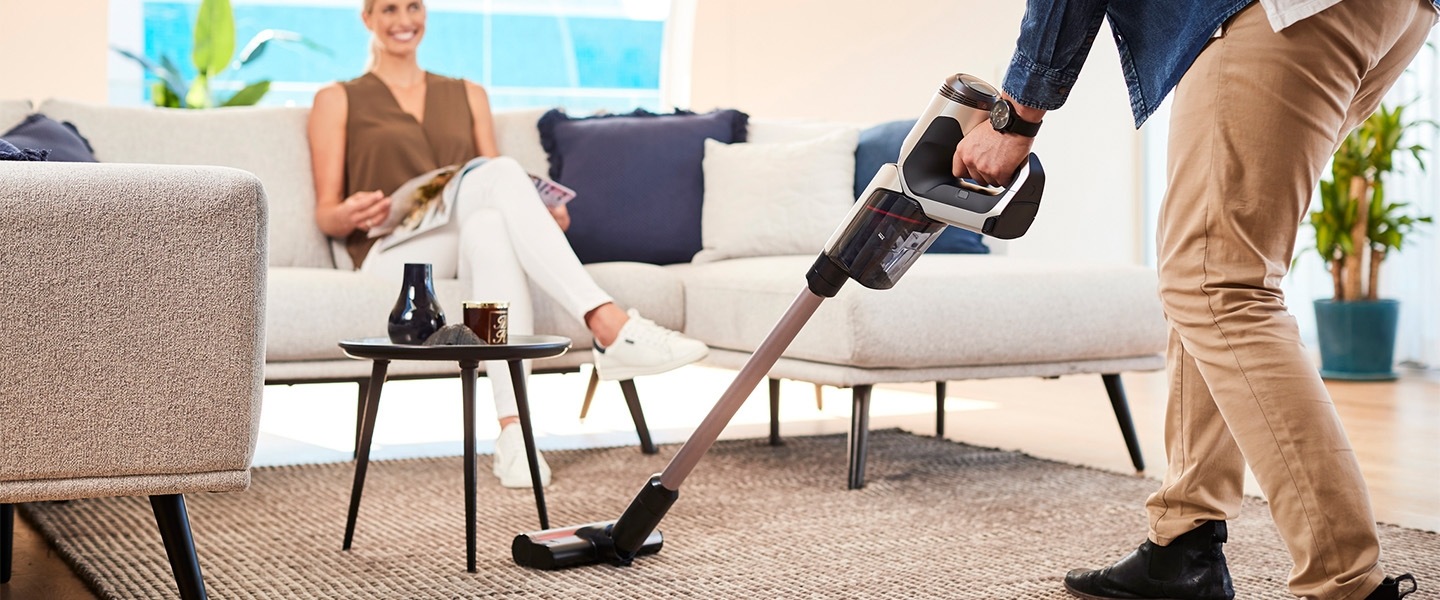 Samsung launches new cordless stick vacuum that combines powerful performance, flexible ergonomics, and easy maintenance
Samsung Electronics Australia has announced the local availability of the POWERstick PRO™, a new cordless stick vacuum cleaner designed to help transform the act of cleaning. Offering high suction power, flexible ergonomics and easy maintenance, Samsung's POWERstick PRO™ eliminates many of the challenges Australians experience as they vacuum their homes.
"We all love to have clean floors, but vacuuming is a thankless task that constantly needs redoing," said Jeremy Senior, Director Home Appliances, Samsung Electronics Australia. "Combining strong suction power with long battery life and ergonomic design, the new POWERstick PRO™ delivers an exceptional clean quickly and with less hassle, designed to save Australians time for the things they love."
Strong suction and power
Battery life is crucial for cordless vacuum cleaners. The POWERstick PRO™ packs a powerful charge, running on a 32.4V lithium-ion removable power pack that offers up to 40 minutes of battery life. A second battery¹ can also be swapped out doubling operation time for up to 80 minutes of running.
Powered by Samsung's Digital Inverter Motor, the POWERstick PRO™ delivers up to 150W of suction power, collecting dust, dirt and hair from various floor surfaces.
Ergonomic design to get to those hard to reach places with ease
The POWERstick PRO's delivers a comfortable and thorough clean. The new ergonomically designed Flex Handle folds up to 50 degrees to reach down to low areas like under coffee tables, while helping to make things easy on your wrist and back.
The POWERstick PRO's Easy Clean technology is designed to reduce the hassle of cleaning your vacuum. With one quick pull of the lever, users can easily remove dust, debris and even tangled hair in an instant. The advanced HEPA Filtration system helps ensure that dust collected stays in the barrel and isn't released back in to the air.

Additional tools for the ultimate cleaning solution
Available in two models, the POWERstick PRO™ comes with additional tools to make it the ultimate Samsung cleaning solution. Perfect for furniture, the Mini Motorised Tool has a rotating brush that picks up tiny particles trapped in fabric. The Soft Action Brush² is designed to target fine dust on hard floors.
The Combination Tool picks up dust and dirt on a wide range of surfaces, from table tops to window frames, and the Flexible Tool2 bends at an angle to pick up dust and dirt in hard-to reach places like on top of the fridge. The Extension Crevice Tool completes the series. Its long and slender design reaches into tight spaces and it also extends to reach high, hard-to-reach areas, such as the ceiling.
The POWERstick PRO™ is available from major retailers with the following RRPs:
POWERstick PRO™ (SS80N8015K2) - $699
POWERstick PRO™ with soft action brush and flexible tool (SS80N8076KC) - $799
¹Spare batteries available for purchase from samsung.com/au from June 2018
²Soft action brush and flexible toon only available on model SS80N8076KC
List
No Prev Page
No Next Page