Attaching the Stand on a CJ791 Thunderbolt
Last Update date :
Aug 28. 2020
Below you will find what needs to be done to safely and securely attach the monitor stand to your CJ791 Thunderbolt monitor. Before you get started on assembling the product, place the monitor down on a suitable surface so that the screen is facing downwards.
This product is curved. Placing pressure on the product when on a flat surface may damage the monitor. When the product is on the ground facing up or down, do not put pressure on it.
1
Place the protective Styrofoam (cushion) included in the package on the floor and place the product facing down on the Styrofoam, as shown in the image.
Please Note: Make sure to use the styrofoam (cushion) that came with the monitor.
2
Attach the stand to the back of the monitor, in the direction of the arrow
3
Rotate A and B screws for fixing.
4
Grab the stand with one hand and use your other hand to attach the COVER-STAND NECK LEFT in the direction of the arrow. Make sure that the arrow imprinted inside and the ▲ outside of the COVER STAND NECK LEFT are placed on the lower part. The COVER STAND NECK LEFT cannot be attached if the imprints are upside down.
5
After attaching the stand, place the product in an upright position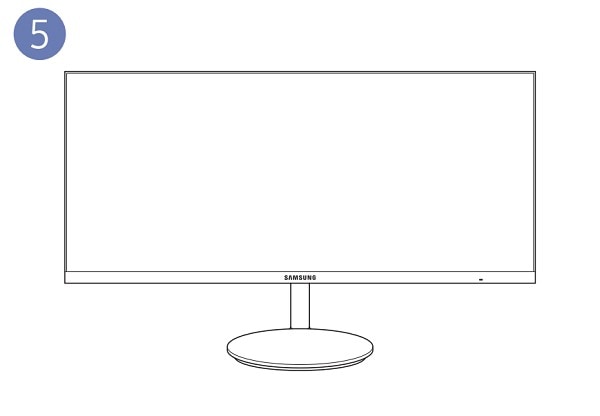 Please answer all questions.