How can I change language settings on my washing machine?
Last modified :
May 27. 2019
Please follow the instructions to select a desired language:
Please note:
●   Only selected models have the ability to change language, please refer to your user manual to check if your model supports this feature.
●   At the beginning of the set-up process (After power on), the "Language setting" message appears on the display. You can select one language among English, French, Dutch, German, Italian, or Spanish. (Polish, Russian, Turkish, Chinese or Thai).
1
Push the Rinse button to choose a language.
2
Push the Spin button to set the chosen language.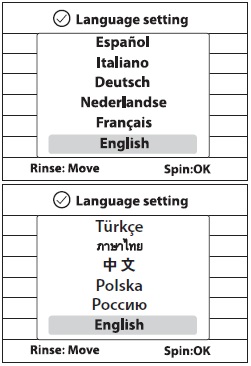 Please note:
● To reselect the language, press the Rinse and Spin buttons simultaneously for 3 seconds.
● The LCD display Language may differ depending on the model.
●  Language selections can be changed according to derived models.
If you require more information, please consult the user manual from our Manuals & Downloads page. Otherwise, please get in touch with our Samsung Care Australia experts on 1300 362 603 (Toll Free in Australia) or contact our Live Chat Australia team.
Did not find what you're looking for? We're here to help.
Face-to-Face Support

In-Store Support
Create a booking to see one of our friendly Samsung staff members at one of our Samsung Retail Stores.
Contact Us