My Samsung Washer Has A Bad Odour.
Last modified :
Mar 12. 2019
The best way to handle washing machine odours is to prevent them from occurring in the first place.
To do this, it is advisable to run a DRUM CLEAN+ cycle. Perform this cycle regularly to clean the drum and remove bacteria from it. This cycle also removes accumulated dirt from the rubber door gasket.
1
Press Power to turn on the washing machine.
2
Turn the Cycle Selector to select DRUM CLEAN .
3
Press and hold Start/Pause (Hold to Start).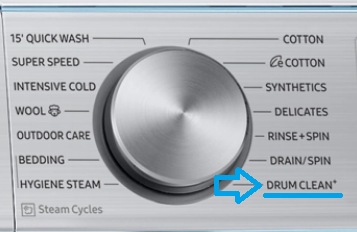 Note: The water temperature for DRUM CLEAN+ is set to 70 °C, which cannot be changed.
Do not use any cleaning agents for cleaning the drum. Chemical residue in the drum deteriorates the washing performance.
DRUM CLEAN reminder.
The DRUM CLEAN reminder appears on the main screen once every 40 washes. It is advisable to perform the DRUM CLEAN regularly.
When you first see this reminder, you can ignore the reminder for 6 consecutive washes.

From the 7th wash, the reminder no longer appears. However, it appears again on the second 40th wash.
If you find that you Samsung Washer still has an odour, please get in touch with our Samsung Care experts on 1300 362 603 (Toll Free in Australia) or contact our Live Chat Australia team.
Did not find what you're looking for? We're here to help.
Face-to-Face Support

In-Store Support
Create a booking to see one of our friendly Samsung staff members at one of our Samsung Retail Stores.
Contact Us