Reducing Odours from Samsung Washing Machine
Last Update date :
Dec 14. 2021
 Please Note: The information on this page is for Australian products only. Models, sequences, error codes or settings will vary depending on location and/or where the product had been purchased. To be redirected to your local support page please click here.
When your Samsung washing machine has a bad odour, it can be due to a build-up of bacteria. It is important to clean and maintain your washing machine regularly to prevent this. Fortunately, there are steps you can try to eliminate the smell before deciding the contact a technician for further support.
Follow the guide below to see how you can remove odours from your washing machine.
1
Run a self-clean cycle.
You washing machine will come with a self-clean cycle, such as Drum Clean(+) or Tub Clean. This cycle will clean the door and drum of your washing machine, removing any build-up and bacteria.
2
Clean the pump filter (front load models only).
It is recommended to clean the pump filter regularly, as it can easily accumulate build-up and cause your laundry to have odours.
3
Inspect the drain hose.
If you there is a sewage-like odour, it could be due to the placement of your drain hose being too far down the standpipe*. Pull the drain hose out, and clean the end of the hose if necessary. Then, reinsert it no more than 20cm into the standpipe* and secure it to prevent it from slipping.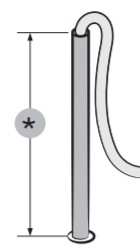 4
Request service.
If the odour remains after several attempts, please contact an authorised service centre or 1300 362 603 (Toll Free in Australia) to request service.
Please answer all questions.