Setting Up A Samsung Oven.
Last modified :
Jun 04. 2020
Getting a brand new Samsung Oven can be quite exciting and gives you the opportunity to bring out the little chef in you. Before you start creating all different kinds of dishes, you will first need to set up your oven.
When you first supply power to your oven, the control panel display will light up briefly. After 3 seconds an icon of a

clock and 12:00 will begin to blink on the display panel.
Note: The oven cannot be operated until the clock is set.
1
Press the

Clock Button . The clock icon and time will blink.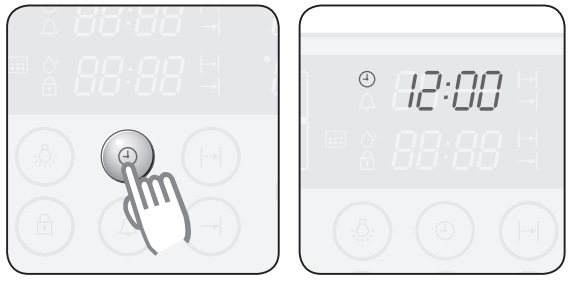 2
Turn the Time / Temp Control Knob to set the hours . Wait 10 seconds and the clock will stop blinking and shows the hour you have set.
3
To set the minutes , press the

Clock Button . As with step 1, the clock icon and time will blink.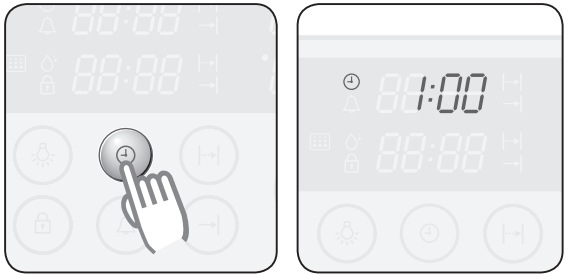 4
Turn the Time / Temp Control Knob to set the minutes and then the clock icon will blink.
5
Press the

Clock Button to finish setting the clock or you can wait 10 seconds . The clock icon and time display will stop blinking and will display the correct time that you have entered. Your appliance is now ready to use.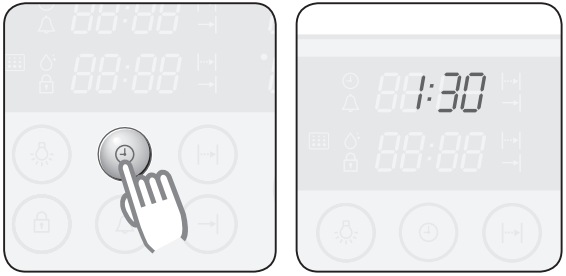 For information on how to install a cabinet for your Samsung Oven, please refer to your product's user manual as the specifications for each oven model may differ.
Set up Chef Collection Oven
1
Choose a preferred language and tap OK.
2
Tap any time element to display the onscreen number pad. Use the number pad to input each time element and tap OK.
3
When the auto update screen comes up tap ON to enable or OFF to disable and then tap OK.
Please note:
●     To return to the previous screen, tap the (previous) button next to OK.
To get in touch with our Samsung Care Australia experts on 1300 362 603 (Toll Free in Australia) or contact our Chat Support team.
Did not find what you're looking for? We're here to help.
Call
1300 362 603
8am-8pm / 7 days a week
For general enquires and technical support relating to all Samsung products : CLICK HERE
For all Printer related inquiries, please
click here
or visit
https://www.support.hp.com
Please
click here
to view the latest news regarding the Samsung sale of Printer business to HP.
Contact Us