Select Power Cool option on Samsung Side-by-Side Fridge.
Last Update date :
Mar 10. 2022
Please Note: The information on this page is for Australian products only. Models, sequences error codes or settings will vary depending on location and/or where the product had been purchased. To be redirected to your local support page please click here.

Note: Designs and features can vary depending on the model of your refrigerator. Please refer to your enclosed user manual to check for details specific to your refrigerator model.
To select Power Cool or Power Freeze option on your Side by Side refrigerator, just press the Power Cool or Power Freeze function on the control panel. Some models, will have the Power Cool or Power Freeze function written under another button (usually the Fridge and Freezer button). You will need to hold the button for 3 seconds to activate either Power Cool or Power Freeze.
Please see an example control panel below: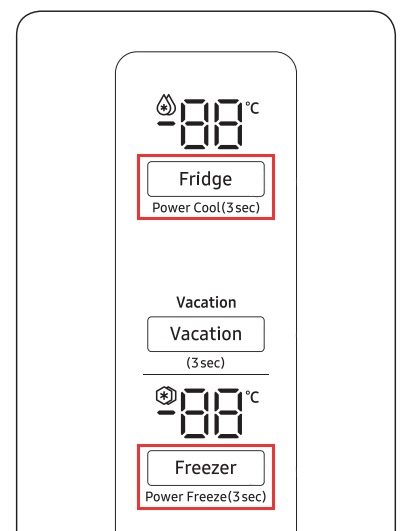 On using this feature the fridge runs at the maximum speed thereby reducing the time needed to cool food items in your refrigerator. This feature is particularly helpful when the items placed in the refrigerator needs to be cooled quickly or when the temperature needs to be set when the door was left open for a prolonged period.

If you have a Family Hub fridge, please see the below:
1. Tap Apps, and open the Fridge Manager app.
2. Select the Fridge (for Power Cool) or the Freezer (for Power Freeze)
3. Once directed to the temperature adjustment page, select Power Cool or Power Freeze, and then press Save.

We would love to know your feedback to help us improve. Please click submit to tell us what you think.
Please answer all questions.