Setting up your Auto Ice Maker
Last Update date :
Oct 20. 2020
Please Note: The information on this page is for Australian products only. Models, sequences or settings will vary depending on location and/or where the product had been purchased. To be redirected to your local support page please click here.
It's easy to start entertaining with freshly made ice and chilled water. We'll show you how to get set up.

This guide applies to the Side by Side fridge model number SRS673DMB, with an Auto Ice Maker and built-in water tank. If you have a different fridge, you can find support information here.
Preparing your water tank.
Your water tank creates chilled water and ice. Here's how to prepare it for the first time.
1
Hold both handgrips on the front of the tank, then slide out as shown.
2
Open the entire cover (B). Clean the inside of the water tank and dry well.
3
Fill the tank with up to 5 litres of water, either through the front lid (A) or with the entire cover off (B).
CAUTION:
Do not exceed the max line.
Fill the tank only with tap or bottled water (such as mineral or purified water). Do not use other liquid.
4
Reinsert the tank into the dispenser mechanism. Make sure the front side of the tank (with the front lid) faces forwards.

CAUTION:
Make sure the water tank fits into the shelf. Otherwise, it may not operate properly.
5
To use the water dispenser for the first time:
Push the dispenser lever for 10 seconds to emit air from the hoses of the water supply system.
Discard the first six glasses of water to remove impurities.
Making ice for the first time
The refrigerator has a built-in ice maker that automatically dispenses ice so you can enjoy cubed or crushed ice to your preference.
Once you've set up your fridge and prepared the water tank, follow these steps to keep your ice bucket full.
1
Press Ice Maker on the control panel (04) to turn it on, ensuring the indicator lights up.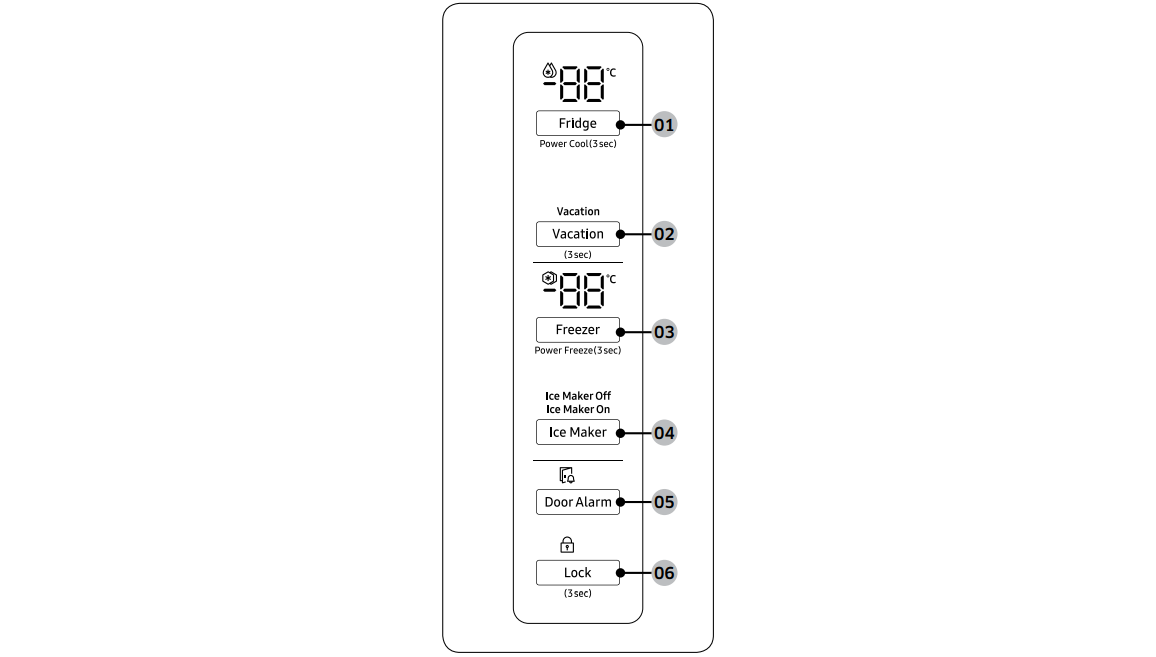 2
Let your fridge operate for at least 24 hours to ensure optimal performance.
3
Dispense the first 4 to 6 ice cubes into a glass.
4
Wait another 8 hours and dispense another 4 to 6 ice cubes.
5
Then, wait another 16 hours and dispense the first glass-full of ice.
PLEASE NOTE: Please note, if you consume all your ice at once, you must wait 8 hours before dispensing the first 4 to 6 cubes. This ensures the ice bucket fills properly. Ice cubes generated rapidly may look white, which is normal.
Need more information? You can download your user manual here. Otherwise, call our Samsung Care experts on 1300 362 603 or get in contact with our Chat Support team.