UE or DC error code on Samsung Washers
Last modified :
May 15. 2019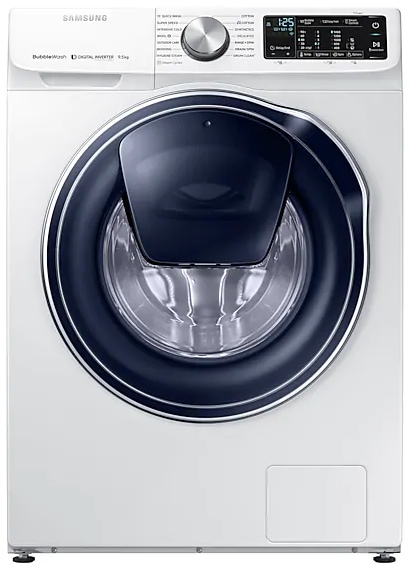 If your Samsung washing machine displays a UE or dC error code, it means there is an issue with the drum not being able to spin. This is usually caused by having a large load in your washer that exceeds the weight limit. If this is the case, you'll need to redistribute the load so that it spins more evenly or remove some items and start the spin mode again.
Another reason why the UE or dC error code may appear is because your washer may not be level. To level your machine, you will need to have a Spanner and a Spirit Level. Below are some instructions on how to level the washing machine.
If you're seeing a different error code or a combination of codes, please check the page on Common Washing Machine Error Codes for more information.
Level the Washing Machine:
Place your hands on opposite sides of the washer and gently try to rock the machine diagonally and sideways. If there is movement in any direction, turn the front leveling feet (A) clockwise to lower the washer, and counter-clockwise to raise it.

Once the washer has been leveled and no more adjustments are needed, tighten the locking nut (B - not applicable on all models) on each leg to ensure it stays in place. Tighten it all the way flush against the bottom of the washer to lock the leg at its current setting and maximize the length of time before the washer needs to be leveled again. Run the calibration mode if your machine comes with this feature. You can then run the washer with a small load of laundry to make sure it is now level. 
If you're sure the machine is level and you've run Calibration Mode already and the machine still won't clear a Ue or dc unbalanced error code, please get in touch with Samsung Australia Live Chat or call 1300 362 603 (Toll Free in Australia) to organise a technician to come out and get a better idea of what is causing the constant error codes. We have technicians available all over Australia!
Did not find what you're looking for? We're here to help.
Online
Chat with us
Live Chat Support with a Samsung product expert.

We'll respond within 24 hours of your request.

Face-to-Face Support

In-Store Support
Create a booking to see one of our friendly Samsung staff members at one of our Samsung Retail Stores.
Contact Us