What temperature should I set the fridge and freezer for best operation?
Last modified :
Jul 29. 2019
The best setting for the fridge is +3°C (37.4f) and for the freezer is -18°C (-0.4f) to -20°C (-4f). However, this will vary depending on types of food and produce stored in the fridge. Frequent opening of the refrigerator results in loosing the temperature build up to keep food at the temperature it is meant to be, so avoid keeping the door open for prolong periods.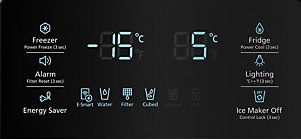 To set the temperature, on the control panel press the Fridge or Freezer button repeatedly until a desired temperature is selected. For some models the control panel may be located different to the location in the above image. For models that do not have the display, turn the knob located inside your fridge/freezer compartment until a desired temperature is selected.
 
Always keep the fridge below 4°C (39.2f) and the freezer below -18°C (-0.4f) to maintain food safety standards.
Please note:
Once a desired temperature is selected, it may take a while for it to display and reach this temperature. This is because it takes time to attain the temperature in either Fridge or Freezer compartment. 
If you require more information, please consult the user manual from our Manuals & Downloads page. Otherwise, please get in touch with our Samsung Care Australia experts on 1300 362 603 (Toll Free in Australia) or contact our Live Chat Australia team.
Did not find what you're looking for? We're here to help.
Call
For all Mobile device enquiries
1300 425 299
1300 GALAXY

24 hours / 7 days a week
Toll Free in Australia
For all other product enquiries
1300 362 603

24 hours / 7 days a week
Toll Free in Australia
From overseas
+612 8293 5712

24 hours / 7 days a week
Face-to-Face Support

In-Store Support
Create a booking to see one of our friendly Samsung staff members at one of our Samsung Retail Stores.
Contact Us