My Galaxy Device won't connect to Wi-Fi
Last modified :
Sep 27. 2019
If you're having trouble getting your Samsung phone or tablet connected to your Wi-Fi network, there are some troubleshooting steps on this page to help. If your device can't find any Wi-Fi networks to connect to - please see the page on Mobile Device can't Find Wi-Fi networks.
Please note: Any prompt that says "Authentication Error" is related to an incorrect password. Please contact your Internet Service Provider for assistance in changing your Wi-Fi network password. 
Wi-Fi Network Troubleshooting
1
Forget the Network
Head into the Settings on your device and find the Wi-Fi networks page under Connections. Tap and hold the Wi-Fi network that you're having trouble with until the menu allows you to select Forget Network. This will remove any saved information on your device that could be interfering with the authentication. Try to enter the password of the network again.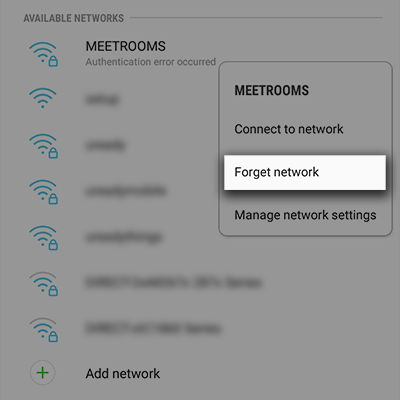 2
Reset Network Settings
Resetting the network settings will clear out anything potentially interfering with the network connectivity. It will reset:
Wi-Fi information
Mobile data information (which will be read from your SIM card and re-saved to the device automatically)
Bluetooth connections
Steps for Android 9 (Pie)
Settings > General Management > Reset > Reset Network Settings
Steps for Android 7 (Nougat) and Android 8 (Oreo)
Settings > General Management > Reset > Reset Network Settings
Steps for Android 6 (Marshmallow)

Settings > Backup & Reset > Reset Network Settings
3
Try Connecting using the WPS Push Button
If your router supports the Wi-Fi Protected Setup (WPS) Push Button, try connecting the two via the below steps. Connecting your Galaxy device using the WPS Push Button will allow you to connect to your Wi-Fi without having to enter in the Wi-Fi password. 
Settings > Connections > Wi-Fi > Advanced > WPS Push Button 
Ensure that you also tap the WPS Button on your Router to connect the two.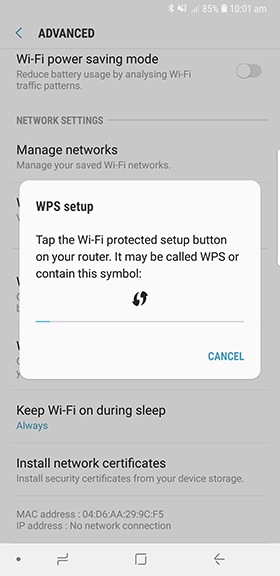 WPS Push Button setting isn't available on Galaxy devices operating on Android OS Version 9.0 (Pie).
4
Power cycle the Router and Mobile Device
Power off your Router (at the wall or with the power button on the router) and wait 2-3 minutes to turn it back on. While you're waiting, press thePower button on your mobile device and select Restart. 
Once the router has successfully connected to the internet again, try to connect to your network on your mobile device.
Make sure there is no interference between the router and your mobile device. Concrete walls, fridges and microwaves can all interrupt the Wi-Fi signal.
5
Toggle Airplane or Flight Mode
We can try to eliminate any other network connections while you're trying to connect to the Wi-Fi network by making sure Airplane or Flight mode is turned off.
Check Flight Mode by swiping down from the top of the screen on your device with two fingers to access all of the Quick Settings. Find the Airplane/Flight mode option and turn it off - or toggle it on and off again to be sure.
6
Try to connect in Safe Mode
Safe mode will restrict any 3rd party applications that could be interfering with your device being able to connect to a Wi-Fi network. If you can connect to Wi-Fi networks while the device is in Safe Mode; you'll need to uninstall whichever app is causing the issue. Finding the app that is causing the problem is a task onto itself; it's best to start with apps most recently downloaded and work backwards. You can always re-install apps that were mistakenly uninstalled.

Put your phone or tablet into Safe Mode:
Turn your device Off
Hold the Volume Down and Power buttons at the same time to turn the device on.
Let go of the Power button when the Samsung logo appears on the screen
When the device turns on, you should see "Safe Mode" at the bottom left corner. To get out of Safe Mode, restart your device.

7
Check that you are in range
Next to the Wi-Fi network you are trying to connect is an icon which indicates the strength of the signal. Having a weak signal may cause connectivity issues. If you are receiving a weak signal, try moving closer to the Wi-Fi source and connect again.
If you are unable to move closer to the Wi-Fi source, place a Wi-Fi extender in between your location and the location of the router. Wi-Fi extenders can be purchased from most electronics stores.
The last steps in determining whether the Wi-Fi connectivity issues are software or hardware related are to Back up the Data and perform a Factory Data Reset of the device. Should a Factory Reset not resolve the problems around connecting to Wi-Fi, it is possible that there is a hardware issue with your device. You can visit a store, contact Live Chat Australia or call 1300 425 299 (Toll Free in Australia) to find out more about the assessment and repair of your device.
Did not find what you're looking for? We're here to help.
Call
For all Mobile device enquiries
1300 425 299
1300 GALAXY

24 hours / 7 days a week
Toll Free in Australia
For all other product enquiries
1300 362 603

24 hours / 7 days a week
Toll Free in Australia
From overseas
+612 8293 5712

24 hours / 7 days a week
Face-to-Face Support

In-Store Support
Create a booking to see one of our friendly Samsung staff members at one of our Samsung Retail Stores.
Contact Us