How do I Clean my Galaxy Buds+?
Last Update date :
Oct 14. 2020
Experiencing some charging issues or are your Galaxy Buds+ continuing to play music even after removing them from your ears? This could be from a build-up of earwax or debris within the ear tips or charging case. If you are noticing a build-up of earwax and need some help correctly cleaning your Galaxy Buds+, follow the below guide for step-by-step instructions.
Please Note: This guide is designed for Australian variant Galaxy devices, if you have an international device and require further support click here to get in touch with your Samsung subsidiary.
Prior to following the below guide ensure you are using a soft, dry cloth to clean the earbuds after use. It is also important to keep your Galaxy earbuds dry - prevent liquid from contacting or entering the earbuds.
1
Carefully remove the ear tip from the protruding part at the bottom of the earbud
Do not pull the ear tip excessively when you attach or detach it. The ear tip may tear.

2
Remove any earwax or debris from the receiver with the brush or other tools.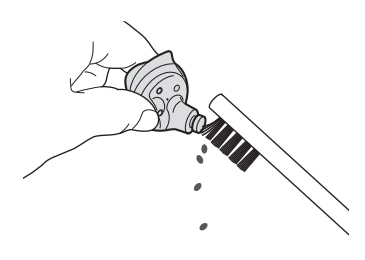 Do not use excessive force while removing earwax or debris. The receiver may be damaged.

3
Cover the earbud with the ear tip.
Cleaning the charging contacts
1
If the battery does not charge properly, wipe both gold-coloured contacts with a dry cloth.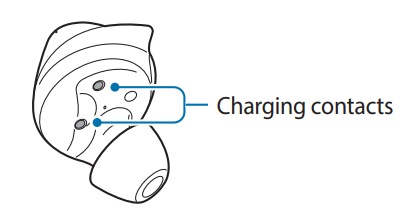 Cleaning the earbuds and charging case
When the charging case and earbuds are exposed to foreign materials, such as dust, sand, or metal shavings, the Galaxy Buds+ may not charge properly or may be damaged. If the earbuds or the charging case were exposed to foreign materials, wipe them with a soft and dry cloth before inserting them into the charging case.