How do I connect my Galaxy Fold to my Galaxy Buds?
Last Update date :
Oct 20. 2020
The Galaxy Fold comes with the kind of premium in-box items that you'd expect for a luxury product. Get the ultimate music experience with the included wireless earbuds tuned by AKG - the Galaxy Buds. The Galaxy Buds feature easy pairing with the Galaxy Fold, it recognizes your voice commands via Bixby, so you can control your phone without taking the Galaxy Fold out of your pocket or bag. You can also wirelessly charge the Galaxy Buds' charging case by simply placing it on a wireless charging pad or by Wirelessly Powersharing directly from your Galaxy Fold.

Follow the below steps to easily connect your Galaxy Buds and Galaxy Fold in no time and start enjoying listening to your music and incoming calls conveniently from the Galaxy Buds.
1
Check the direction of each earbud, correctly insert them into their corresponding slots in the charging case, and then close it. The earbuds will start charging. If the earbud battery indicator light does not flash, connect the charging case to the charger and charge them for more than 10 minutes.
2
Ensure you have turned on your Bluetooth on the Galaxy Fold. You can turn this on via your Quick Settings panel or by heading into your Settings > Connections > toggle on Bluetooth.
3
Open the charging case. The earbuds will enter Bluetooth pairing mode automatically and a pop-up window will appear on your device.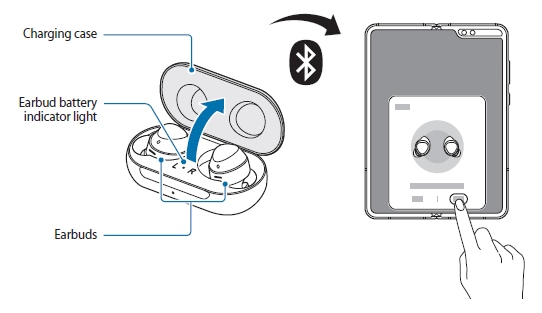 If the pop-up window doesn't appear try heading into your Galaxy Wearables app > Galaxy Buds and allow the two to locate each other.
If your Galaxy Fold cannot find the earbuds, tap and hold both earbuds' touchpads while wearing them to enter Bluetooth pairing mode manually. When Bluetooth pairing mode is entered, you will hear a sound. 

When the charging case battery indicator light flashes in red, take out the earbuds from the charging case and insert them into the case again.
4
On your device, tap Connect on the pop-up window and follow the on-screen instructions to complete the connection. Once the earbuds are connected to your device, they will automatically attempt to connect to it whenever you open the charging case while the earbuds are inside it.