Customising the Display options on my Galaxy Tab
Last modified :
May 06. 2019
The 2019 Galaxy Tab A comes with more customisable options to suit your needs. You can adjust the brightness of the screen, enable or disable Gestures via your Navigation bar as well as changing the screen timeout and adding screensavers. Check out the below page to learn step-by-step on customising the display options on your Galaxy Tab A.

Looking for a step-by-step guide on customising your Navigation bar, check out our page Gestures and Navigation Controls in One UI for more information.
Please Note: Screenshots were captured from the 2019 Galaxy Tab A (SM-T510) operating on Android OS Version 9.0 (Pie), settings and steps may vary depending on your Galaxy device and Android version.
Adjusting screen brightness
1
Swipe down the screen to access Quick Settings and drag the brightness scale from left to right to increase or decrease the screen brightness.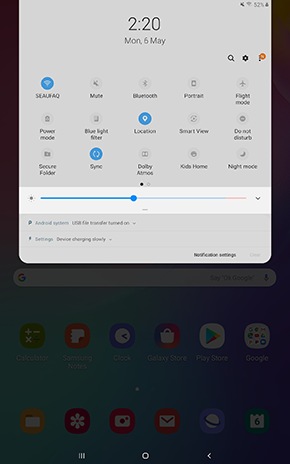 2
Alternatively, you can launch your Settings app > Display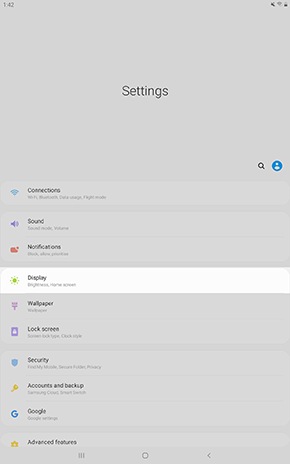 3
Drag the brightness scale from right to left to increase or decrease screen brightness.
If you require an extra boost whilst you're viewing your Tab A outside, you are able to to toggle onOutdoor Mode. This brighten your screen whilst outside, if your Tab isn't in use after a long period of time, this option will automatically be turned off.
1
Launch your Settings app > Display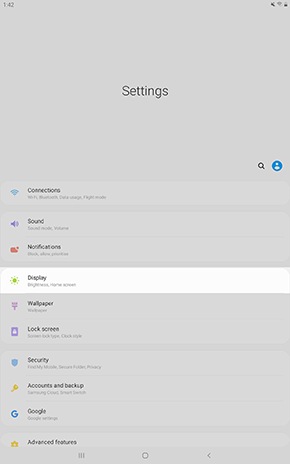 2
Toggle the switch on to automatically activate Night Mode. If you select the Night Mode option, you will be able to further customise this setting and set schedules.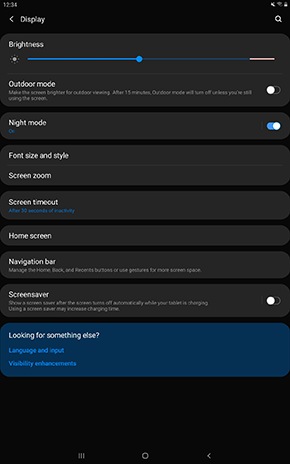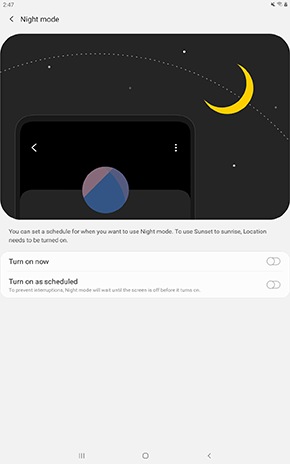 If you have disabled Night Mode and you are noticing that your Tab A is displaying a greyscale, you may have enabled the Wind down setting in your Digital Wellbeing settings. To disable or learn more about this setting, check out our Winding Down page, for step-by step instructions.
Adjusting font size and style
1
Select Font size and style
2
Select from the range of options to customise the font to something more suitable for you. Once complete, press the back arrow key to apply changes.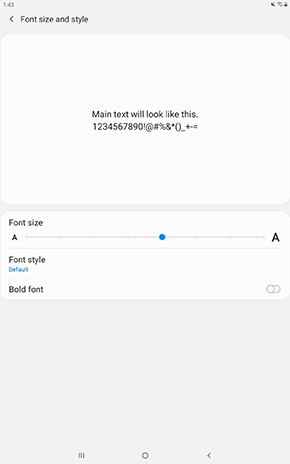 1
Tap on Screen Zoom
2
Drag the scale from right to left to increase or decrease the screen zoom setting.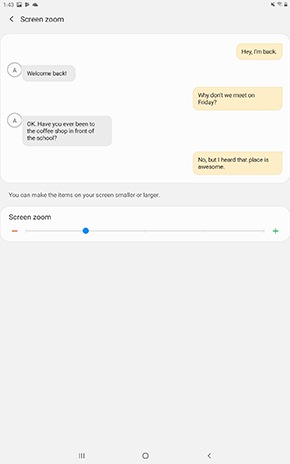 Changing the screen timeout
1
By default the screen timeout is set to 30 seconds, if you would like to extend the screen timeout head into your Settings > Display and select Screen timeout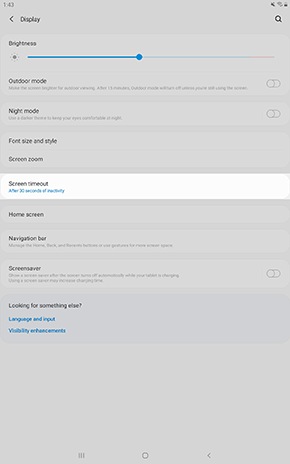 2
Tap on your preferred Screen timeout setting and press the back arrow key to apply the changes.
Customising your Home Screen
1
Select Home screen
2
Select from the below options to adjust the Home screen settings
Enabling / Disabling your Screensaver
1
By default if you toggle on Screensaver you will be able to view Colours while your tablet is charging. If you select the option Screensaver, you will be able to customise what will be displayed on your screensaver.
2
Select your preferred Screensaver option. If you select the settings key after selecting either Photo Frame, Photo Table or Photos, you will be able to select which albums from your Gallery will be displayed.
Did not find what you're looking for? We're here to help.
Face-to-Face Support

In-Store Support
Create a booking to see one of our friendly Samsung staff members at one of our Samsung Retail Stores.
Contact Us