Find my Watch on my Galaxy Watch Active
Last modified :
Mar 08. 2019
Not too sure where you left your Galaxy Watch Active last? Not to worry, you can track and control your device remotely all through the Galaxy Wearables App.
 
If you head into your Galaxy Wearables Settings and select Find My Watch you can get the exact location of your watch and enable security settings. Please note, in order to completely utilise Find My Watch, your device will either need to be connected to your compatible Smartphone via Bluetooth or Remote Connection and you will need to be signed into your Samsung Account on both your mobile device and Galaxy Watch Active.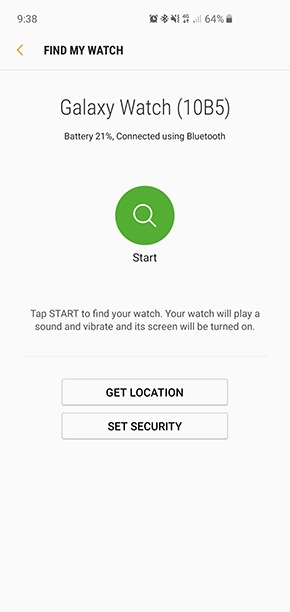 What is Remote Lock?
Remote Lock will allow you to remotely lock your Galaxy Watch Active with a 4 number pin code that can either be entered through the watch or disabled within the Galaxy Wearables App, this will prevent unauthorised users from accessing your data from your Galaxy Watch Active.
Once you have selected this option and entered in your pin code, you can also choose to enter your contact details to be displayed on your Watch face. 


What is Reset Watch?
Reset Watch lets you remotely delete all data on your Galaxy Watch Active. Please note, once you factory reset your watch, you can no longer find it with Find My Mobile.

The Reset Watch may take some time to function or may fail depending on the connection between your smartphone and watch the network connection.
What is Reactivation lock?
If you enable the Reactivation Lock, this will stop anyone from reactivating your watch without your permission.
Please note, if you choose to reset your device whilst the reactivation lock is enabled, you'll only be able to connect it to phone that was used to lock it.
Did not find what you're looking for? We're here to help.
Call
For all Mobile device enquiries
1300 425 299
1300 GALAXY

24 hours / 7 days a week
Toll Free in Australia
For all other product enquiries
1300 362 603

24 hours / 7 days a week
Toll Free in Australia
From overseas
+612 8293 5712

24 hours / 7 days a week
Face-to-Face Support

In-Store Support
Create a booking to see one of our friendly Samsung staff members at one of our Samsung Retail Stores.
Contact Us