Gear VR: Safety and Health precautions
Last modified :
Sep 03. 2018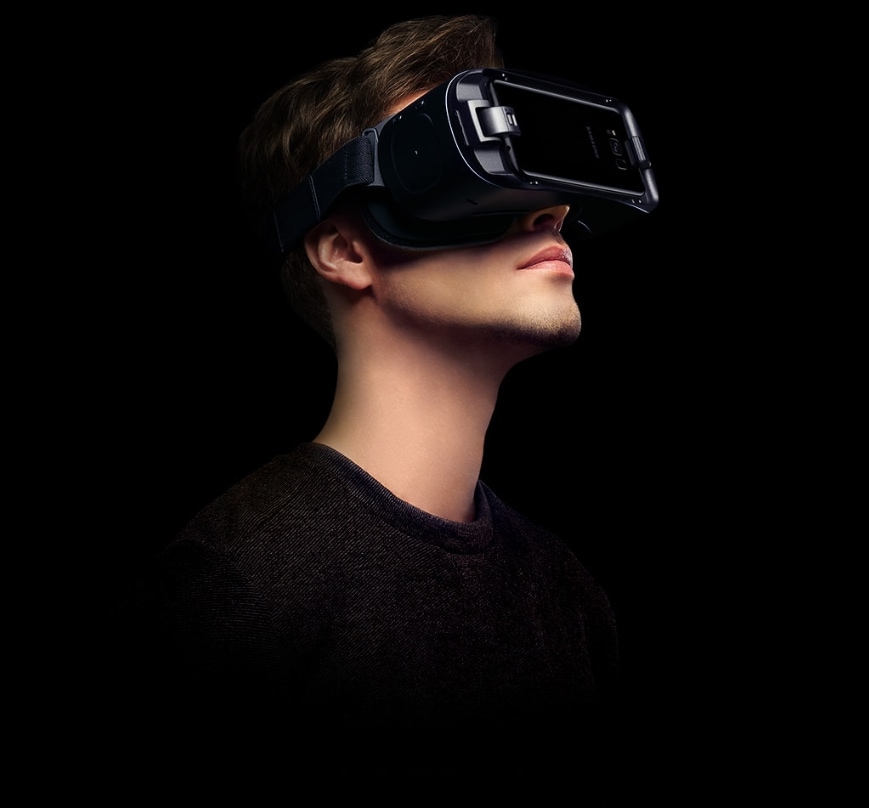 The headset produces an immersive virtual reality experience that distracts users from and completely blocks the view of their actual surroundings. Always be aware of surroundings when using the headset and remain seated at all times. 
Take special care to ensure that you are not near other people, objects, stairs, balconies, windows, furniture, or other items that you can bump into or knock down when using—or immediately after using—the headset. 
Do not handle sharp or otherwise dangerous objects while using the headset. Never wear the headset in situations that require attention, such as walking, bicycling or driving. 
Do not stand up or move around while the Gear VR is "plugged in", as this may cause injury to the user or damage the device 
Place the front cover of the Gear VR back after using the device. 
Do not wear glasses when using the Gear VR. Doing so may cause facial injuries. If you need corrective lenses, it is recommended that you wear contact lenses when using the Gear VR.
This product should not be used by children under the age of 13, as this is a critical period in visual development. Adults should monitor children (aged 13 and older) who are using or have usedGear VR for any of the symptoms described below, and should limit the time children spend using it as well as ensure they take breaks during use. 
Prolonged usage should be avoided, as this could negatively impact hand-eye coordination, balance and multi-tasking ability. 
Adults should monitor children closely during and after use of the headset for any decrease in these abilities. Immediately discontinue the use of the headset if you experience any of the following symptoms: seizures, loss of awareness, eye strain, eye or muscle twitching, involuntary movements, altered, blurred, or double vision or other visual abnormalities, dizziness, disorientation, impaired balance, impaired hand-eye coordination, excessive sweating, increased salivation, nausea, lightheadedness, discomfort or pain in the head or eyes, drowsiness, fatigue, or any symptoms similar to motion sickness. 
Samsung have been conducting clinical trials to ensure Gear VR does not cause serious health problems. As stated in the Health & Safety Manual, about 1 in 4,000 users may experience severe dizziness, seizures, epileptic seizures or blackouts triggered by light flashes or patterns, which can also occur while watching TV or playing video games. Such seizures can occur even to those with no prior seizure history and are more common in children and young people under the age of 20. Anyone who has had a seizure, loss of awareness or other symptom linked to an epileptic condition should see a doctor before using the headset.
Did not find what you're looking for? We're here to help.
Online
Chat with us
Live Chat Support with a Samsung product expert.

We'll respond within 24 hours of your request.

Face-to-Face Support

In-Store Support
Create a booking to see one of our friendly Samsung staff members at one of our Samsung Retail Stores.
Contact Us