How do I add Widgets?
Last modified :
Jun 28. 2019
A widget is a simple application extension that is often part of a larger application already installed on your Galaxy device. Widgets come in all shapes and sizes,  and are located on any available Home screen for quick access. Widgets provide you with quick access to information without requiring you to open the app that manages this information. Follow the step-by-step guide for more information.
Please Note: Screenshots were captured from a Galaxy S10 operating on Android OS Version 9.0 (Pie). Steps and settings available may vary depending on your Galaxy device and Android OS Version.
1
Using two fingers, pinch the Home screen, or tap and long-hold the Home screen to access the Home screen settings.
2
Tap on Widgets.
3
Tap on the Widget you wish to add to your Home screen.
Please Note: The number at the top right of each item represents how many types of Widgets are available in that category.
4
Tap, hold, then drag one of the specific Widgets you wish to add to your Home screen.
5
Re-size the widget by dragging your finger across the blue boarder around the widget. Once you are satisfied with the size and location tap out of the widget to apply the changes.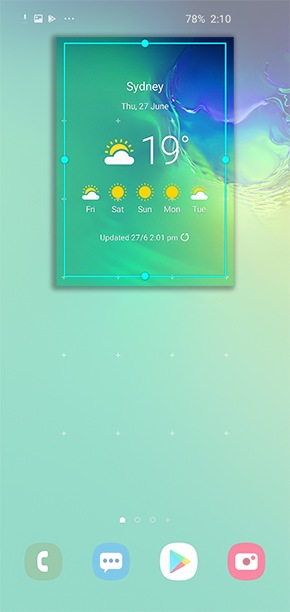 6
If you choose to remove the widget from your home screen, simply long press the widget and drag towards the x Cancel button.
If you are experiencing issues removing, changing its size and location of a widget or receiving the following pop-up message on Galaxy devices operating on Android OS Version 9.0 (Pie), you may have enabled Lock Home screen layout.
This setting will prevent items on your home screen from being removed or repositioned. To disable this setting head into your Settings > Display > Home Screen > Toggle off Lock Home screen layout.
Did not find what you're looking for? We're here to help.
Face-to-Face Support

In-Store Support
Create a booking to see one of our friendly Samsung staff members at one of our Samsung Retail Stores.
Contact Us