Using Live Focus Videos
Last Update date :
Oct 01. 2020
Live focus video is just like live focus photos, but with a video. It gives you the ability to blur out the background in four different ways and customise how much focus/blur you would like in the video. The camera recognises the subject automatically and allows you to record videos where thebackground is blurred and the subject stands out clearly. To access Live Focus Video, open the camera and swipe left/right until you select the Live Focus Video mode.
Please Note: This guide is designed for Australian variant devices, settings and steps available may vary depending on country or region. If you have an international device and require further support click here to reach out to your Samsung subidiary. Live Focus videos are currently only available on the Galaxy S10e, 10, 10+, 10 5G and Galaxy Note10/10+, Note10+ 5G.
1
Depending on the settings you have chosen, you can double click the side button to launch the Camera app. Alternatively you can launch the Camera app via your homescreen.
2
Locate and select Live Focus video
If you are unable to locate Live Focus video you may need to enable this camera mode within your Camera settings. Tap on
 > Camera Modes > Edit Modes > select Live Focus video.
3
Select between the four Live Focus video effects. Blur, Big Circle, Colour Point and Glitch.
4
To adjust the intensity of the background effect, drag the adjustment bar to the left or right.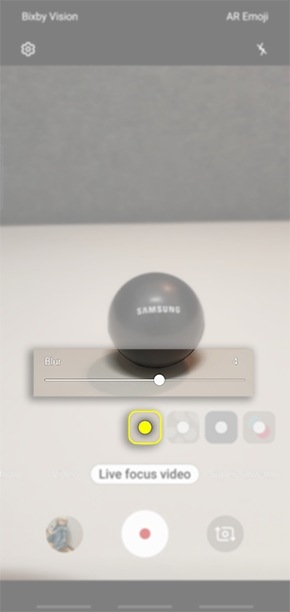 5
Tap the
to start recording your Live Focus video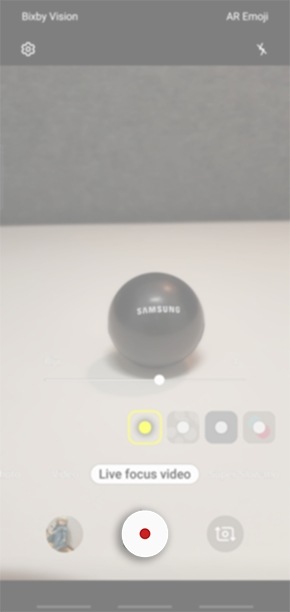 Please Note: Use this feature in a place that has sufficient light. The background blur may not be applied properly in the following conditions:
The device or the subject is moving.
The subject is thin or transparent.
The subject has a similar colour to the background.
The subject or background is plain.