Redeeming my YouTube™ Premium account on my Galaxy Phone
Last Update date :
Oct 20. 2020
Enjoy ad-free music and download YouTube™  videos to watch offline whenever and wherever you go. Purchase a participating Galaxy device to be eligible for the complimentary 2 month or 4 month trial promotion for a YouTube Premium account. Follow the below guide to learn how to redeem your YouTube Premium account on your Galaxy device.
Please Note: This guide is designed for Australian variant Galaxy devices, if you have an international device and require further support click here to get in touch with your Samsung subsidiary.
1
Launch YouTube™ on your compatible Galaxy device.
2
Tap on your Profile.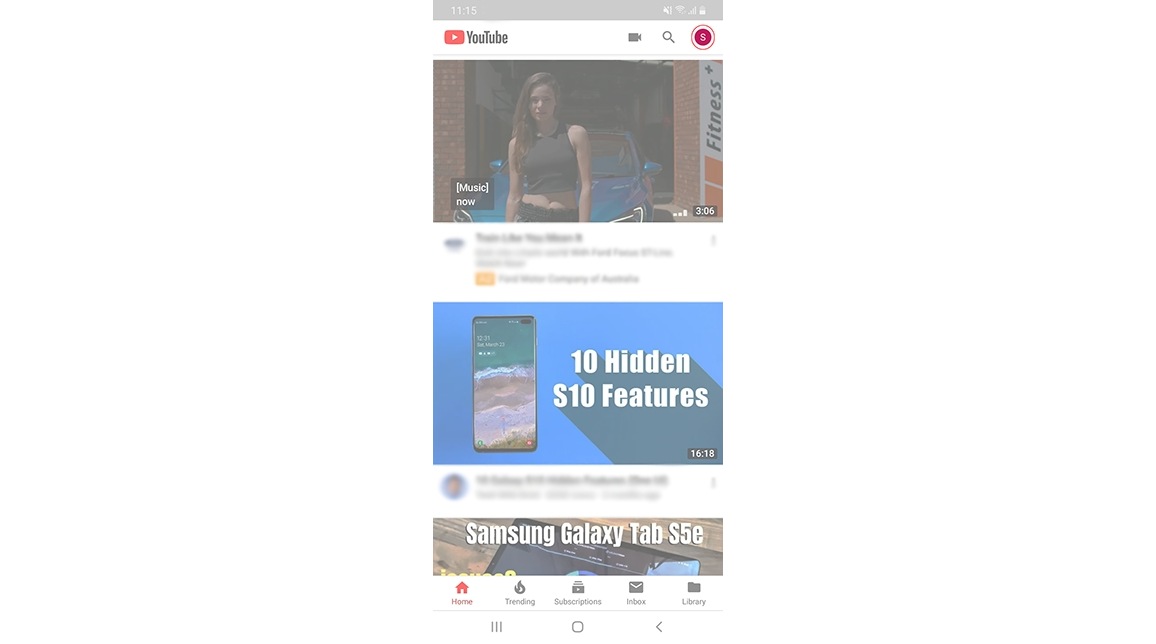 3
Select Get YouTube Premium
4
Touch the Try it Free button.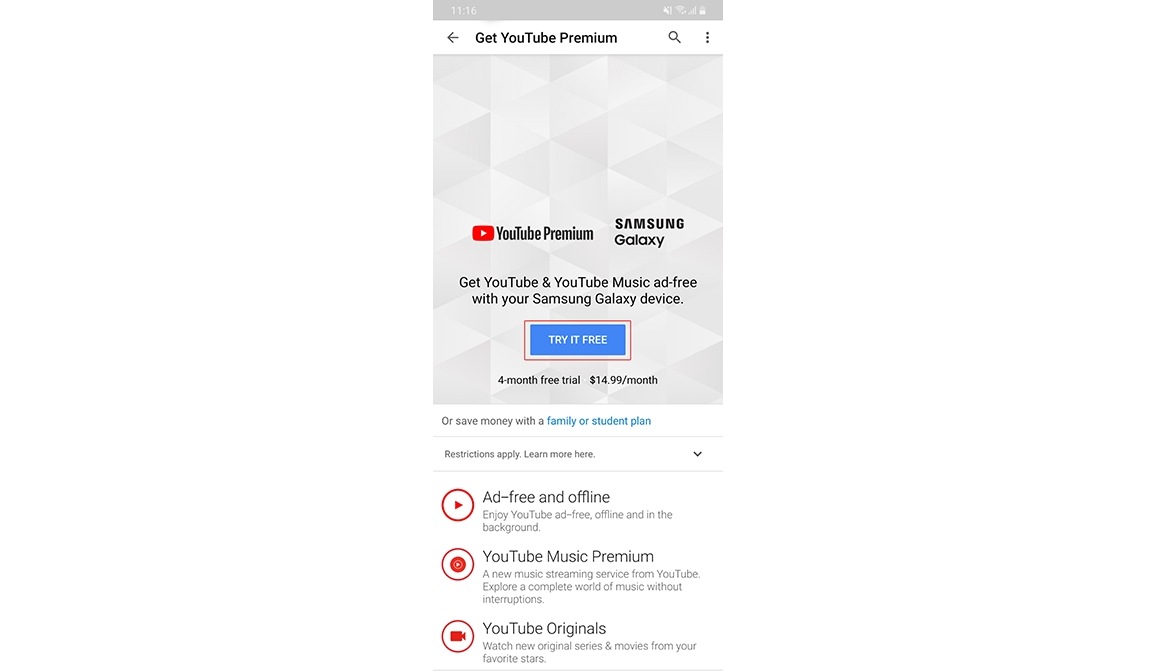 5
Enter your credit card credentials and tap BUY
6
Read through the welcoming guide and tap Let's Go once complete.
7
Allow the page to reload, once complete you will be redirected to the home page where you should be able to view your Premium account.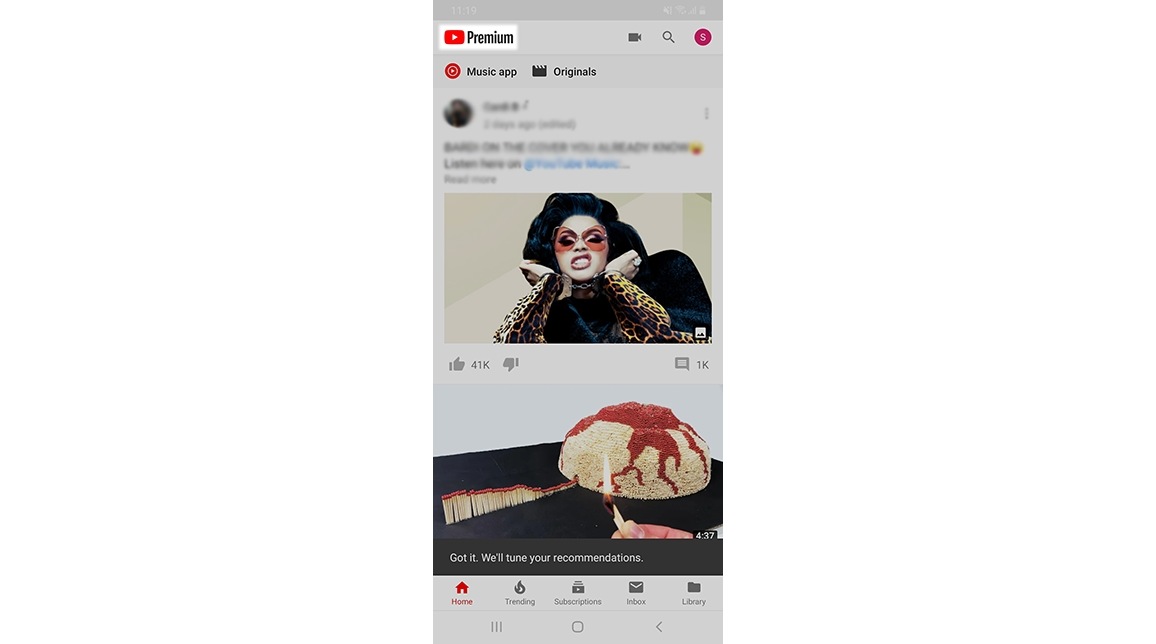 2 Month Trial
*This YouTube Premium 2 month complimentary trial promotion is only open to participants in Australia who purchase and activate a Samsung Galaxy A51 between 12:00 AM (AEDT) on February 14, 2020 and 11:59 PM (AEDT) on March 5, 2021. Offer only available to customers who are not current YouTube Premium, YouTube Music Premium, or Google Play Music subscribers, have not been YouTube Premium, YouTube Music Premium, YouTube Red, or Google Play Music subscribers nor participated in a YouTube Premium, YouTube Music Premium, YouTube Red, or Google Play Music trial before. Offer must be redeemed by 11:59 PM (AEDT) on April 5, 2021. Valid form of payment required at sign-up, but you will not be charged until the trial period expires. At the end of the trial period, you will be automatically charged the standard subscription price, currently $14.99 per month. Subscription and other fees are subject to change. You can cancel your trial at no charge at any time before the trial is over. Offer requires a Google account. Use of YouTube Premium is subject to YouTube Terms of Service (https://www.youtube.com/t/terms). By registering for this offer, entrants agree to Samsung's Privacy Policy (https://www.samsung.com/au/info/privacy/). Full terms here: https://www.youtube.com/t/premium_restrictions.
4 Month Trial
*This YouTube Premium 4 month complimentary trial promotion is only open to participants in Australia who purchase and activate a Samsung Galaxy S20 (S20, S20 5G, S20+, S20+ 5G, S20 Ultra 5G), Tab S6 Lite, Galaxy Z Flip, Galaxy Fold, between 12:00 AM (AEDT) on February 14, 2020 and 11:59 PM (AEDT) on March 5, 2021. Offer only available to customers who are not current YouTube Premium, YouTube Music Premium, or Google Play Music subscribers, have not been YouTube Premium, YouTube Music Premium, YouTube Red, or Google Play Music subscribers nor participated in a YouTube Premium, YouTube Music Premium, YouTube Red, or Google Play Music trial before. Offer must be redeemed by 11:59 PM (AEDT) on April 5, 2021. Valid form of payment required at sign-up, but you will not be charged until the trial period expires. At the end of the trial period, you will be automatically charged the standard subscription price, currently $14.99 per month. Subscription and other fees are subject to change. You can cancel your trial at no charge at any time before the trial is over. Offer requires a Google account. Use of YouTube Premium is subject to YouTube Terms of Service (https://www.youtube.com/t/terms). By registering for this offer, entrants agree to Samsung's Privacy Policy (https://www.samsung.com/au/info/privacy/). Full terms here: https://www.youtube.com/t/premium_restrictions.