Using Daily Board
Last Update date :
Oct 01. 2020
Get useful info and features while your tablet is charging. Show a clock, the weather, or a calendar, control music and so much more. To start Daily Board, tap on the notification or set the Daily Board to start automatically when connected to a pogo charging dock.
Daily Board prevents your tab from locking when connected to a charger or pogo charging dock, so you can continue to enjoy your content. Please be aware that any personal information included in such content will be shown on the screen while your Daily Board is running. 
Screenshots were captured from a Galaxy Tab S6 operating on Android OS Version 9.0 (Pie), settings and steps available may vary depending on device and Android OS Version.
1
Swipe down on your screen to access your Quick Settings and tap on
to enableDaily Board.
2
Plug in your charger then tap on the Daily Board notification in your notification panel.
3
Read through the T&C's then tap on Agree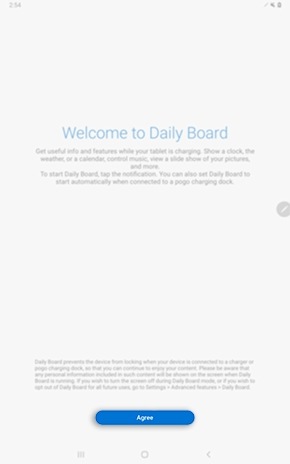 4
Follow the in-app instructions on locating the Navigation bar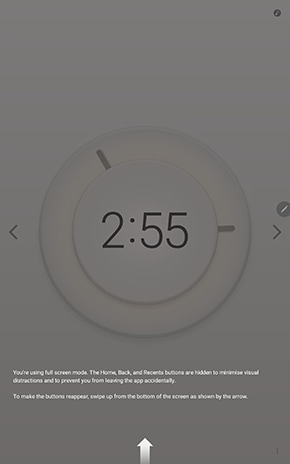 5
Once you have followed a quick tutorial, you will be able to view your Daily Board. Depending on the settings you have enabled, you can flick between Memo, Slideshow and Time, weather and Calendar.
Customising your Daily Board
1
Choose what you want to show while your tablet is charging. To customise your Daily Board, swipe down on your screen to access your Quick Settings and long press

to quickly access your Daily Board settings.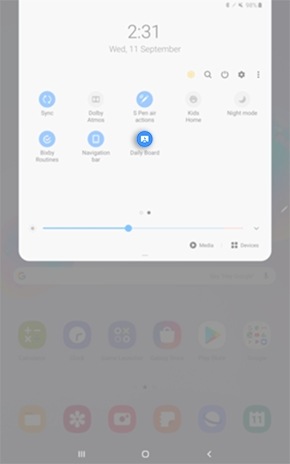 Alternatively you can access your Daily Board settings via Settings > Advanced Features > Daily Board
2
Toggle on or off your preferred Daily Board setting and either tap on Slideshow or Time, weather and calendar for more customisation options.