What are the features of the Notification Panel?
Last modified :
Nov 16. 2018
The Notification Panel can be called whenever you like simply by swiping in a downwards direction from the top of the screen. You can easily access important settings with the swipe of your finger to enable/disable at an instant.
Please Note: Descriptions of the features and settings are based off the Samsung Galaxy S9+ running Android OS Version 8.0 (Oreo). Some of these features may not be supported by your device.
* If you long hold on an icon, a more detailed page will be displayed for you to configure as you wish to do so. 
** If you tap on the name of the setting, it will open a quick menu for you to swiftly configure the setting accordingly.
What do each of the settings mean?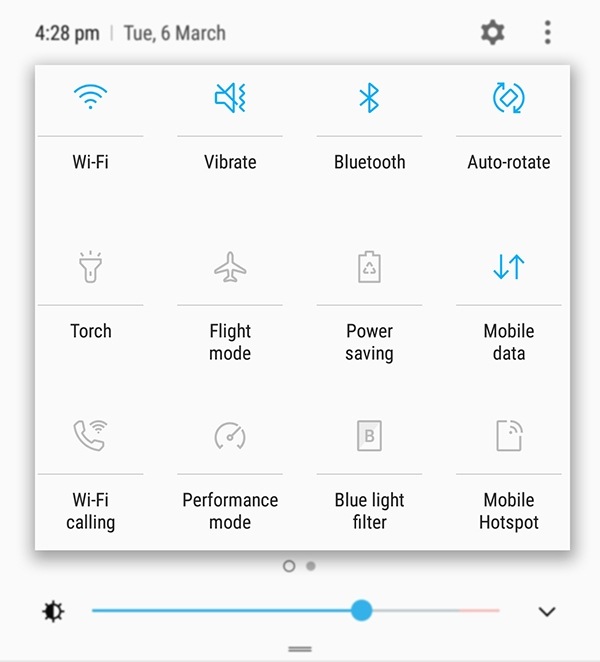 Wi-Fi - Tap to turn on (blue) or turn off (grey) the Wi-Fi. Long press to see available Wi-Fi networks
Sound/Vibrate/Mute - Tap to cycle through sound profiles.   
Bluetooth - Tap to turn Bluetooth on or off. Long press to access the Bluetooth Settings.
Auto-rotate - Rotates the screen automatically when your phone or tablet is held horizontally or vertically.
Torch - Turns on the torchlight (Located next to the camera).   
Flight mode - Turns off calling, messaging, and Mobile data. Wi-Fi and Bluetooth are also switched off, but can usually be enabled after Flight Mode is activated.   
Power saving - Increases the currently remaining battery life by disabling device functions. Long press to see what apps are drawing power.
Mobile data - Tap to turn Mobile Data on or off.
Wi-Fi calling - Tap to enable/disable Wi-Fi calling.   
Performance mode - Optimise your device to get the best performance depending on your usage.   
Blue light filter - Reduces eye strain by limiting the amount of blue light emitted by the screen.  Long press to access the settings and turn on a schedule.
Mobile Hotspot - Turns your device into an Internet access point using Mobile Hotspot. Long press to set up a Network Name and Password.
Secure Folder - Show/Hide Secure Folder. (Protects your apps and files in a separate locked folder).   
Location - Uses GPS, Wi-Fi, and mobile networks to estimate your location.   
NFC - Make mobile payments, share data, and read or write NFC tags.   
Always On Display - Show the Home button and a clock or information on the standby screen.  
Smart View - View your phone's screen or play content on a TV, speaker or Chromecast device.   
Phone visibility - Allow other devices to find your phone and transfer files.   
Do not disturb - Mute all calls, alerts, and media, except for your selected exceptions.   
Sync - Tap to enable/disable the master Sync.   
Edge lighting - Lights up the Edge screen instead of showing pop-ups and notifications.
Dolby Atmos - Tap to enable/disable the Dolby Atmos feature. (Only available on certain devices)
Did not find what you're looking for? We're here to help.
Face-to-Face Support

In-Store Support
Create a booking to see one of our friendly Samsung staff members at one of our Samsung Retail Stores.
Contact Us