Acquire Samsung TV Info through SmartThings App.
Last modified :
May 03. 2019
User's now have the ability to acquire their Samsung TV info by using the SmartThings App, which can be downloaded from an App Store.
To get started, first you need to set-up your SmartThings Wi-Fi Hub. Once you have completed the set-up, you can get detailed information by going to, Get Started with SmartThings.
Follow the steps below to find out how you are able gain the info for your TV from the SmartThings App.
1
On your mobile device, open the SmartThings App and open the
Menu . When the Menu list appears, select All Devices .
2
Once you have selected All Devices , you'll be taken to a screen where all of the devices connect to SmartThings will appear. Choose the TV you want the info on. You will then be taken to another screen that looks similar to a remote control layout. Press on the three dots in the top right corner and there will be a drop down with the option of selecting Information .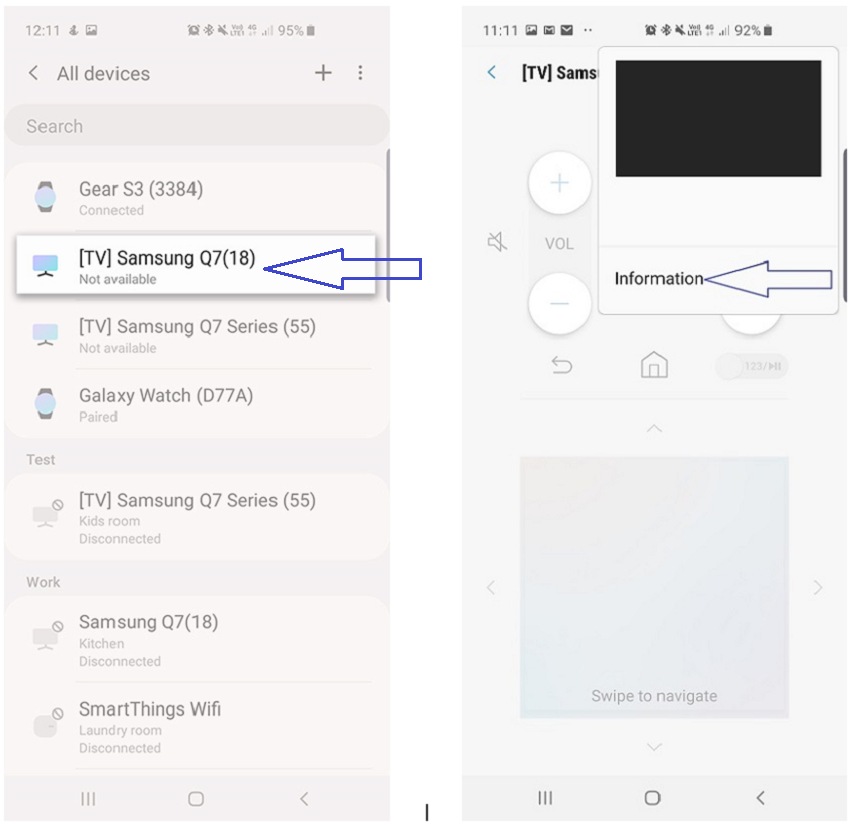 3
After you have selected Information , you will then be taken to a screen that displays the information for your selected TV.
If you require more infromation, please consult the user manual from our Manuals & Downloads page. Otherwise, please get in touch with our Samsung Care Australia experts on 1300 362 603 (Toll Free in Australia) or contact our Live Chat Australia team.
This product should be mounted to a wall or other suitable surface to avoid serious injury. Find out more here.
Did not find what you're looking for? We're here to help.
Face-to-Face Support

In-Store Support
Create a booking to see one of our friendly Samsung staff members at one of our Samsung Retail Stores.
Contact Us