Connect a Blu-ray Player to a Samsung Smart T.V.
Last modified :
Jun 03. 2020
Connect an HDMI cable from the HDMI OUT jack on the back of the product to the HDMI IN jack on your TV. Make sure you plug the power cable into the Blu-ray player after you have connected it to the TV/Audio System.
If your TV won't take a HDMI connection, you can use a HDMI-DVI cable to connect your Blu-ray player to the TV, but you will need a separate Audio cable to transmit the audio signal. DVI connections are only capable of transmitting video signals.
Do not connect the power cord to the wall outlet until you have made all the other connections.
When you change the connections, turn off all devices before you start.
Connecting Blu-ray Player directly to T.V.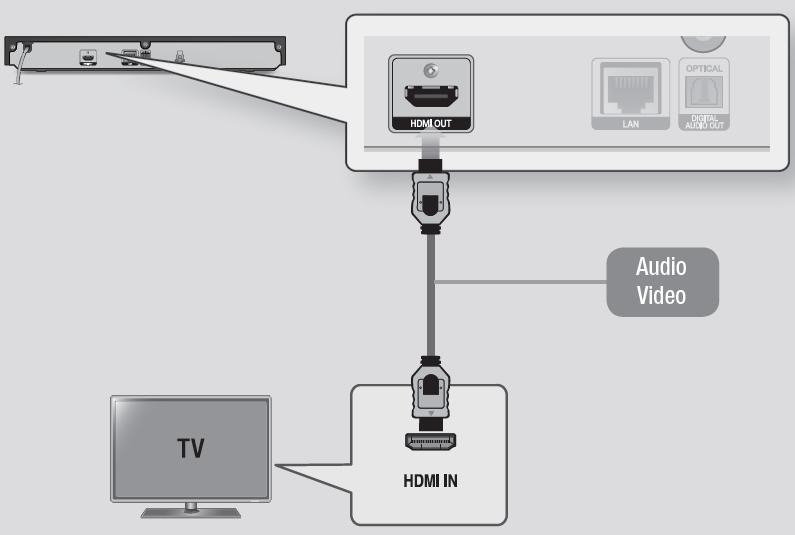 Please note: Depending on your TV, certain HDMI output resolutions may not work. Please refer to the user manual of your TV.
●      When you connect the player to your TV using the HDMI cable or to a new TV, and then turn it on for the first time, the player automatically sets the HDMI output resolution to the highest supported by the TV. 
●      A long HDMI cable may cause screen noise, if this occurs, set HDMI Deep Colour to Off in the menu. 
●      To view video in the HDMI 720p, 1080i or 1080p output mode, you must use a High speed (category 2) HDMI cable.
●      HDMI outputs only a pure digital signal to the TV. If your TV does not support HDCP (High-bandwidth Digital Content Protection), random noise appears on the screen.
Connect a HDMI cable from the HDMI OUT jack on the back of your Blu-ray player to the HDMI IN jack on your Soundbar. Then, connect another HDMI cable from the HDMI OUT jack of your Soundbar to the HDMI IN jack of your TV.
If you are using a 4K Blu-ray player and TV, your Soundbar must have 4K pass through capability to pass through UHD (Ultra High Definition) video content.
Connecting to an Audio Device.
1
Method 1: Connecting to an HDMI compatible Soundbar / AV receiver that does not support HDMI pass through
Connect an HDMI cable from the HDMI OUT jack on the back of the Blu-ray player to the HDMI IN jack on your receiver.
2
Method 2: Connecting to an AV receiver with Dolby Digital or DTS decoder
Using a digital Optical cable, connect the OPTICAL DIGITAL AUDIO OUT jack on the Blu-ray player to the DIGITAL OPTICAL IN jack of the receiver.
You will hear sound only through the front two speakers with Digital Output set to PCM.

If you require more information about your product, please consult your user manual which you can download from our Manuals & Downloads page. Otherwise, please get in touch with our Samsung Care experts on 1300 362 603 (Toll Free in Australia) or contact our Chat Support team to organise a technician to come out and diagnose further.
Did not find what you're looking for? We're here to help.
Call
1300 362 603
8am-8pm / 7 days a week
For general enquires and technical support relating to all Samsung products : CLICK HERE
For all Printer related inquiries, please
click here
or visit
https://www.support.hp.com
Please
click here
to view the latest news regarding the Samsung sale of Printer business to HP.
Contact Us