How do I connect HW-E450 soundbar to any Bluetooth device?
Last modified :
Apr 03. 2018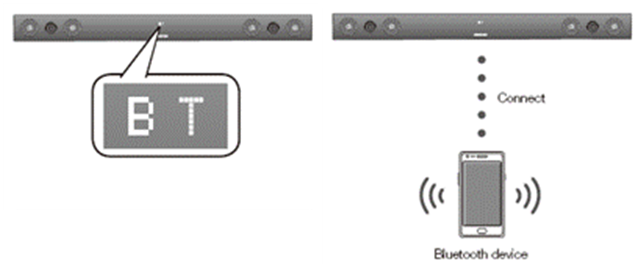 Please note: Check if the Bluetooth device supports the Bluetooth complaint stereo headset function.
To connect the Air Track to a Bluetooth device:
1
Press the FUNCTION button on Air Track remote control to display BT on soundbar. You will see WAIT for a few seconds and then READY on the front display of Air Track.
2
Select the Bluetooth menu on the Bluetooth device you want to connect (refer to the Bluetooth device's user manual).
3
Select the Stereo headset menu on the Bluetooth device and you will see a list of scanned devices.
4
Select Samsung Home Audio from the searched list. When the Air Track is connected to the Bluetooth device, the device name of the connected Bluetooth device, followed by Air Track will display CONN on the front display. If the Bluetooth device has failed to be paired with Air Track, delete the previous Samsung Home Audio found by the Bluetooth device and make it search for Air Track again.
5
Play music on the connected devices. You can listen to the music playing on the connect Bluetooth device over the Crystal Surround Air Track system. In BT mode, Play/Repeat/Stop/Next/Back functions are not available.
Did not find what you're looking for? We're here to help.
Face-to-Face Support

In-Store Support
Create a booking to see one of our friendly Samsung staff members at one of our Samsung Retail Stores.
Contact Us