What is Jog Controller in my Smart TV?
Last modified :
Apr 05. 2019
Jog Controller is a single access point on your Smart TV to access certain function without the need of a remote control. This control is located on the rear bottom right side of the TV and will feel like a little joystick. Move the Jog conroller towards the icons indicated on the sides to control channel and volume. Press and hold the Jog controller to turn off the TV.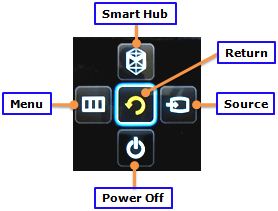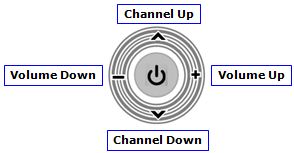 Description of options available on Jog Controller :
Smart Hub: Opens up Smart Hub.
Return: Brings back to TV viewing.
Source: Changes the source.
Power Off: Turns TV off.
Menu: Opens up the TV Menu. 
     This product should be mounted to a wall or other suitable surface to avoid serious injury. Find out more here.
Did not find what you're looking for? We're here to help.
Call
For all Mobile device enquiries
1300 425 299
1300 GALAXY

24 hours / 7 days a week
Toll Free in Australia
For all other product enquiries
1300 362 603

24 hours / 7 days a week
Toll Free in Australia
From overseas
+612 8293 5712

24 hours / 7 days a week
Face-to-Face Support

In-Store Support
Create a booking to see one of our friendly Samsung staff members at one of our Samsung Retail Stores.
Contact Us