What customisable layouts and optional accessories are available to use with The Frame?
Last Update date :
Mar 15. 2021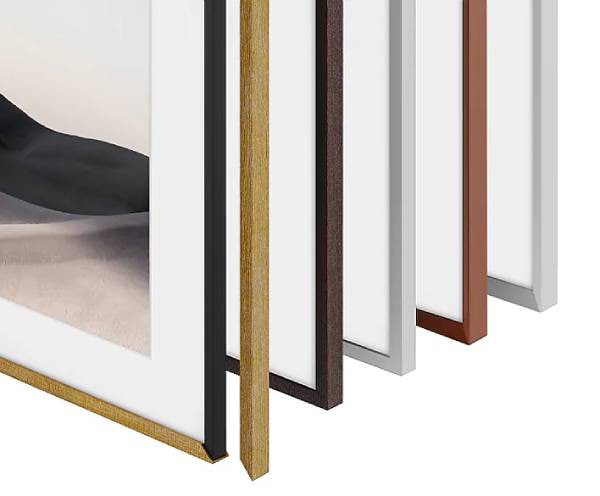 The Frame is currently available in two sizes 55" (123.5cm x 70.8cm) and 65" (145.4cm x 83.1cm) in Australia. The Frame brings Art and TV together providing real value and space to your home. Approximately 300 UHD artworks/photographs can be saved on The Frame with a dedicated space of 2GB for contents. Please note Art Mode works only to display static images and does not support videos and slideshows.
The Frame can be customised in 6 matte layouts: Modern, Shadow Matte, Panoramic, Triptych, Mixed and Squared for personal photos. Matte layout can also be customised in 10 colours: Black, Natural, Antique, Warm, Polar, Sand, Sea Foam, Sage, Burgundy and Navy.
 
Follow the instructions below to apply a border style and a colour to an image:
1
Art Mode brings up the photo saved under My Collection > Photos using the directional keys on the remote control.
2
While the photo is selected, use the remote control to move to the top to select Edit Matte and then press the Select button.
3
Scroll and select the desired border style and colour.
4
Hit the Save button on the top of screen to save your selection. Please note, if you exit without clicking the save button then the border style and colour selection will be discarded.
Optional accessories are also available to go well with the surrounding such as customisable frames (Easy to install and available in White, Beige Wood and Walnut colour), 15m Clear cable connection (note that included clear cable is only 5.0m long) and Studio Stand. Each optional accessories are sold separately.
 
   This product should be mounted to a wall or other suitable surface to avoid serious injury. Find out more here.