Using Outdoor Mode on The Terrace
Last Update date :
Nov 05. 2021
When you have a TV that supports QLED 4K 120Hz picture quality, you'll be amazed how outdoor entertainment becomes just as enjoyable as it would inside, watching high-resolution movies & sports.
The Terrace offers you an immersive viewing experience with 2,000nits brightness that is about 3 times brighter than other TVs, even under the sunlight.
Below you can find a guide on turning on Outdoor Mode for The Terrace.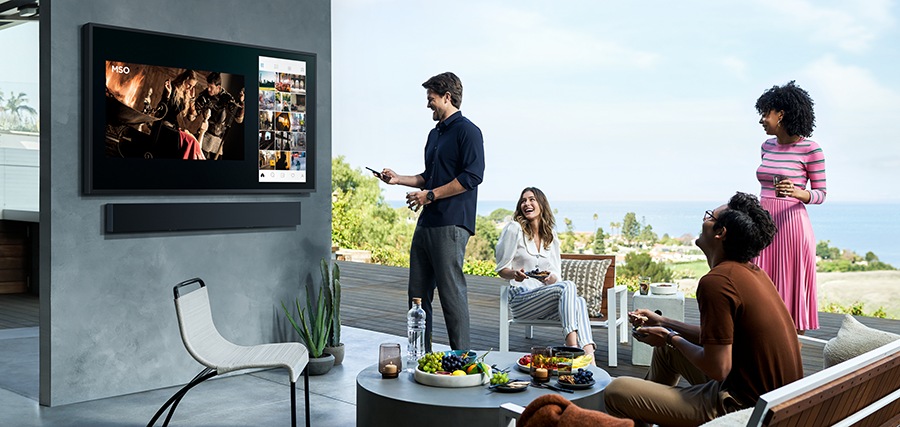 1
Press the Home button on your remote control and navigate to Settings
3
Then, scroll down and select System Manager.
4
Select Outdoor Mode and press enter on your remote control to turn this feature on/off
Things to Consider
Outdoor Mode provides an optimal viewing experience under 0°C (32°F) to 50°C (122°F).
In temperatures below 10°C (50°F), motion blur may occur due to the liquid crystal characteristics.
To view the TV under low temperatures below 10°C (50°F), you can us the Outdoor Mode for stable startup.
Outdoor Mode keeps the startup stable by operating the TV backlight when the weather is very cold.
When Outdoor Mode is active, be sure to keep the power supply connected.
When in standby mode and Outdoor Mode is on, power may be consumed as follows: 55": Max 250W / 65": Max 300W / 75": Max 400W.
Outdoor mode operates in standby and the screen may appear grey.
Temperature protection
At temperatures above 45°C (113°F), the luminance may be lowered to protect the product. This option works regardless of Outdoor Mode activation.

   This product should be mounted to a wall or other suitable surface to avoid serious injury. Find out more here.
Please answer all questions.