Gaming to the
power of Q
QLED TV

Play TVC
Turns light into
brilliant colour
Q Picture
The precision of metal alloy Quantum Dots produces colours which almost entirely cover the DCI-P3 colour space, the colour standard used by many movie makers. You can see what the movie makers made, the way it was intended to be seen.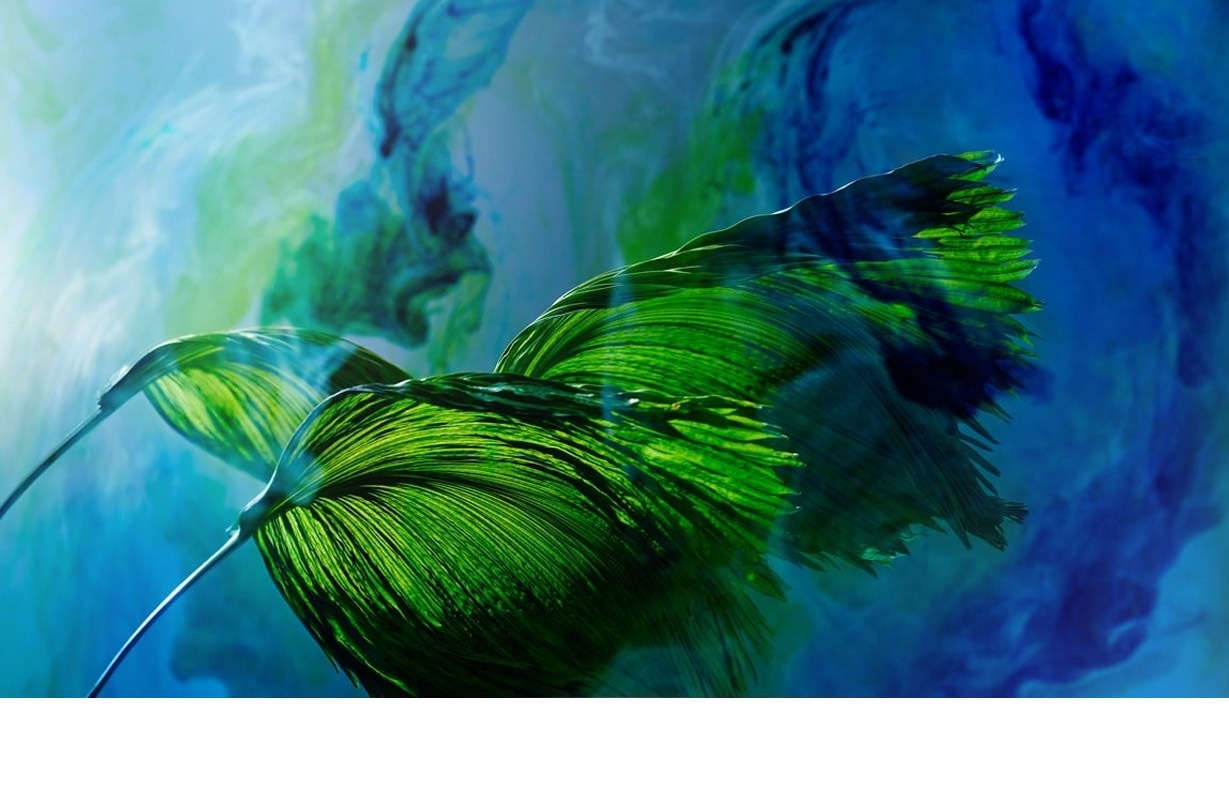 100% colour volume
Q Colour
With more than 100% colour volume, QLED TV can retain colour purity even at maximum brightness. This helps ensure that games appear as close to photo-realistic as possible, without being washed out by backlighting.1
Learn more about colour volume
Ultimate details
as directors intended
Q HDR
Discover incredible nuance in the deepest shadows and brightest scences of the latest stealth shooters, role play and strategy titles with High Dynamic Range on QLED TV. With extreme brightness and low reflectivity screens, gaming sessions aren't limited to after hours either; you can day-play even in sunlit rooms and see clear, sharp action.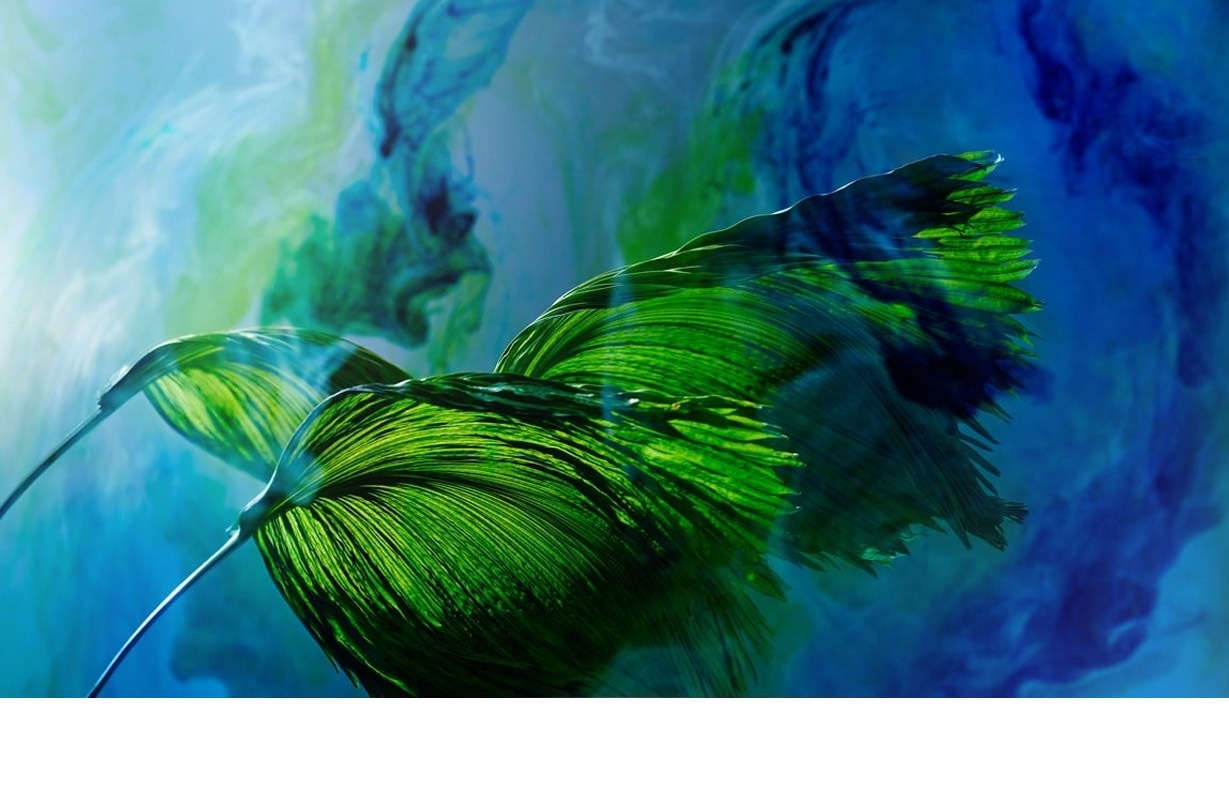 * HDR 2000: 2000 nits peak luminescence based upon internal Samsung testing.
Make
every seat
a great seat
From the middle of the couch to the corner chair, QLED TV's expanded viewing angles help colours appear bright and accurate from just about any seat.
*Compared to Conventional Samsung TVs.
Design your space
Q Style
Connect favourite gaming sources with a single thin optical cable, and reduce the spaghetti tangle of wires so common in entertainment setups. Maintain the tidy theme with a clever QLED Wall-Mount that helps fix your QLED TV flush to the wall, then couple with a curved or flat Samsung soundbar to take gaming soundscapes to next-level amazing.2, 3
Rethink the way you set up your TV. QLED TVs have a versatile mount solution
that lets you easily mount it on a wall or choose a compatible stand.
Step 1

Install wall mount kit Lift the back lid and setup the wall mount kit

Step 2

Put the cables in place Plug in the power cable and optical cable below

Step 3

Set up the hanger kit Drill following the guidelines against wall

Step 4

Hang and adjust angle Hang the TV, adjusting the angle as the last step
Virtually
edgeless picture
Boundless Design
Immerse yourself in play. Whether your taste is simulation, role play strategy, first person shooter or platform, QLED TV's super-thin bezel is designed to minimise distraction and draw you deep into the game.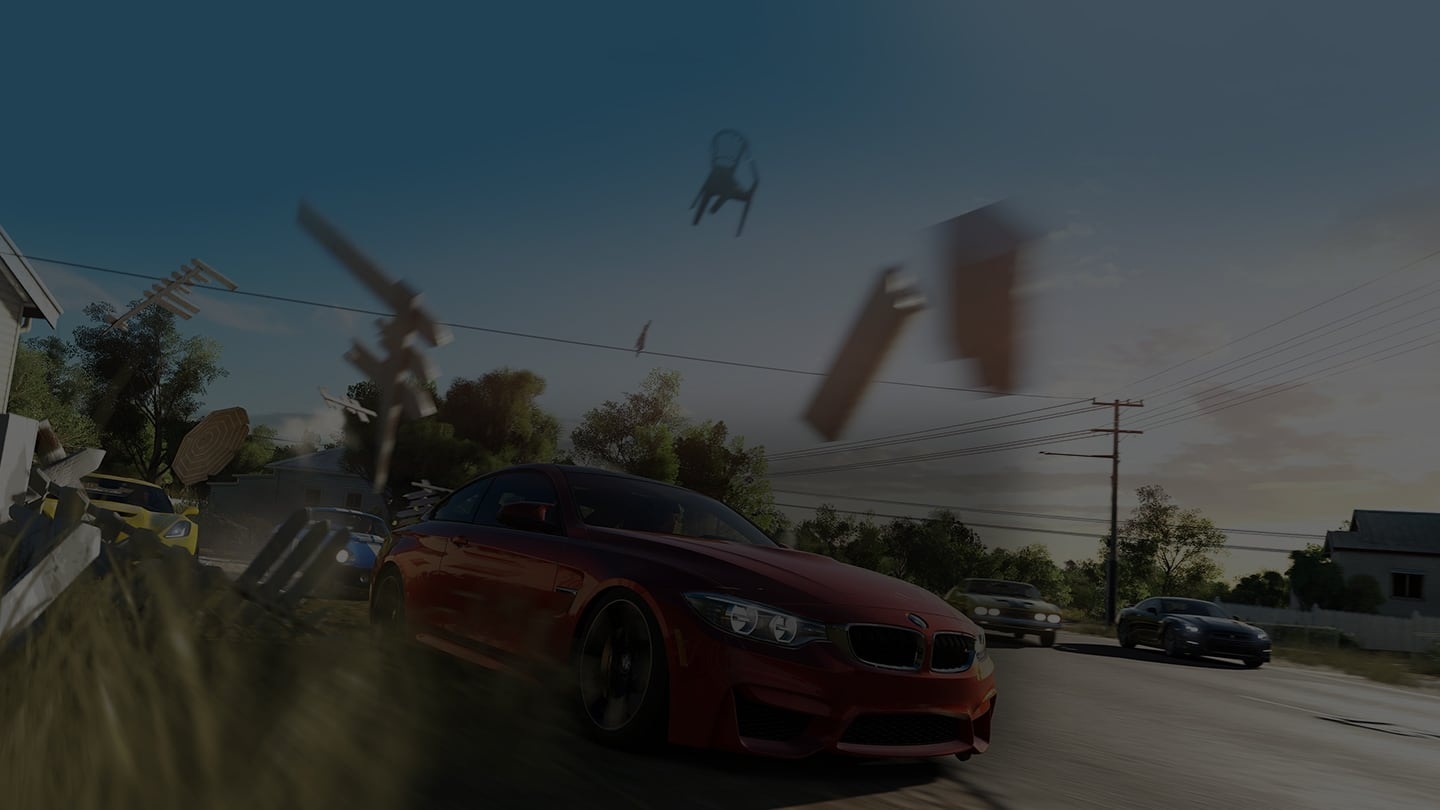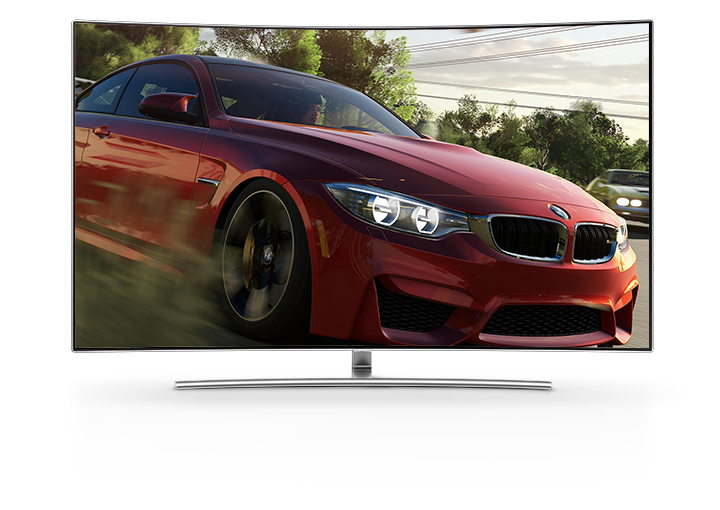 A beautiful back to go with a beautiful front
360˚ Design
Tame the jungle of cables that connect consoles, media players and more to your TV with clever cable management. Carefully designed channels inside the stand help conceal cables from view, so your setup can have a neat, sleek look even with multple connected devices.4
Smarter than ever
Q Smart
Stream select PC games to the big screen and play them with a controller, when you access Steam Link from the Smart Hub on QLED TV. Switch easily between connected consoles and devices, browse free-to-air TV, Stan, Netflix and more, and save favourites for easy access from the main screen. The Smart Hub is the heart of your entertainment options.5
Q Smart Hub. Everything you want in one place.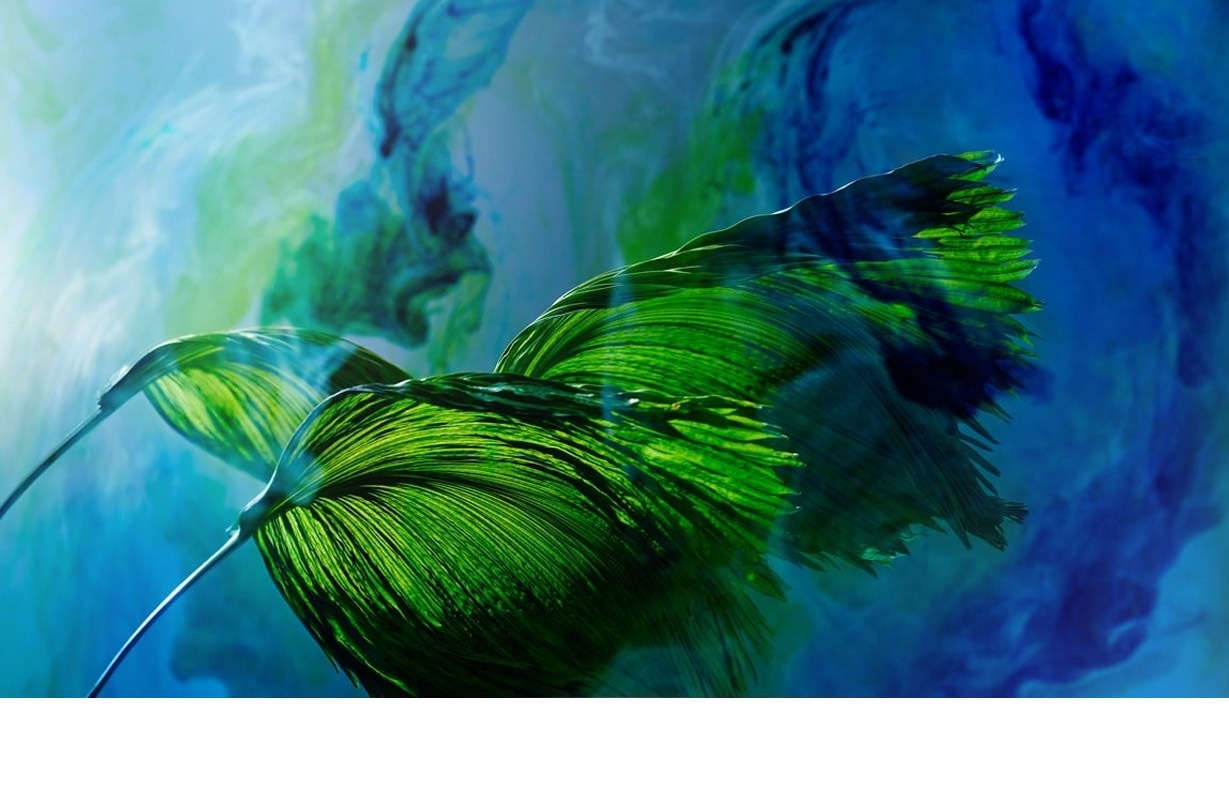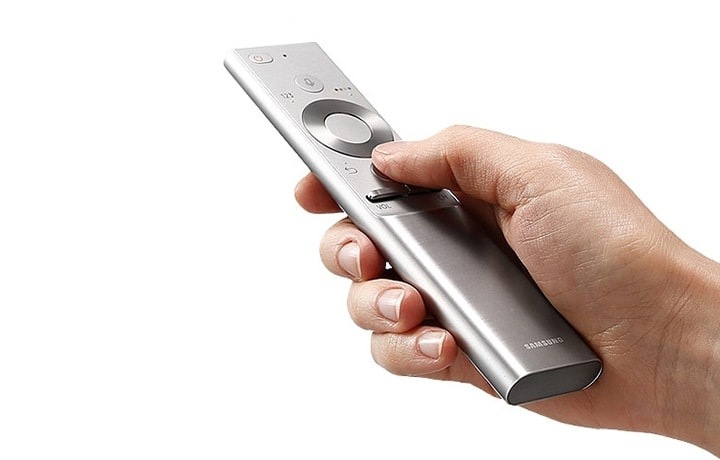 A single, smart remote
One remote that replaces many
Consoles, Blu-ray™ Players, Pay TV boxes, streaming boxes and more. As a gamer, you have more in your entertainment rack than most, and that means more remotes too. Streamline your collection of controllers with the One Remote Control, and operate all your connected compatible devices with a single, sleek handset. 6
See how One Remote replaces many
Control with your smartphone
Smart View App
Use your mobile as a remote control for your TV with the Smart View App. With your mobile, you can fire up Steam Link, beam movies stored on your phone to the big screen, browse movie streaming sites and much more. 7
Your Benefits
From free remote replacements to free health checks, as a QLED customer you receive both Samsung Care™ and Samsung Care™ Premium benefits for added peace of mind.
Available on QLED TV and The Frame TV purchased after 1st December 2017.
Premium Benefits
Standard Benefits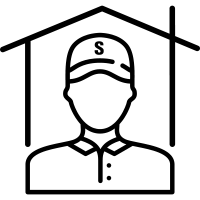 Home Support On Demand*
Within 24 hours, or on a day that suits you (Mon-Sat)
Instant Response
Have a question? Or want to know more about our products and services, we are here 24/7 every day for you!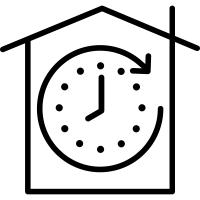 Extended Home Repair Hours
Sat 9am-5pm
Service locations
Screen and product images simulated for illustrative purposes.
All brand, product, service names and logos are trademarks and/or registered trademarks of their respective owners and are hereby recognised and acknowledged. References to third parties do not constitute any recommendation, approval, endorsement, authorisation, sponsorship or affiliation by Samsung of those third parties.
The opinions expressed in the quotes provided are the opinion of the person quoted and should not be taken to reflect the views or opinions of Samsung Electronics Australia.
1. Available on HDR content only. Colour volume tested by Samsung using the IDMS 1.03b standard and DCI-P3 colour space. Brightness tested at maximum luminance with 10% White Window in HDR. Testing verified by independent third party. 2000 nits peak luminescence based upon internal Samsung testing.
2. Compatible devices only. Ancillary product cabling not compatible (e.g. TV power cable) and still required.
3. Gap may differ based on the installation, QLED model and wall type. Wall mount sold separately and Q9 generates 6mm gap.
4. Compatible with devices that connect via Optical, HDMI or USB input only.
5. Wi-Fi network and internet connection required. Data, subscription and other charges may apply. Apps may need to be downloaded. Compatible with Android v4.1 and iOS v7 and above mobile devices, and Windows™ 7 and above computers. Windows™ mobile devices are incompatible. Smart View App required for non-Samsung devices. Feature works with selected apps only. Streaming apps cannot be shared or mirrored. Available Apps and Services are subject to change without notice.
6. Compatible with selected devices. Refer to www.samsung.com.au/oneremote for list of compatible devices.
7. Samsung Smart View app required. Compatible with Android v4.1 and iOS 8.0 or above mobile devices and Windows™ 7 and above computers. Windows™ mobile devices are incompatible.
Sign-up
Learn about product releases, exclusive offers and how to get the most from Samsung TV AV products.