Samsung 2019 QLED is more exciting than ever. Experience intense colours, our deepest ever blacks, seamless entertainment access and, for the first time, breathtaking 8K resolution.
Choose your QLED TV
Compare QLED models and find the one that's perfect for you.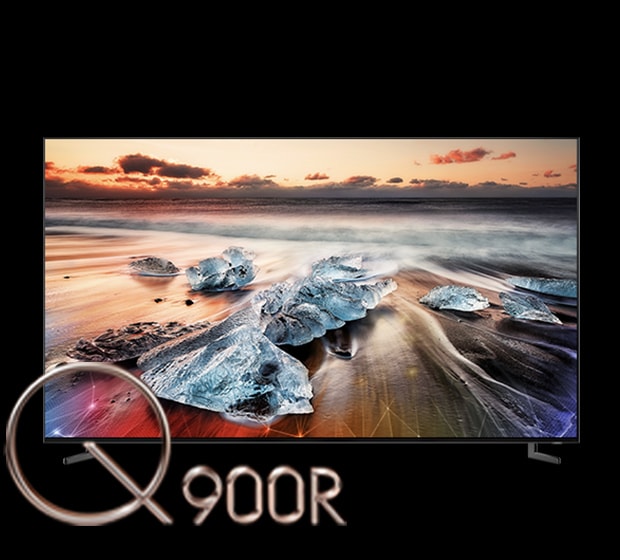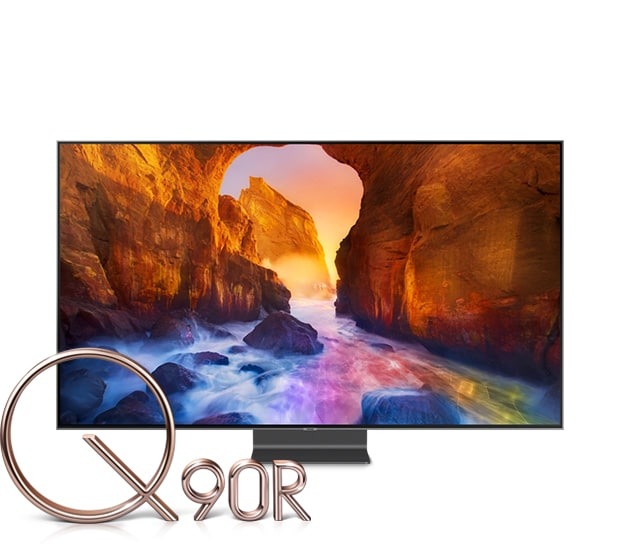 Deeper blacks than ever, so you
don't miss important detail.
Direct Full Array Elite
See enhanced contrast and rich detail, even in the darkest scenes of movies, TV shows, and games. With our deepest ever black levels and anti-reflective screens, the new 2019 QLED impresses with pictures that maintain vibrancy, even in the glare of brightly-lit rooms.*
*Deeper blacks than ever compared to Samsung RU8000 TV model and lower.
Vibrant colours, for a great viewing experience even in sun-filled rooms.
Ultra Bright
Enjoy great pictures every hour of the day and in any lighting environment, not just when it's dark outside or the lights are off. Ultra Bright screens can offer clear, vivid images with excellent contrast and colour, even in sun-filled spaces.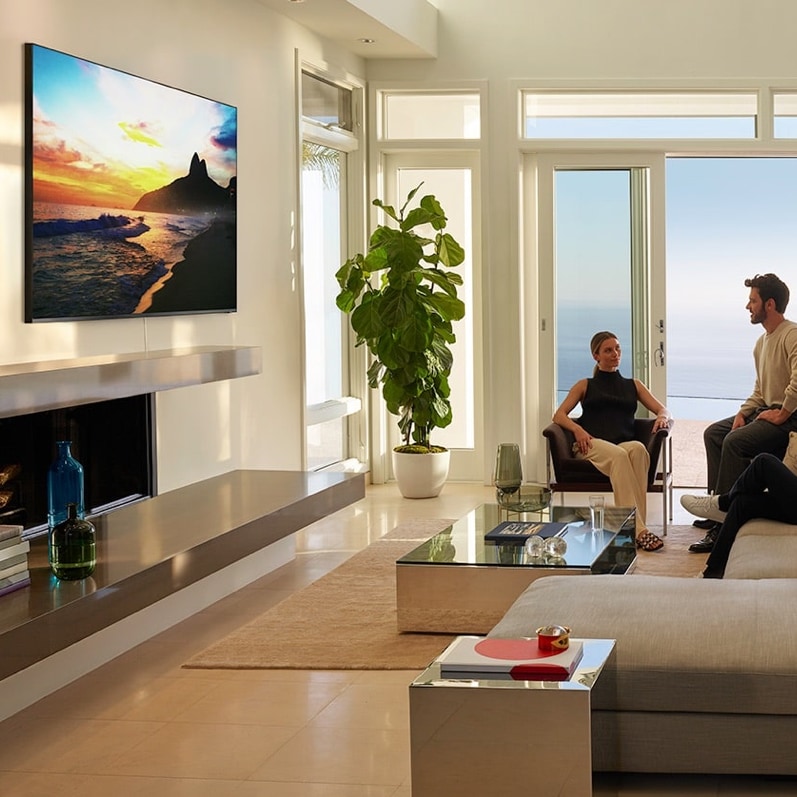 Upsized entertainment for any sized room.
Big Screen
A small room doesn't have to be a barrier to a big screen. With up to 8K resolution on 2019 QLED, you can sit close to the big-screen action and enjoy superb images with minimal pixelation or distortion. Bring large-scale viewing to compact spaces, and enjoy the freedom to sit as close, or far away, as you like.*
*Up to 8K resolution only on Q900R QLED TV model. Up to 4K resolution on other QLED TVs.
DISCOVER BIG SCREEN TVS
SHOP BIG SCREEN TVS
Discover more colours and brightness from the power of QLED.
Quantum Dot Technology
Step up to bright, vivid and colourful images. Powered by Quantum dot technology, new 2019 QLED upgrades the conventional Samsung 4K TV viewing experience with images that come closer than ever to replicating the palette of the real world.*
*More colours and brightness compared to conventional non-QLED Samsung 4K UHD TVs.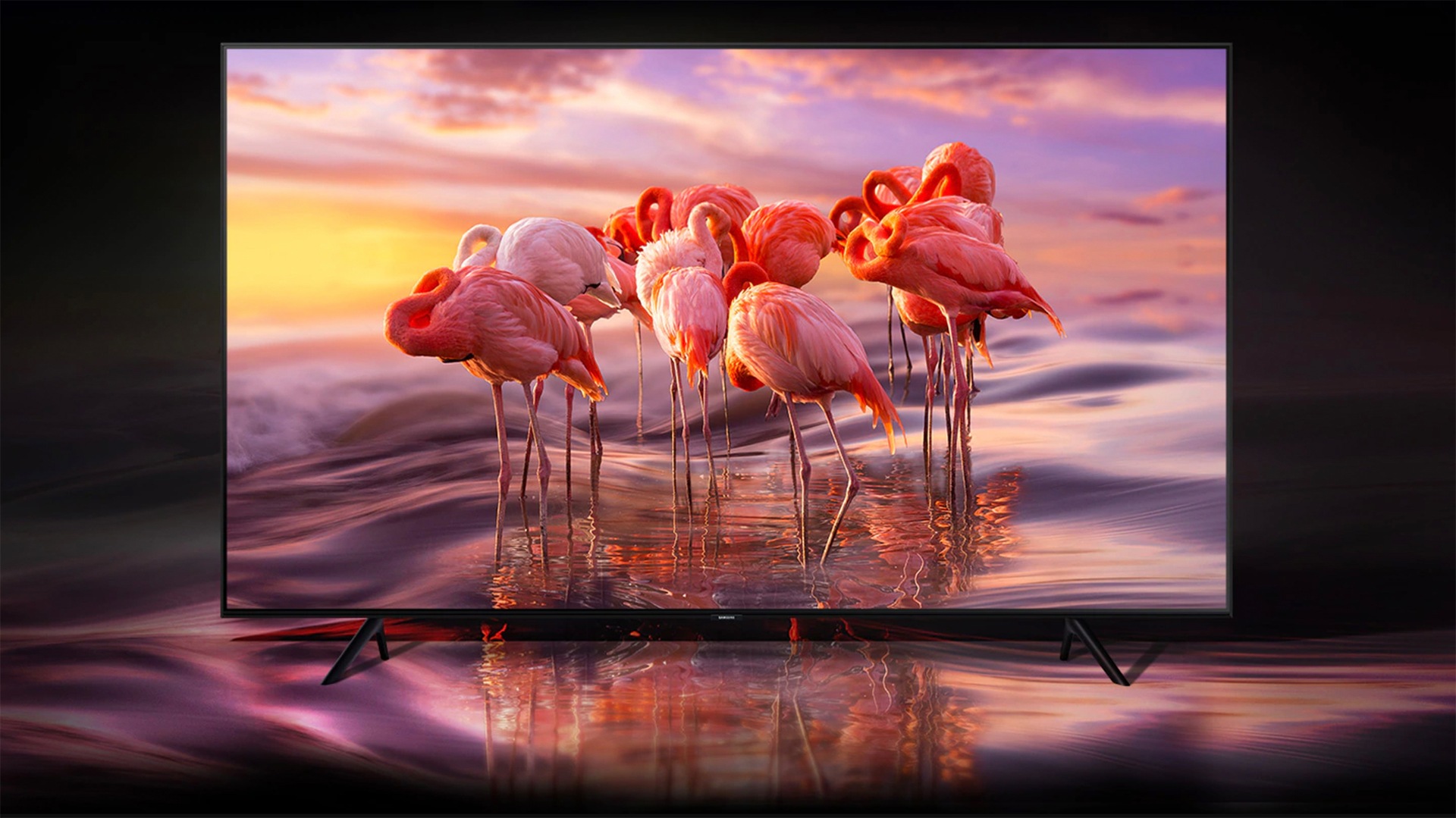 Optimal viewing experiences, with accurate, vibrant images from almost any angle.
Wide Viewing Angle
Stretch out on the couch, lie on the floor, or perch on the armrest at the far end of the sofa. No matter where (or how) you sit, new 2019 QLED promises our most optimal viewing experience, with accurate, vibrant images from almost almost any angle.*
*Compared to Samsung QLED Q75 TV and lower.
A TV that can blend with your room.
Ambient Mode
A TV should enhance your space, not dominate it. When in standby, QLED's Ambient Mode lets you display stunning art, your favourite photos, or the time and weather. All this, on a screen that's not too bright, not too dim, but just right for the lighting conditions in your room.
Ambient Mode performance may vary depending on where the TV is installed including wall designs, patterns or colours.
Create a sleek interior, free of messy cables.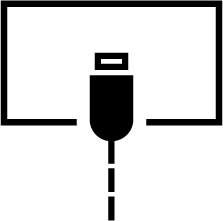 One Clear Cable
One Cable. Easy, beautiful setup. With just a single, clear optical cable for connecting power and devices to your QLED TV, messy wiring is minimised and your streamlined decor can triumph.
One Clear Cable connects to a One Connect Box which integrates external device cables.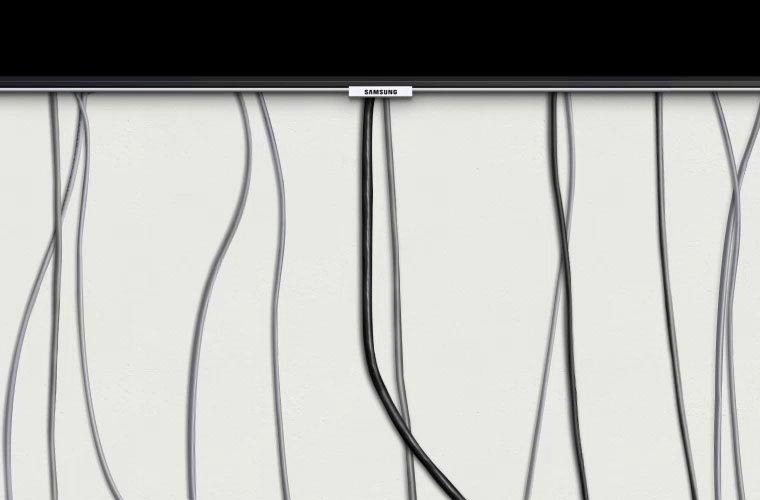 Streamline your setup with easy connections.
One Connect Box
Design your space the way you like it. With multiple compatible devices connected to your QLED TV through the One Connect Box, you're free to conceal devices where they look and work best, with just a single visible cable to your TV.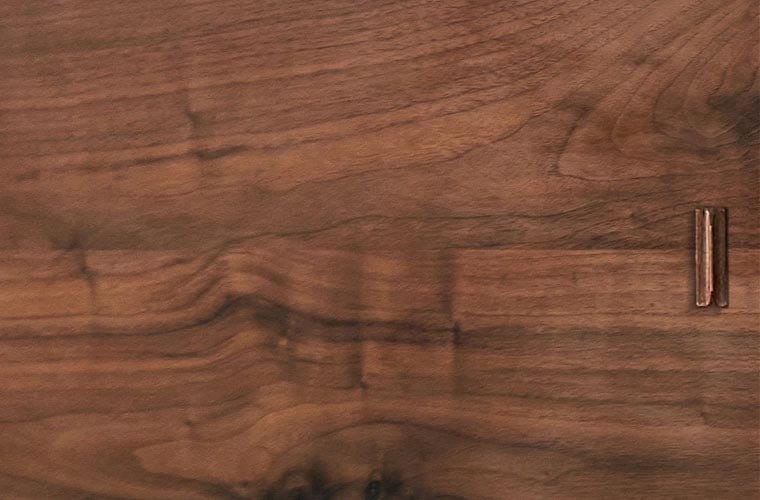 Integrated
Signal
Receiver
Infographics for Integrated and Signal Receiver feature of One Clear Connection.
Upgrade your TV time with Intelligent Mode.
Intelligent Mode
Entertainment customised and enhanced for you on new 2019 QLED. Enjoy screen brightness and sound adjusted to the light levels and dimensions of your room, and bring fresh life to your favourite collections with upscaling that helps improve the appearance low resolution movies and games.*
*Picture and sound quality of upscaled content will vary depending on quality and resolution of source content.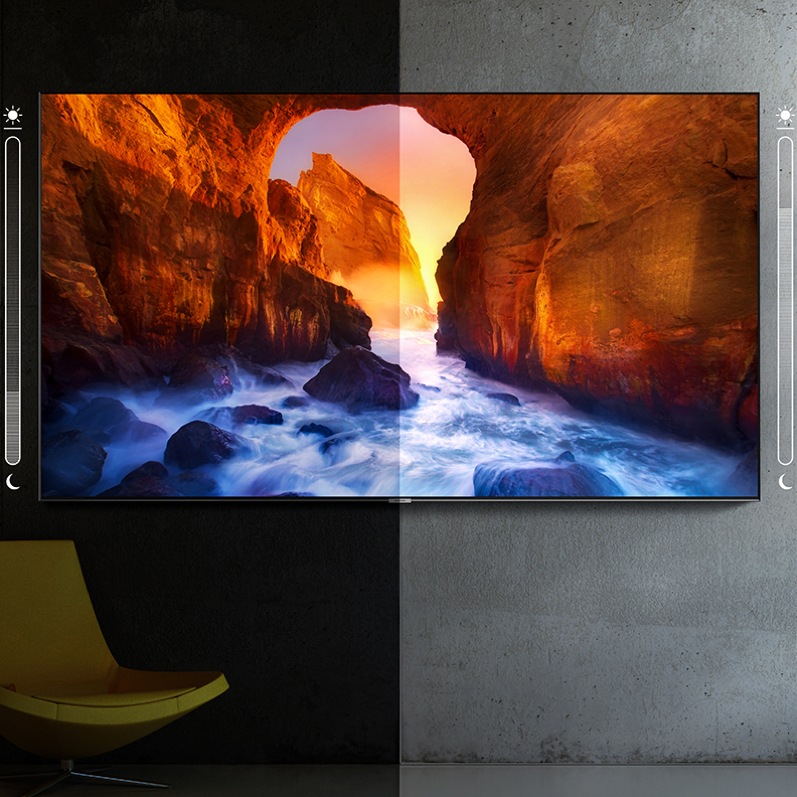 Easily control your compatible devices with our simple One Remote Control.
One Remote Control
Banish the litter of remotes from your coffee table. One Remote Control does the job of many, allowing you to switch seamlessly between connected compatible devices, free-to-air TV, Amazon Prime, Netflix and, for the first time, iTunes and AirPlay 2.*
*Compatible with selected devices. Refer to www.samsung.com/au/oneremote for list of compatible devices. Apps and services are subject to change without notice. Internet connection required. Data, subscription and other charges may apply. Colour may vary between black & silver. ITunes and Apple AirPlay 2 will be available from the second half of 2019.
Manage your connected home the way you want.
Works With
Control new 2019 QLED with Samsung's Bixby voice assistant, Amazon Alexa or Google Assistant, and monitor connected smart devices from the TV screen. With the SmartThings app, you can start the vacuum cleaner or set a timer for the air-con without leaving the couch.*
*SmartThings is compatible with selected devices. Please see samsung.com/au/SmartThings/.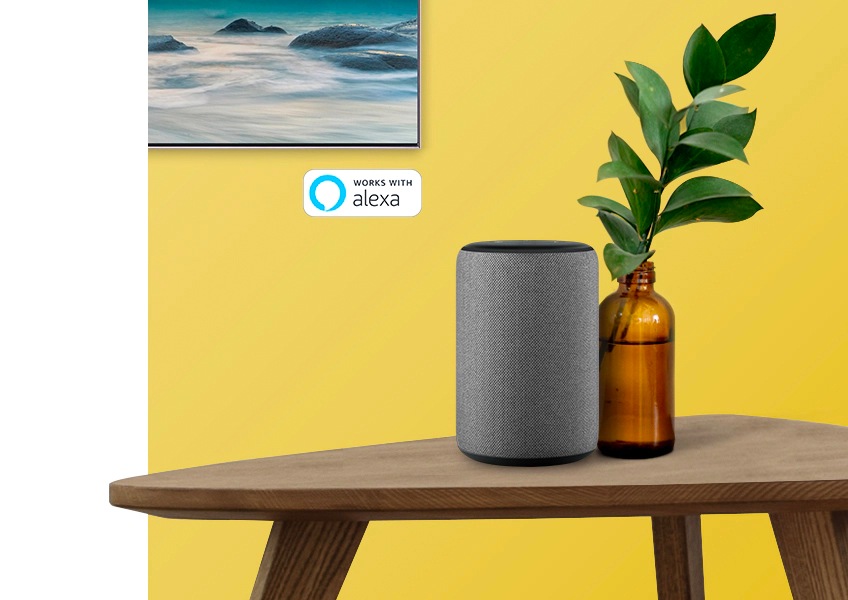 Seamless experiences
Powerful Audio and Video
Take your home entertainment to the next level with rich, powerful sound. Designed by a team of expert engineers at the renowned Samsung Audio Lab in California, Samsung Soundbars are tested and tuned to provide exceptionally balanced, room-filling sound making it the perfect companion for your Samsung QLED TV.
As a Samsung TV customer, you can receive a great range of benefits for free.
Easy peace of mind. From free remote control and One Clear Cable replacements, to complimentary home installation checks and in-home support within 24 hours, Samsung Premium Care helps ensure you get help when you need it.
QLED customers receive the benefits of Samsung Care and Samsung Care Premium. T&Cs apply. Metro areas only. Please see samsung.com/au/samsung-care for details.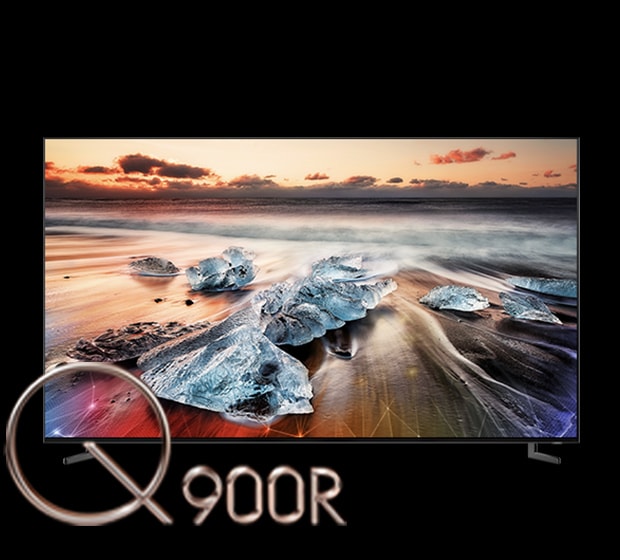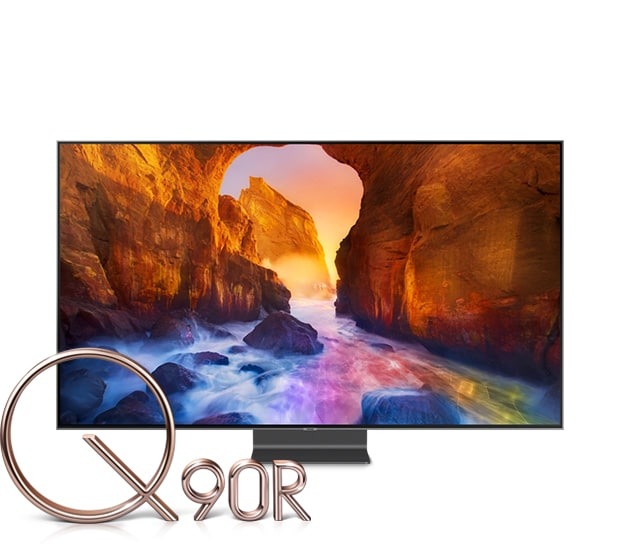 Screen and product images simulated for illustrative purposes. Content may vary by region. All brand, product, service names and logos are trademarks and/or registered trademarks of their respective owners and are hereby recognised and acknowledged. References to third parties do not constitute any recommendation, approval, endorsement, authorisation, sponsorship or affiliation by Samsung of those third parties. The opinions expressed in the quotes provided are the opinion of the person quoted and should not be taken to reflect the views or opinions of Samsung Electronics Australia.