The 2018 QLED 4K TV evolves the premium viewing experience, with big screens and spectacular colour. Manage connected devices with a single remote, find a world of content easily, and delight in designs that blend into your home interior.
No more black screen
With our new Ambient Mode on the 2018 QLED 4K TV range, you can elevate your living room with decorative content, useful information, and your photos. Ambient Mode lets your QLED TV blend with or accent your décor, and can even entertain with light background music.*
DISCOVER AMBIENT MODE
Powered by Quantum Dots, the 2018 QLED 4K TV range delivers breathtaking picture quality that is made to last.
LEARN THE QLED ADVANTAGE
Direct Full-Array
Deeper and darker blacks
Think about the times you just couldn't see the TV screen. Sometimes there's just too much sunlight in the room. Sometimes, not enough. 2018 QLED 4K TVs can deliver image clarity in most lighting environments, with deeper and darker blacks that help highlight picture detail, and an anti-reflective layer to minimise glare.*
*When compared with 2017 Samsung Q9 QLED TV. Q9 and Q8 only.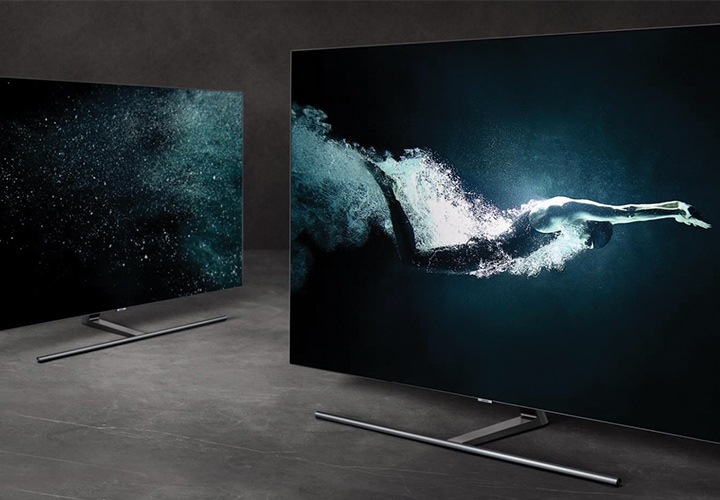 HDR10+
Colours and contrast expressed virtually as the director intended
Sometimes you just can't see what's on your own TV screen, especially when it's a dark scene with some shadows. Powered by HDR10+ technology, Q HDR is designed to provide a wide range of brightness and contrast in HDR10+ content, helping to bring fine picture nuance to life.*
*Only available on HDR10+ content.
Game Mode
Get deep into your game
Enter the brilliance of a virtual gaming world created by QLED 4K TV. Dive into fast and dynamic games with 15-millisecond low input lag, and discover an elevated gaming experience.*
*Compatible games console required.
10 Year No Screen Burn Guarantee
Made to last
Enjoy consistently bright and vivid images for years to come. The inorganic Quantum dots in 2018 QLED 4K TVs are engineered for long life, providing protection against screen burn damage, for brilliant images guaranteed to last for 10 years.*
*Terms and conditions apply. For full warranty details visit https://www.samsung.com/au/support/warranty.
"Samsung has hit on a winning, forward-thinking formula that delivers the best 4K high dynamic range pictures we've seen to date"
See the
bigger picture
Size of living space is no longer a factor when choosing your new TV. Advances in our 2018 QLED TV picture quality can now help you to enjoy big screens, even in small spaces.
DISCOVER BIG SCREEN TV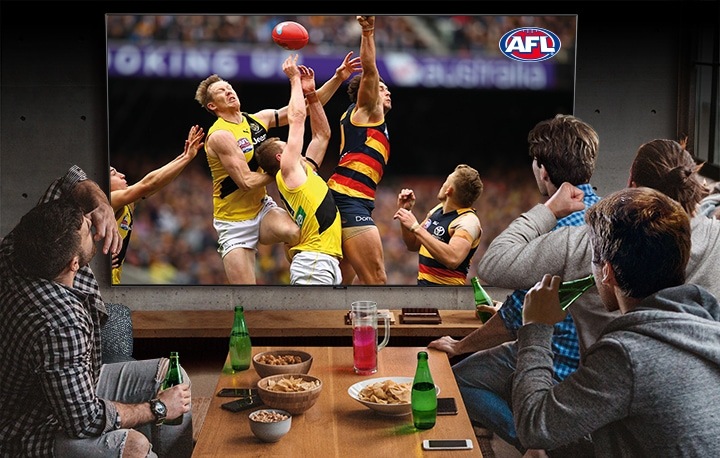 See the picture, not the TV
Minimise distraction. Maximise focus. Our goal is to help keep your attention on great pictures, so we've reduced visible cables with thoughtful design and created ways to avoid seeing a plain black screen on your TV.
"Samsung scored a homerun with the design of this year's Q9F. Between the One Clear Connection cable that now also carries power as well as the video signal, to the simple yet helpful switch to a pedestal base cool, plus with the addition of Ambient Mode, this TV is a technology statement with visual appeal."
One Clear Connection
One is more
than
enough
Easy installation and reduced cable clutter. The One Clear Connection is a slim optical cable that joins your TV, including its power cable, to multiple devices through the One Connect Box. With cables combined and devices stored out of sight, your space can be neat and streamlined.*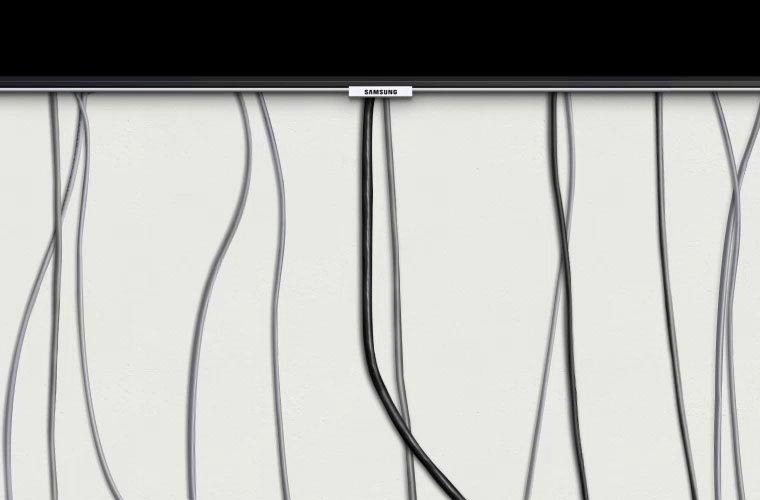 One Connect Box
Finally!

Your space
is free
Design your space the way you like it. With multiple compatible devices connected to the TV through the One Connect Box, you're free to conceal devices where they look and work best, and see only a single, clear cable to your TV.*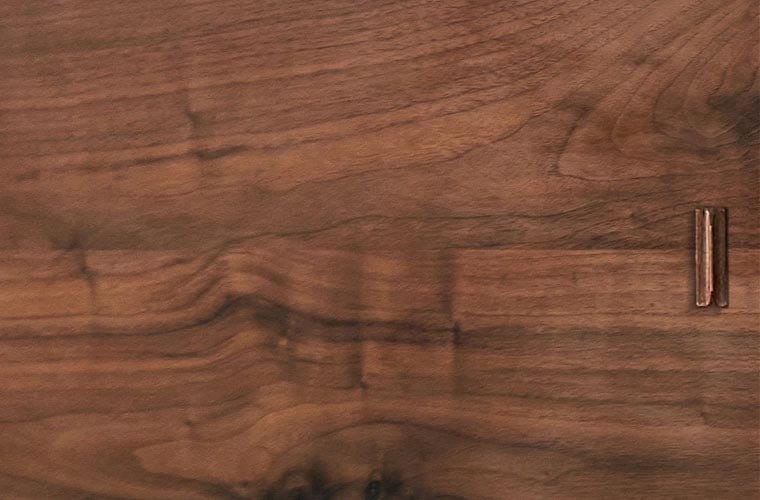 Integrated
Signal
Receiver
Infographics for Integrated and Signal Receiver feature of One Clear Connection.
*One Clear Connection is available only on 2018 Q7 and Q9 models. One Connect Box required for One Clear Connection. One Connect Box has capacity for 4 HDMI, 3 USB, 1 optical and 1 x 240 volt power cable.
One Mount Solution
More choice
for your space
The One Mount solution makes it easy to hang your TV, or use the stand that complements your room. Choose from the Slim Fit Wall-Mount, the Gravity Stand or Studio Stand.
Slim Fit
Wall-Mount
Ingeniously engineered, the Slim Fit Wall-Mount quickly and easily hangs your TV close to the wall, for a sleek and streamlined installation.*
*Measured from rear end of the TV, the gap may differ based on the installation and wall type. 75" Q7F and 65"/75" Q9F generates 7mm gap. Wall mount sold separately.
Gravity Stand
Sleek. Modern. Functional. More than just a way to keep your TV upright, the Gravity Stand features a built-in cable management system. It's a whole new way to accentuate your space.*
*Compatible with 65" and 55" Q7 & Q9 QLED TV models. Stand sold separately.
Studio Stand
Think differently, and place your TV anywhere you like. The easel-like design and built-in cable management system of the Studio Stand helps transform your TV into a piece of art.*
*Compatible with 65" and 55" Q7 & Q9 QLED TV models. Stand sold separately.
Smart Hub
Spend time watching,
not searching
Discover more of the TV you love. Smart Hub gathers great entertainment for you to watch on one screen. Delight in quick and easy navigation of popular apps and content, save favourite devices and channels to the menu bar, and even check out thumbnail previews before diving in.*
*Apps and services are subject to change without notice. Internet connection required. Data, subscription and other charges may apply.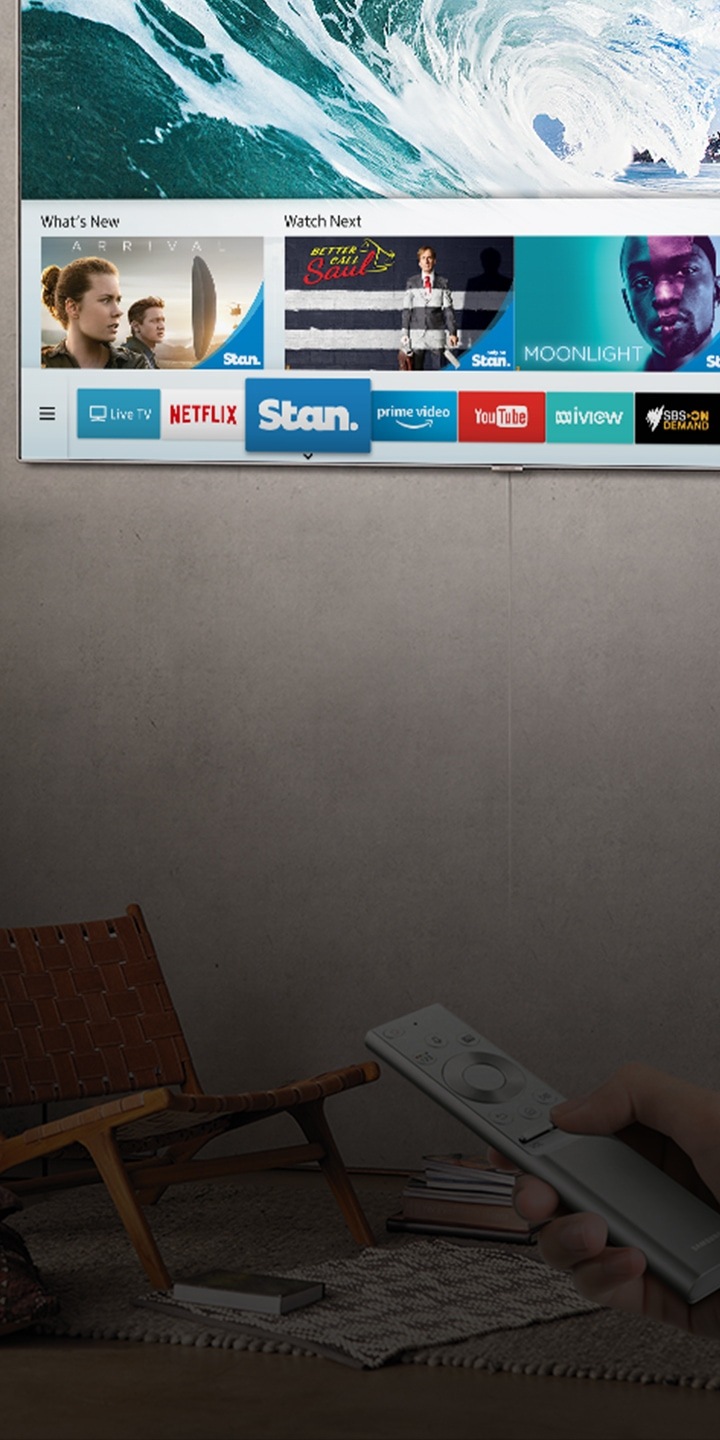 One Remote Control
A single
smart remote
Spend less time searching for the remotes, and more time watching. The single, sleek One Remote Control can operate all your compatible devices and content, and with connected devices automatically named on-screen, it can be fast and easy for everyone to find what they want, from the youngest in your home to the oldest.*
*Compatible with selected devices. Refer to www.samsung.com/au/oneremote for list of compatible devices. Apps and services are subject to change without notice. Internet connection required. Data, subscription and other charges may apply. Colour may vary between black & silver.
SmartThings
Your home. Connected.

Connect seamlessly with a range of smart devices and appliances, from your fridge to your mobile to your washing machine. SmartThings can provide an intuitive way to take control of your home, and beyond. Experience a truly connected life.*
*Compatible with selected devices. Refer to //www.samsung.com/au/SmartThings for list of compatible devices. Internet connection required.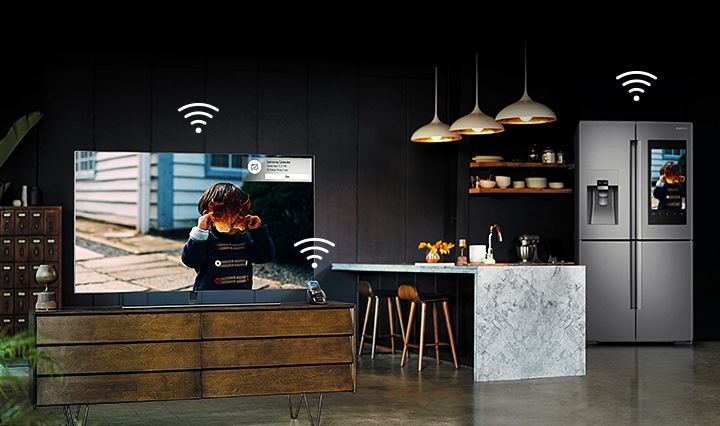 Samsung understands what TV should be, so you can enjoy incredible entertainment from the global number one in TV for 12 years.*
Shop QLED TVs
*ⓒFuturesource Consulting
Screen and product images simulated for illustrative purposes. Content may vary by region. All brand, product, service names and logos are trademarks and/or registered trademarks of their respective owners and are hereby recognised and acknowledged. References to third parties do not constitute any recommendation, approval, endorsement, authorisation, sponsorship or affiliation by Samsung of those third parties. The opinions expressed in the quotes provided are the opinion of the person quoted and should not be taken to reflect the views or opinions of Samsung Electronics Australia.