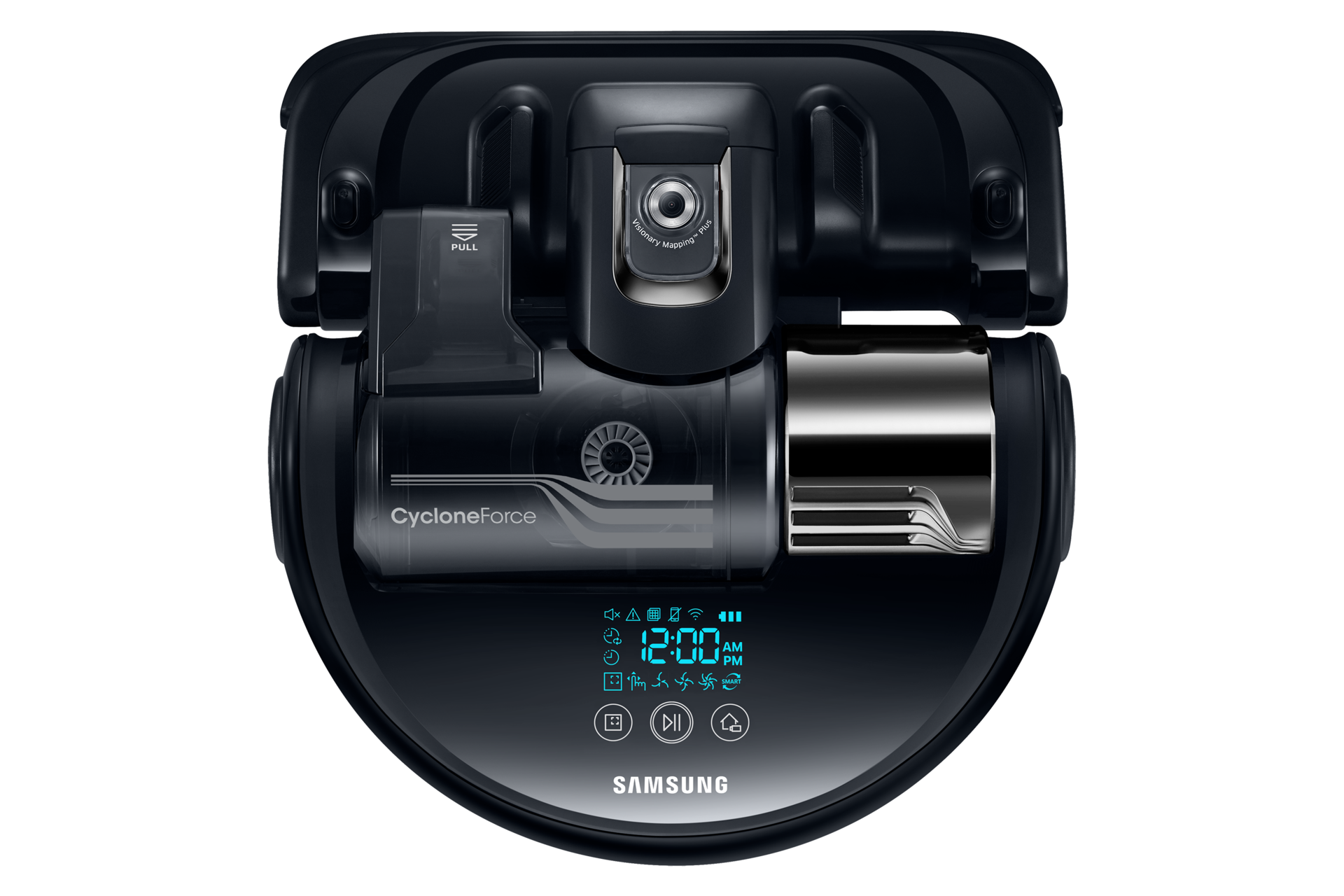 POWERbot x70 Robot Vacuum - SR20K9350WK
VR20K9350WK/SA
POWERbot x70 Robot Vacuum - SR20K9350WK
is rated out of
5
by
22
.
70x more suction power*
Wi-Fi Control
Up to 90 mins cleaning time
0.7L Dust Bin Capacity
One of Australia's Most Powerful Robotic Vacuum Cleaners*
POWERbot VR9300 picks up dust and dirt on multi-surface* including carpet, hardwood, and tiles etc. with high suction generated from a powerful motor.
*Based on testing conducted by an independent third party in May 2015.
Select areas you want to clean with your compatible smartphone
Select & Go™ creates a map of the whole house in the smartphone App, so you can individually name each room to specify areas to be cleaned.
Control it Remotely
Wi-Fi control lets you remotely control the machine using a smartphone App*. POWERbot also works with the Google Assistant** With this virtual personal assistant you can use your voice to start, stop, and charge your robot vacuum.
LEARN MORE
*Available on compatible Apple and Android phones. Requires Samsung account, app download & wi-fi connection. **Google Assistant compatible with POWERbot VR7000 models. Requires compatible phone, Samsung account, app download & wi-fi connection.
*Another model shown
Comprehensive scan and corner clean
An upgraded, high-performance FullView Sensor™ thoroughly locates even very narrow or small obstacles across a wide area. As there are few "blind spots", it can navigate safely around an entire room.
Captures the dust and helps prevent the filter from clogging
Cyclone Force technology extracts dirt and debris from the air into an outer chamber, thereby helping to reduce clogging in the filter.
Point And Clean
A Point Cleaning™ controller that lets you guide it to clean dusty spots. Simply point the light in front of the VR20K9350WK. It will follow the beam and clean as it moves along the way.
Wide Brush Clean
The Samsung POWERbot VR20K9350WK has a wider brush***, so it can clean larger areas with less movement. It has a width of 311mm, which is around 151mm larger than conventional 160mm brushes, helping to provide a faster cleaning performance.
Easy Pass™ Wheels
Easy Pass™ wheels are designed to pass over rugs or obstacles up to 10mm, so it should keep working while you're not there.
Fast, efficient cleaning
A Visionary Mapping™ Plus System finds and leads it around the optimal path for the fast-track cleaning.
One Touch Cleaning On The Go
Start the machine or schedule cleaning times while you are away from home, using a compatible Smart Phone*.
Clean How You Like
Various cleaning modes let you choose the best way to clean in different situations.
Always Charged
When the battery gets low it automatically moves to the docking station to recharge itself. Once it's fully recharged it goes back to its last location and resumes cleaning.
Everything You Need
A complete set of additional accessories make it easy to get started straightaway.
Virtually More Protection
Protect your valuable furniture or pet beds from being damaged or disturbed using Virtual Guard™. Simply activate it with a single button and use it to set the restricted spaces.
250 W

Consumption Power

0.7 ℓ

Dust Bin Capacity

475x184x530 mm

Net Dimensions (HxWxD)

4.9 kg

Set Weight
Rated

2

out of

5
by
TraceH
from
Loved it (AT FIRST)
I brought this vacuum over a year ago and I love it for the first 3 months, it would clean the whole house in one battery charge. After 3 months it went to half the house then would have to recharge and do the other half later. that lasted for about another 3 months now your really lucky if it can finish a room, not to mention now for some reason it gets stuck on the strip between the carpet and hard floor where it never used to have a problem. For a very expensive vacuum I would be certainly expecting it to last longer. So glad I got extended warranty because this is ridiculous I will be returning it.
Date published: 2019-05-29
Rated

3

out of

5
by
angela
from
Pet Hair gone!
We chose to invest in the top of the range vacuum cleaner and were very happy with the initial Samsung Powerbot performance in picking up pet hair, it promised and delivered. However, it's been just over a year and the Powerbot is only running for a very short time and never makes it back to the charging station, so I need to find it and carry it back, this makes it not very efficient at cleaning and it "forgets" where it has already been. Not sure if this is a battery issue but $250 for a new battery after just over a year of usage is hefty and don't make the "10 year warranty" sticker on the Powerbot look credible.
Date published: 2019-05-07
Rated

1

out of

5
by
HQDavid
from
Prone to breaking down
I have owned this vacuum for 17 months and it has been in for repair on 5 separate occasions, I have just been told that the battery needs replacing and it only has a 6 month warranty on the battery so I have to pay for a new battery at considerable cost, I would not recommend this to anyone.
Date published: 2019-04-27
Rated

1

out of

5
by
HQDavid
from
Very prone to breaking down.
I bought this Vacuum on 17/12/2017 it is 26/04/019 and the Vacuum has been in for repair under Warranty 5 separate times, It has just been in for repairs because it is not charging and I have been told the battery only has a 6 month Warranty and they want me to pay $240 dollars for a new battery, I would not recommend this Vacuum to anyone.
Date published: 2019-04-26
Rated

5

out of

5
by
Sal2602
from
Still going strong after 2 years
I bought this a couple of years ago and it's been fantastic. The first time we ran it straight after our cleaners came (fortnightly) it filled up before completing the rooms! I'm amazed at how much it picks up every day. I gave up on the room mapping feature though - but that's ok because of it runs everyday starting with the kitchen and main living area it keeps the kids' crumbs, cat fur and dust down and from being tracked through the house. Love it.
Date published: 2019-04-19
Rated

2

out of

5
by
Katillac
from
Constantly disconnects from WIFI and skips rooms
We've had this robot for a few months. Loved it at first. But now it constantly skips rooms (our home is one level, no carpet, layout is super easy). It also constantly gets disconnected from wifi (I mean like, every day). It makes it really difficult to manage though the app and to adjust its cleaning schedule. Multiple times I've tried to cancel a daily schedule, and on the app it's reflected that there isn't a daily schedule, but the bot goes off on its own everyday at the old scheduled time anyway. It should have been a dead giveaway considering their website performs so poorly on mobile devices - Samsung are just not up to par with the internet world capabilities. The technology is pretty cool and the idea and initial experience is very romantic, but it's just not built to be consistent. It also speaks volumes that Samsung doesn't stand behind its product when you express these concerns - warranty department is set up to give you the run around until you give up and just birth the thing out of frustration. I regret not waiting for the Dyson.
Date published: 2019-04-19
Rated

5

out of

5
by
Trublkat42
from
Amazing Vacuum
Watching this little guy work (we named him Frank), has entertained the whole house. He just keeps going and figuring out ways around the furniture. Love how he takes himself back to the charging station and backs in.
Date published: 2019-04-07
Rated

2

out of

5
by
Lainerobot
from
Keeps breaking down
Had this less than a year. When it works it's great but it broke down within a few months. Got it fixed with the inconvenience of having to drop it off at the only repairer miles away from home. Few months later it broke down again in the same spot. Requested my money back but Samsung would not agree. So repeat the inconvenience and repaired again. Now a few months later, surprise, it's broken again. 3 times in less than a year. Definitely want a refund this time because next time it breaks it will be beyond warranty. Shame reliability is lacking.
Date published: 2019-02-28
User manual & Downloads
Live Chat
* Key feature may different from Key Spec
* Samsung Smart Home Apps are compatible with selected Samsung Galaxy S and Note series devices. Supports Android™ 4.0 (since Galaxy S2) or higher and iOS7 or higher.
***The brush length was measured on Samsung POWERbot VR9300 and leading robot vacuum brands. Based on internal data.