In today's fast-paced technology industry, innovation remains critical to a company's success. We remain relentlessly passionate about developing innovative technology solutions that will enable our customers to better pursue their passions. As both a global and a Canadian business leader, we are committed to developing a world class organization that is built upon the strengths of its people, and operates with a culture that is passionate about pursuing top talent, giving its employees a working environment in which they, and the company, can mutually achieve success.
Samsung's Canadian History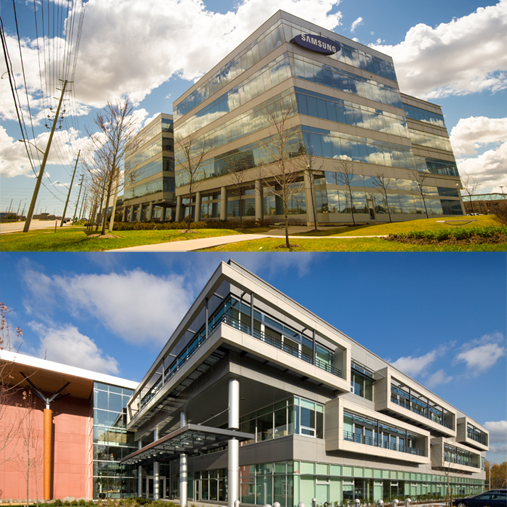 Samsung Electronics Canada
Since entering the Canadian market in 1987, Samsung Electronics Canada has emerged as a market leader with revenues nearing $2 Billion. Headquartered in Mississauga, Ontario, Samsung has consistently grown its brand and its business year after year. Today we are considered the market leader in almost all of the product categories we compete in.
Operating as part of Samsung's Americas group, our Canadian operations gain considerable competitive advantage from Samsung's operations in the USA and Mexico, including support from R&D, manufacturing, sales/marketing, and technical support.

Samsung Research Canada
Since 2013, Samsung R&D Canada has been responsible for the design, development, testing, and support of key technologies at Samsung, including products and services relating to mobile security, mobile payment, business solutions, and the Internet of Things.
Based in the Greater Vancouver Area, we employ more than 100 people, including developers, designers, support technicians, administrative staff, and co-op students.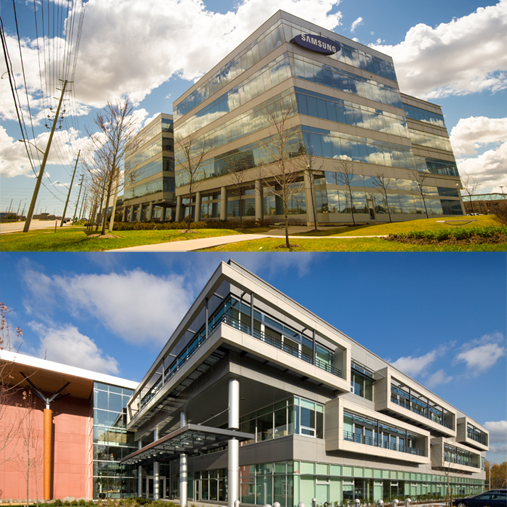 Employee benefits program
Our benefits exist to make sure that you and your family are well taken care of. They are designed to take care of the whole you and keep you healthy, whether physically, emotionally, financially or socially.

We offer :
• Company paid Comprehensive Extended Health and Dental Coverage
• Employee and Dependent Life Insurance
• Short and Long Term Disability
• Accident Death & Dismemberment (AD&D)
• Maternity and Parental top up
• Compassionate Care Top up
• Health & Wellness Programs
• Travel insurance and emergency assistance - even on personal vacations.
• Group RRSP Matching Program and Group TFSA Program
• Tuition Reimbursement Program
• Employee Product Purchase Program
• Employee Recognition Programs
• Group Home and Auto Insurance
• Group Mortgage Program
• Group Good life Membership discounts
• Discounts with several partners and vendors
• Volunteer days
• Giving Program with an employer match
• CAREpath (Cancer Assistance Program)
• Flexible work arrangements
• Scholarship program for your children
• Summer early release before the long weekend
• Jeans all week
• Flex start and end
• Professional development
• Charity matching with Benevity
• Free fitness center
• Referral bonus

Career Development "The Samsung Way"
In order to stay competitive in the market, we invest in our employees by aligning their development to our business, their respective professions, and the corporate initiatives Samsung supports. We've partnered with Business schools like Schulich School of Business and Queen's Executive Development Centre to ensure we are constantly stretching the imagination and creativity of our employees. Samsung also has a Global Mobility Program.

Samsung believes in developing our future:
• Summer Student Program for College and University Students
• Samsung Co-op Student Program
• Global Mobility Program to provide our high-potential employees with International experience

Global Community
A company's success is measured not only by its business achievements, but also by how well it serves its community, protects our planet's resources, and makes a difference in people's lives

Community : Samsung Hope for Children Program

Samsung launched The Samsung Hope for Children program globally to bring attention to the worldwide need for childhood education and healthcare. The program advocates on behalf of children by providing our products, knowledge, and employee volunteer service – and our success will be measured by the number of lives we touch. We believe in giving back to the community, both locally and globally.