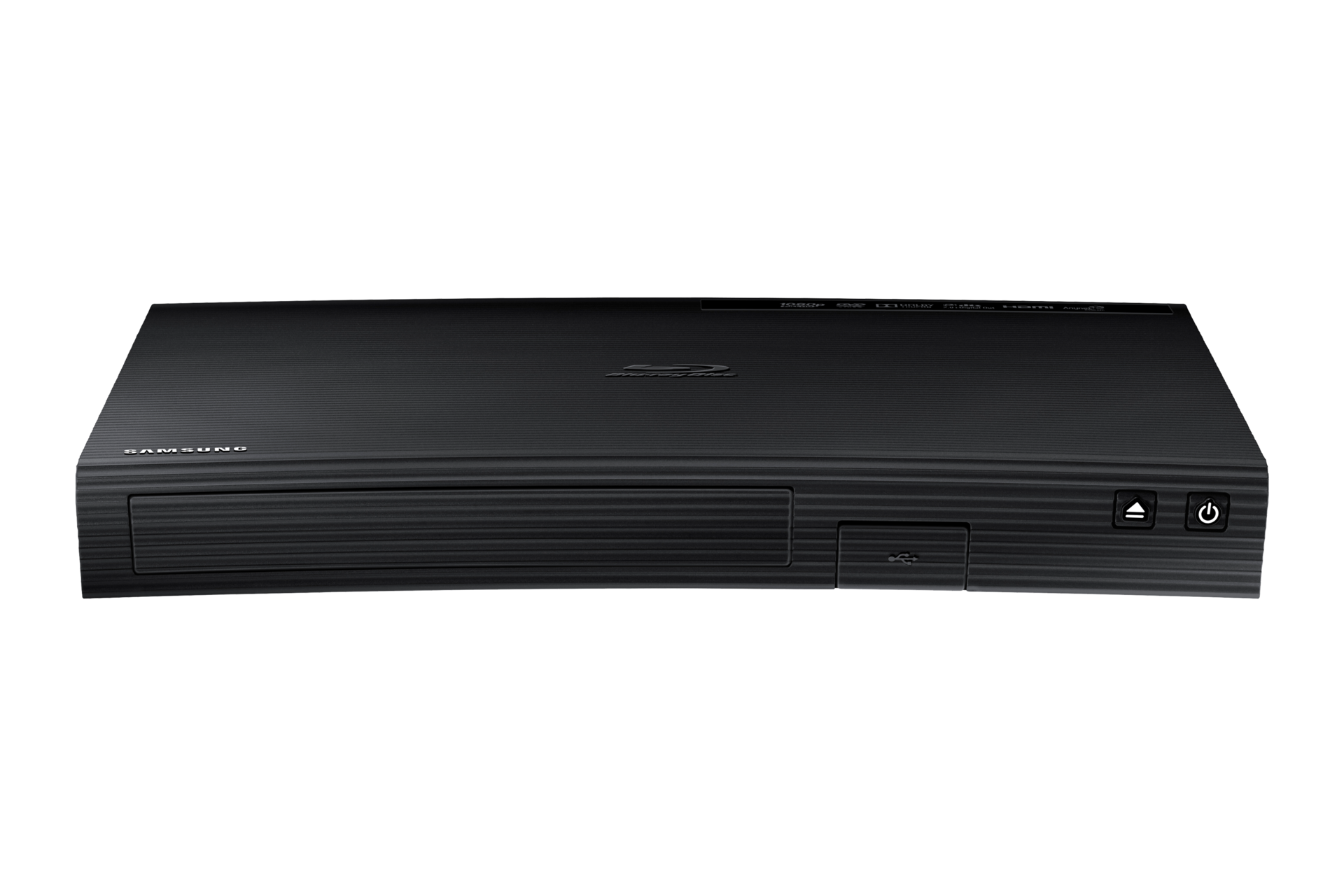 BD-J5700
is rated out of
5
by
10
.
2 ch
Dolby Decoding Channel
290x39x221 mm
Product Dimension(WxHxD)
Access more apps in half the time
You can never have too many apps to explore. The new and improved native Opera TV Store app offers over 250 titles for you to pick and choose from. And if that wasn't enough, you can now boot native apps faster than before, so you'll never be short of the content you want, when you want it.
*App availability may vary by region and is subject to change at any time.
For the first time in history, the Blu-Ray gets a curved design makeover
After years of the same boxy design,the Blu-ray disc player has now evolved. The J5 Series BDP features a curved design that perfectly matches your Samsung Curved TV for an exquisite addition to your entertainment space. It also puts the warmth back into modern design, with wavy micropatterned lines in the surface that give it a soft fabric-like touch. Coordinate the look of your devices by keeping them both curved.
Wirelessly access your devices and the internet
Connecting to the internet is easier to do with the Samsung Blu-ray Disc Player. With wireless LAN built in, you can use the internet and access apps without the inconvenience of adding more external devices. Samsung BDPs come with DLNA content sharing capabilities that make streamlining connections between your home entertainment devices easier than ever before. The J7 series BDP even comes with Dual Band Wi-Fi for even faster network speed and more stable performance. Enjoy more of your time with faster access and less reliance on wires.
*Internet connection required
*Internet connection required
Experience the next level of Full HD 3D entertainment
Bring home a more immersive and spectacular 3D experience. With Full HD 3D, your 3D home entertainment will be more exciting and vivid than you ever imagined, with powerful features to maximize your enjoyment. Immerse your senses in the new reality of 3D HD.
Enjoy content from USB memory drive or external HDD
Access all your multimedia with great connectivity. Sync and enjoy movies, photos and music from your USB memory drive or external hard drive. External HDD Connectivity allows you to connect your external storage directly to your Blu-ray Disc Player via USB and quickly access video, audio or images. It's designed to handle a wide range of content, so you can enjoy all your home movies, downloaded music and holiday photographs all in the comfort of your living room. Just connect, sync and enjoy.
2 ch

Dolby Decoding Channel

1

HDMI Out

1 kg

Product Weight

290x39x221 mm

Product Dimension(WxHxD)
Rated

3

out of

5
by
mana
from
size of component
the compact size is great. bought it about 6 months ago and finally hooked it up as i needed a new receiver. put in a cd and it worked. then tried the dvd and had video but no audio. finally got that working. watched netfilx march 8-11/17. didn't start up again march 12/17. remote doesn't work, disc tray doesn't open, no light to show whether it's on of off....not happy
Date published: 2017-03-14
Rated

2

out of

5
by
Disappointed991100
from
No Samsung Hub
Bought this to stream TSN and Crave TV. All this streams aside from YouTube and Netflix is crummy apps you've never heard of. If I see a Samsung device with streaming I expect it to be Smart.
Date published: 2018-12-26
Rated

2

out of

5
by
AVPro
from
Stop cutting features, Samsung!
For the average consumer looking to buy a good Wi-Fi-enabled Blu-ray player, this unit should do the trick. My only complaints with the BD-J5700 are the curved/ridged design, the absence of a power indicator light, and the absence of a zoom feature (which is missing from pretty much ALL Blu-ray players these days, but was present in the BD-C5500 and the BD-E5300). It is disappointing that with each new model, Samsung subtracts more features from their TVs and Blu-ray players than they add. Between this and the fact that my two players listed above lasted only 4, and 3 years respectively, this once-loyal Samsung customer is beginning to lose faith.
Date published: 2018-01-20
Rated

2

out of

5
by
Former customer
from
ISSUES
I purchased 3 of these unit. Initial price point seemed great for the features. They done get used often. All started either turning off while being used or not powering on at all. Can not power up using remote or power button on the unit. Bad design due to the fact there is not light stating power. I disconnected from home theater power bar and tried three different wall outlets. No power. If I don't use it for a week it turns on all by it's self and starts what ever disk is in it at the time. I smashed one of three out of frustration and the other two are now on the radar. Samsung makes great tv's but the blue ray players are not worth the cardboard they are packaged in.
Date published: 2018-01-12
Rated

2

out of

5
by
Ticked
from
Beware the crippled Opera TV apps experience
The machine is average in terms of speed and clarity. What you don't know until you set it up is that there is no SmartHub. All you get is a lousy Opera TV store with very few apps. There is no CraveTV, for example. Totally feel betrayed.
Date published: 2016-11-27
Rated

1

out of

5
by
PBJ1
from
No longer has the apps as described
Purchased 5 months ago, but never had OperaTV or other useful apps. Only has Youtube and Netflix, plus an unusual assortment of filler apps.
Date published: 2019-04-06
Rated

1

out of

5
by
Leonard
from
Very poor quality
I bought this unit a few weeks ago and I am returning it to the store. I have purchased a lot of Samsung products in the past and have been happy but this unit is a real disappointment. For instance: There is no power "On LED" ... now what would that cost ... $1.00! The unit is slow to boot-up and takes forever to log on to Netflix and, my unit worked intermittently. It looks to me like the design team for this model tried to do too much with too little money1
Date published: 2019-01-23
Rated

1

out of

5
by
Deuce1
from
Just no.
It does not come with any cables or wires for TV set up and the instruction manual is very very vague. No explanations at all. I'm not even gonna try to set it up. It's going back to the store tomorrow. Also, the machine has lights. Can't even tell if it's on or not.
Date published: 2019-01-19
How It Stacks Up
* Key feature may different from Key Spec