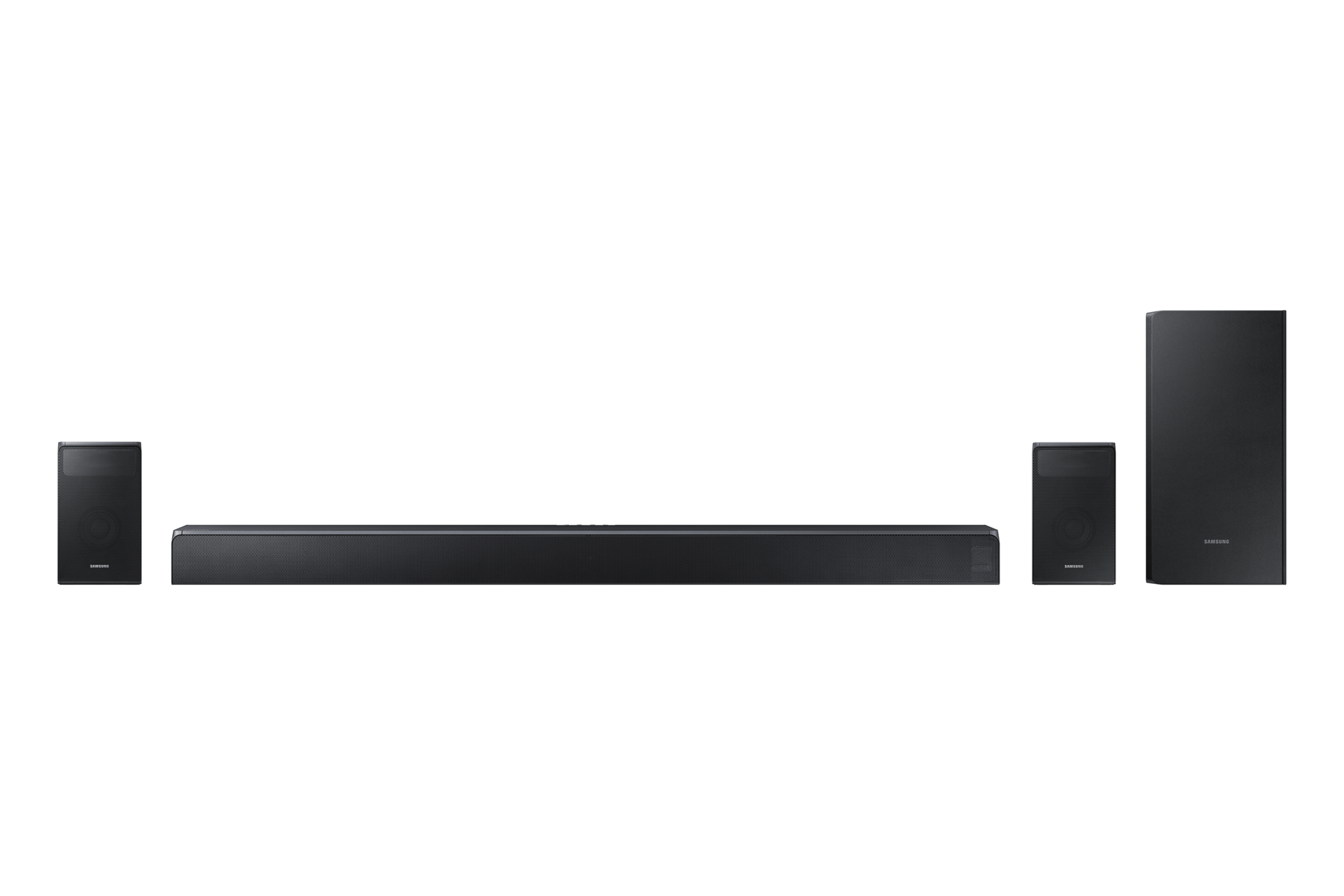 7.1.4Ch Soundbar HW-N950
HW-N950/ZC
7.1.4Ch Soundbar HW-N950
is rated out of
5
by
5
.
SAMSUNG harman/kardon
7.1.4ch sound
Up-firing speakers
Side-firing speakers
Sound, Completed by Audio Masters
By combining Samsung's innovative mastery in home entertainment solutions with 60 years of Harman Kardon's audio technical expertise, the two brands continue to push boundaries to bring state-of-the-art sound to the home entertainment experience.
Experience immersive surround sound
The Soundbar delivers cinematic surround sound in your living room. Sound moves around you thanks to up-firing and side-firing speakers that provide a 7.1.4ch atmospheric audio experience. Can you feel it? Let the sound take you there.
7.1.4ch sound
Be surrounded by a complete audio environment with the 7.1.4ch Soundbar, powered by up-firing and side-firing speakers. With object-based sound playbacks like Dolby Atmos and DTS: X, you can experience captivating entertainment.
Up-firing speakers
Powerful sound waves shot to the ceiling make your audio seem like it's dropping in from above. Amazing overhead sound for a deep cinematic experience in the heart of your space.
Side-firing speakers
With side-firing speakers on each end of the Soundbar, you'll be totally immersed in surround sound. Side to side, front to rear, from all angles.
Wireless rear speaker kit included
The sound system package includes 2 wireless rear speakers, featuring up-firing technology to complete your ultimate home cinema surround sound set up. Take your entertainment to the next level with wireless rear speakers.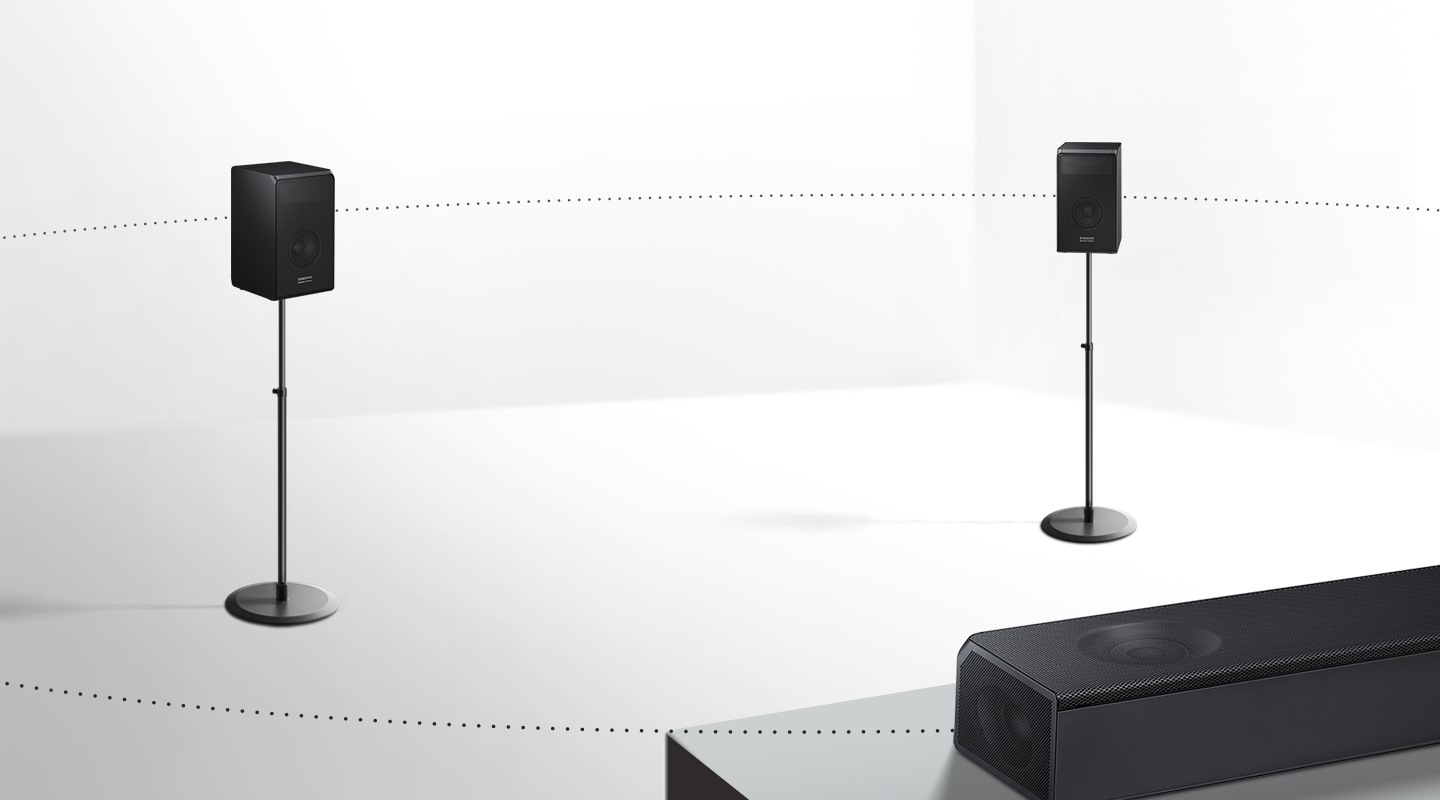 * Wireless Rear Speaker Kit needs to be connected to a power supply.
Let the original sound come alive
Transform your music to a very detailed and dynamic sound. Upscale any of your music files up to 32bit for rich sound.
Sweet spot anywhere you sit
Every spot is the sweet spot. Get consistently amazing sound everywhere in the room with the Soundbar's state-of-the-art wide-range tweeter.
* Conventional tweeter refers to Samsung Soundbar that has no wide range tweeter.
4K Pass-Through
Your UHD content, UHD Blu-ray Disk Player, and Soundbar are an amazing combination for incredible entertainment. With 4K Pass-Through, your 4K content plays seamlessly with dynamic surround sound.
Music comes alive with your voice
Can't recall the title? Enjoy your Soundbar hands-free using Alexa voice control. Ask Alexa to play something by simply saying the title or a few lines of the song's lyrics. No matter what kind of music you're in the mood for, Alexa will find it.
* An Amazon Echo Device is required to use this feature. This service is provided by Amazon and can be terminated at any time.
Wireless music streaming
The Soundbar uses Wi-Fi & Bluetooth for easy wireless connections to other devices. Enjoy music from your mobile in top audio quality, no strings attached.
Control with one remote
You don't need several remotes. For power, volume, and even the sound effects, you can control key Soundbar functions with a Samsung TV remote through TV's UI.*
* Compatible with select Samsung TVs. Please check in store for more details.
* Compatible with select Samsung TVs. Please check in store for more details.
Listen smarter with SmartThings
SmartThings lets you add your speakers to your network, giving you excellent control over your audio throughout your smart home. Take connected living to the next level.
* SmartThings compatible devices may vary by region. This function may differ by mobile and OS (Operating System). Download and installation of SmartThings app are required.
* SmartThings compatible devices may vary by region. This function may differ by mobile and OS (Operating System). Download and installation of SmartThings app are required.
512W

Total Power

7.1.4 Ch

Number of Channel

Wireless

Subwoofer Type

3

Number of Sound Modes (DSP)

1292 x 262 x 606

Gross Dimension (WxHxD): One Packing

27.5 kg

Gross Weight (One Packing)
Rated

5

out of

5
by
luv2review
from
best sound bar ever
Review of Samsung N950 Soundbar Recently took delivery of the Samsung N950 soundbar. Packaging was substantial and on opening all components were found to be well protected and in perfect visual condition. Included was the Soundbar, Subwoofer,2 rear speakers, remote and all associated cables. Attached the soundbar to backing board screwed to the wall beneath our TV. Left the recommended 3" space below the TV to the top of the soundbar Found that this gave the most stable location for the soundbar and would recommend this if you have the space. Note (Make sure to take a note of the serial number before mounting the soundbar. It gets hidden and as I found out is not the same as shown on the outer packaging!!) The sub woofer and rear speakers all paired wirelessly with the main unit and initial setup was easy once the soundbar location was determined. Connected the Telus STB and Blu ray (Sony) to Soundbar HDMI inputs and connected soundbar output to ARC input on TV (LG OLED) Initial sound from TV was limited to soundbar only with zero sound from the rear speakers. Checked all settings and found to be in order. Then checked Blu-ray with Celtic Thunder DVD. This produced some very faint sound from the rear speakers but had to put your ear right up to them to hear anything! Downloaded two test Atmos clips and played them through the Blu-ray and this then showed the full capability of this system. What a difference. The whole room was filled with sound that moved right around you. Realised at this point that this was what true surround sound should be and not just an interpretation of what it should be. My first two test tries were certainly not true surround sound. Checking the settings on the soundbar I settled on the smart setting and found this to be best at what it is supposed to do and pick the best reproduction for the input source. I also changed the connections to both the STB and the Blu-ray player to the TV inputs with only the ARC connection from the Soundbar to the TV. This did not change any of the quality of the output but corrected an annoying connection problem in that, when powering on, the Blu-ray player would always turn on automatically and if TV was the choice one had to power down the Blu-ray and change inputs back to the TV I am not sure whether this will work with all TV's but certainly OK for the LG Played an Atmos movie through the Netflix app on the TV and full "Atmos" came through and confirmed by the Atmos logo showing on the display of the soundbar. Have been using this for two weeks now I find that the regular TV channels sound is far better and clearer. Much wider sound field in the front particularly and, when detected, true rear sounds are very accurately heard from the rear speakers. Makes listening to all content much better. This is certainly the best soundbar that I have ever heard
Date published: 2019-02-11
Rated

4

out of

5
by
1234
from
Great sound when watching a blue ray DVD
I recently purchased this product and was okay with the sound quality while watching bell fibe tv on demand movies . Considered returning this product because of the lack luster performance while watching tv. But after trying it with a blue ray DVD this system shines and was very impressed ! Easy to set up and get up and running. At 2000 dollars plus extended warranty and taxes , which puts the total over 2500.00 Canadian, I expect it to be impressive.
Date published: 2019-03-26
Rated

5

out of

5
by
Jallred12
from
Huge step over K950
Bout the k950 a month ago was pretty disappointed with rear speakers and sub cracking and disconnecting. Went back to my magnolia Best Buy store and somehow they had got 1 n950 and wasn't on website or in systems yet after research I was highly anticipating the upgraded n950 with Harmon Kardon. So I bout the n950 and returned k950. The difference is unbelievable not even just the connectivity between soundbar and sub/rear speakers, but the sound is so crisp and loud. Two sound bars that look exactly the same in the k950 and the n950 but once turned on they are nothing alike. Great job
Date published: 2018-09-04
Rated

1

out of

5
by
RobF
from
Subwoofer & Rear Speaker Problems
The unit worked normally after initial setup (and sounded fantastic) but after unplugging it temporarily to switch furniture around, the subwoofer and rear speakers have stopped working. The subwoofer and rear speakers no longer produce sound when the main unit is turned on, even though the lights on the back are solid blue indicating they are connected. I have performed the manual re-connection and factory reset steps suggested by Samsung and neither worked. Unplugging the soundbar/subwoofer/rears for an extended period of time sometimes gets everything working again, but only until the next power off/on cycle. Occasionally there are random short bursts of sound from one of the rears. I have since discovered on the Samsung Community forum that other owners have reported similar problems and there does not seem to be any fix other than to ship the unit back to Samsung to get it repaired. This is not what I expected for a speaker set at this price point. Do not recommend.
Date published: 2019-08-12
Rated

5

out of

5
by
Mountaingoat212
from
Excellent alternative to component system
Replaced a 7 speaker system and it wasn't as much of a step back as I anticipated. Great effects, solid performer. Great for the "space challenged" room. Expensive, but bought it on sale (25% off) so not too bad for value. Tip: Connect to HDMI through Dolby Atmos capable unit (I used an Xbox One).
Date published: 2018-11-25
How It Stacks Up
SAMSUNG harman/kardon

7.1.4ch sound

Up-firing speakers

Side-firing speakers
3D surround sound

Powerful bass

One Remote Control

Smart Sound
* Key feature may different from Key Spec