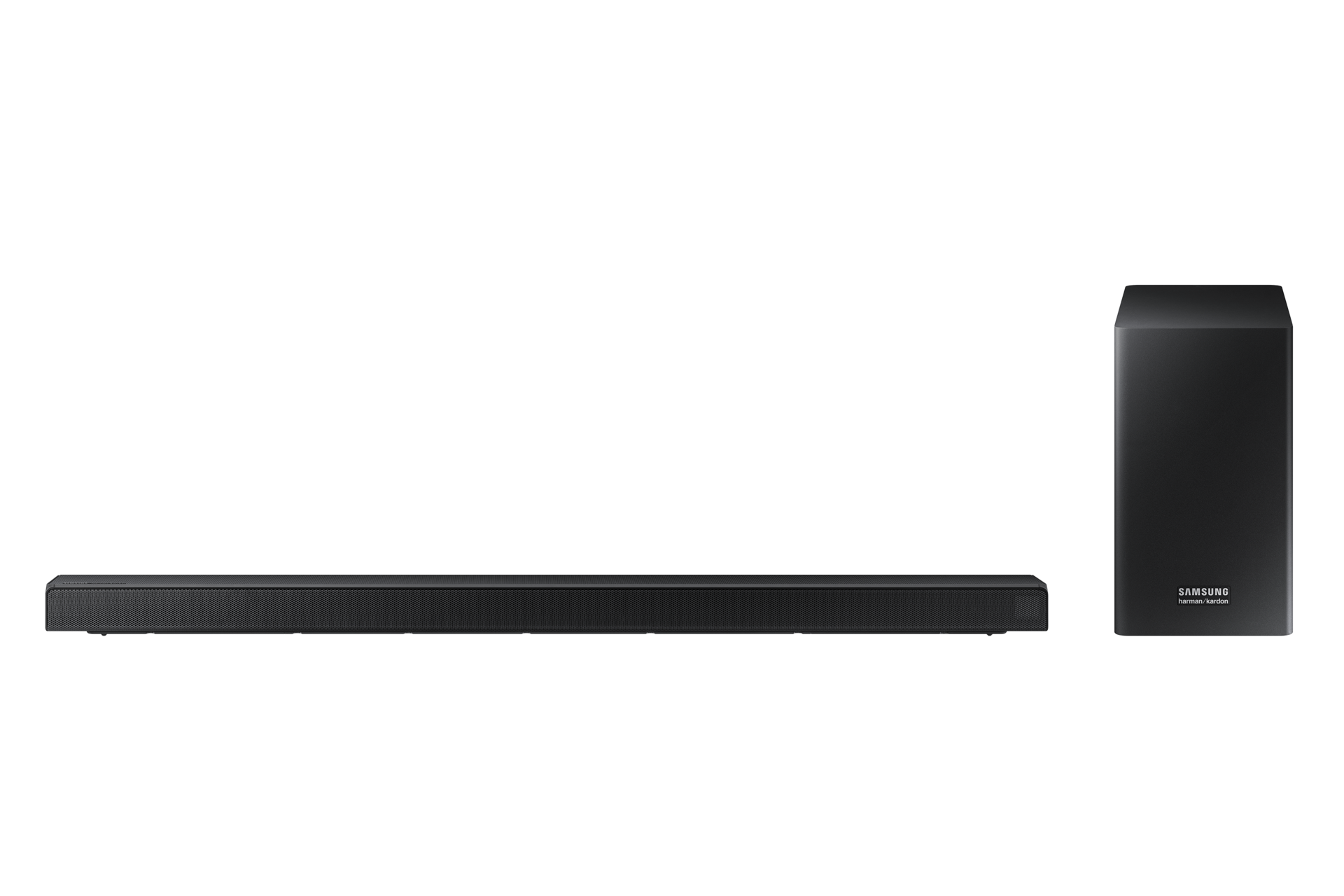 5.1Ch, Samsung Harman/Kardon Soundbar HW-Q60R
HW-Q60R/ZC
5.1Ch, Samsung Harman/Kardon Soundbar HW-Q60R
is rated out of
5
by
5
.
Samsung Acoustic Beam
Adaptive Sound
Game Mode Pro
Seamless HDR 10 experience
Immersive Sound with Samsung Acoustic Beam Technology
1. Samsung Acoustic Beam
Sound travels in sync with the action on the screen.
2. Adaptive Sound
Automatically enhances voice clarity on low volumes.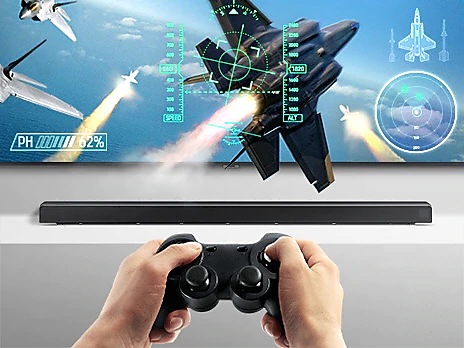 3. Game Mode Pro
Get yourself in the game with a unique setting that boosts game sound effects.
4. Seamless HDR 10 experience
Connect any HDR 10 video source through your Soundbar to your Samsung TV.
Get into the action with panoramic sound
Make your entertainment come alive. Samsung Soundbar fills every corner of your room with a dynamic and rich sound that truly transforms your home.
Sound that moves. Samsung Acoustic Beam
Don't let your audio stand still. Samsung Acoustic Beam technology mixes and delivers the sound so it appears to come precisely where the action is happening on screen. Amazing for movie and gaming, this sound will really move you.
Adaptive Sound helps you hear more
Samsung soundbar analyses the sound signal to automatically deliver optimized sound based on each scene. Adaptive Sound lets you hear voices clearly even on low volumes so even quiet conversations are heard.
Hear better. Play better.
Brace yourself for an immersive gaming experience with powerful subwoofers and up-firing speakers that provide incredible surround sound. The soundbar automatically switches to Game Mode when connected to your Samsung TV so you can focus on playing, not setting up.
* This feature is supported only when the game console is connected to select 2019 Samsung TVs via HDMI (all QLED TVs, RU7400 series, and above). Game consoles supported include PlayStation 4 and Xbox. Compatible TVs and game consoles may change.
Seamless HDR 10 experience
With 4K pass-through built in, connecting 4K video sources is easy. It even works with HDR 10 sources, allowing you to enjoy audio with pristine quality matching that of your video. One HDMI connection and you're set.
* HDR 10 picture quality output available with equivalent input.
Sound, Completed by Audio Masters
By combining Samsung innovative mastery in home entertainment solutions with 65 years of Harmon Kardon's audio technical expertise, the two brands continue to push boundaries to bring state-of-the-art sound to the home entertainment experience.
The science of sound
Tested and tuned at the California Audio Lab, where our audio engineers apply the most advanced acoustic technologies and cutting-edge computer modeling to give you balanced, room-filling sound.
Center channel for clear dialogue
Experience crystal clear dialogue with a dedicated center channel speaker. It provides balanced sound from one end to the other and beautifully completes your home entertainment experience.
Powerful bass
Don't let wires get in the way of your bass. Set the soundbar with wireless subwoofer in your space and surround yourself with powerful and deep bass.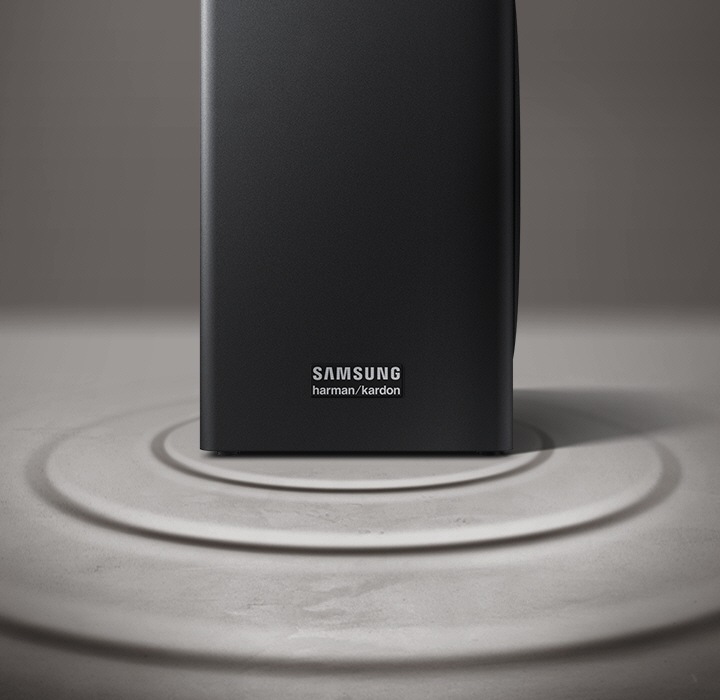 Wireless connection with TV
Connect the Soundbar to your Samsung TV* with ease and without the clutter of wires via Bluetooth. You'll be able to enjoy all your content instantly with clearer, more impactful sound.
* Compatible with selected Samsung TVs supporting Bluetooth.
Control with One Remote
You don't need several remotes. Control your TV power, volume and even sound effects with the Samsung One Remote Control.
* Actual product may vary by TV model and region.* Compatible with selected Samsung TVs. Please check in-store for more details.
* Actual product may vary by TV model and region.* Compatible with selected Samsung TVs. Please check in-store for more details.
Wireless music streaming
Samsung Soundbar uses Bluetooth for easy wireless connections to other devices.Enjoy music from your mobile in top audio quality, no strings attached.
Wireless surround sound ready
The Wireless Surround Kit* lets you expand your Soundbar to a surround sound system easily without the mess of wires**.Together with your Soundbar, you can create a multi-channel system for an immersive surround sound experience.
* Samsung Wireless Rear Speaker Kit is available for separate purchase (Accessory model: SWA-8500S).** The wireless module requires a power cable. Rear speakers are connected to the module by cable.
Samsung Audio Remote app
Control your Soundbar with the Samsung Audio Remote app on your smartphone or tablet running on Android™. Simply connect using Bluetooth™ to control all your key Soundbar functions and play your favorite song lists on your mobile device through one single app.
* Android is a registered trademark of Google Inc. Bluetooth is a registered trademark of Bluetooth SIG Inc.
* Android is a registered trademark of Google Inc. Bluetooth is a registered trademark of Bluetooth SIG Inc.
360W

Total Power

5.1 Ch

Number of Channel

Wireless

Subwoofer Type (Active/Passive/Wireless, Bulit-in)

8

Number of Speakers

1100.0 x 59.0 x 100.0

Net Dimensions (Main Speaker)

4K Pass-through (HDR 10)

Video Feature
Rated

5

out of

5
by
Blay
from
Great sound. However questionable support
I bought this a month ago and enjoyed it. Now I am moving overseas and noticed that the power supply on the bar states 110-240 50-60hz, so that will work. However the sticker on the sub states110-120 50hz. I have contacted support 3 times and been given 3 answers. All I want to know is if the sub is infact 110-240. Makes no sense why the bar is but the sub wouldn't be. Can someone please give me an answer. 3 different answers from support makes me nervous to use it overseas with damaging it.
Date published: 2020-02-01
Rated

4

out of

5
by
Mito_Yyz
from
Where's the Bass
Amazing unit. Super happy with it. I can't seem to get good Bass from my unit to be equal to that in store display. Same song on YouTube.
Date published: 2019-12-18
Rated

4

out of

5
by
JoeyG
from
Poor Instructions
I purchased this from Costco last week. I set it up yesterday however with much frustration. First; why does this not come with the mounting screws if attaching the sound bar to the wall? It comes with the screws to attach the 2 brackets; but nothing to attach to the wall? Crazy. The sizing chart they refer to is actually folded up inside a pouch thinking it is garbage no label telling what it is? Rather they should unfold it and lay it on top of the soundbar packaging instead so it is clearly seen. Why make it so difficult for people? Next I used the HDMI connection rather than the Digital Optic cable because of the note in the booklet advising to do so; so the TV remote would work the volume for the sound bar. Great. I plugged everything in; and no sound? The instructions don't tell you - to turn the soundbar on with the remote first? Next after the subwoofer sync'd - light turned blue everthing sounds great- however... when I switched to watch Netflix using the 1 touch button on the Samsung QLED TV.. the sound went Mute. The trouble shooting doesn't give you a step by step instruction why/how to fix this? Come to find out - with some setting adjustments from the Source and Sound adjustments-- Netflix doesn't work with "Dolby Sound".. and it had to change the setting to PCM. That worked? This hasn't got to be the first person to experience this right? Why doesn't the instructions walk you through this scenario? Other than this- I love the sound.
Date published: 2019-10-07
Rated

3

out of

5
by
Frustrated User
from
Bluetooth fine ARC issues
Its been a frustrating week as the soundbar will not play sound via ARC HDMI connection (Connected to Hisense OLED TV 75") and through CEC it appears as detected on list. TV control turns it on/off and adjust volume but NO SOUND?! Bluetooth on iphone is fine. Cant believe it is so difficult on smart tv's.
Date published: 2019-09-02
Rated

4

out of

5
by
DavidO
from
Soundbar HW-Q60R Just got it setup.
Bought on sale (Canada - Best Buy) to be paired with SAMSUNG QN75Q7D 4K (delivered in a couple of weeks). Replacing *really* old Pioneer Surround Sound unit and Tannoy speakers. Got it hooked up to my existing Sharp Aquos TV without issue. Installed the Samsung Audio app on my phone. So far very happy with the sound quality. Rich bass sounds. Don't really need the sub woofer, but have it setup (plug and play) just in case so looking forward to hearing how it goes. So used to the "old" style of receiver and speakers but this is so clean and easy to setup I'm sure I will be very happy. Hope the 4K TV setup goes as smooth. I had to read the manual to realize that the volume buttons pushed up and down LOL....I was thinking how could they make a remote for a soundbar without +/-. Duh, my fault. Wish it came with a USB adapter and a bracket that could be used to mount to the bottom of my TV.
Date published: 2019-09-01
How It Stacks Up
Samsung Acoustic Beam

Adaptive Sound

Game Mode Pro

Seamless HDR 10 experience
Built-in Center Speaker

Powerful Bass

Game Mode

Wireless connection with TV
* Key feature may different from Key Spec