HG43NE477SFXZA
HE477 Series 43"
Enhance Guest Room Ambience with Samsung's HE470 Hospitality Display
Definition System/ Architecture LYNK REACH 4.0
Increase Hotel Brand and Offerings Visibility with a Welcome Video Channel
Enhance Guest Room Ambience with Samsung's HE470 Hospitality Display
With new opportunities to supply guests with engaging and informative content, hospitality displays can foster a differentiated and memorable in-room experience. Samsung's slim-designed HE470 displays serve as an all-in-one content center where hotel managers can access a vast user interface template library to create and share customized welcome greetings and on-site and area promotional messaging. The HE470 display features Samsung's LYNK REACH 4.0 communications and content management solution, offering operations teams a more complete view and easier control of hundreds of in-room displays. System Integrator compatibility and USB cloning empower multi-device management with reduced installation and maintenance required. Highly functional, elegant and cost-efficient, the HE470 inspires a more lavish and comfortable stay while driving more efficient hospitality operations.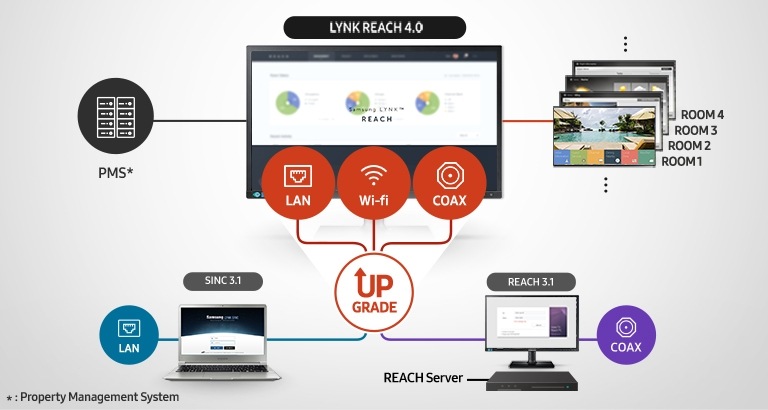 Definition System/ Architecture LYNK REACH 4.0
Hotels can use the latest hospitality management technology to deliver a differentiated guest experience. Samsung's LYNK REACH 4.0 fuses the benefits of its SINC and REACH hospitality technologies to offer a comprehensive content management solution. LYNK REACH 4.0 enhances the guest experience efficiency-enhancing technology and perks ranging from more information delivery channels, convenient communication options and efficient room management.
As a unified content management solution, LYNK REACH 4.0 accommodates LAN, Wi-Fi and coaxial infrastructures to amplify hotel management, monitoring and guest service functions. Transferred by proprietary management server (PMS) and customized templates, hospitality users can create and deliver personalized service for a more memorable experience. This includes access to a range of IPTV and RF channels, applications and services mirroring what guests expect at home and on their mobile devices.
LYNK REACH 4.0 additionally enables two-way communication between hotel management and guests. The solution's efficient remote control capability for in-room display ensures quality service delivery in real-time without in-room labor and maintenance.
With optimized network support for a variety of channels, Samsung's LYNK Reach 4.0 helps hotels improve internal communication processes, which in turn provides opportunities to personalize guest experience.
Increase Hotel Brand and Offerings Visibility with a Welcome Video Channel
LYNK REACH 4.0 allows hotels to use Welcome Video Channels to deliver useful information to guests in a more engaging way. Through easy video upload or URL insertion, hotel managers can customize a channel list of clips showing hotel facilities or advertising special offers, local events or attractions. As a result, hotels can use up to four channels to simultaneously show targeted videos to specific public areas of the hotel, such as display in lobbies and restaurants, as well as in guest rooms. The ability to stream these promotions provides an additional revenue stream for hotels and enhances brand recognition.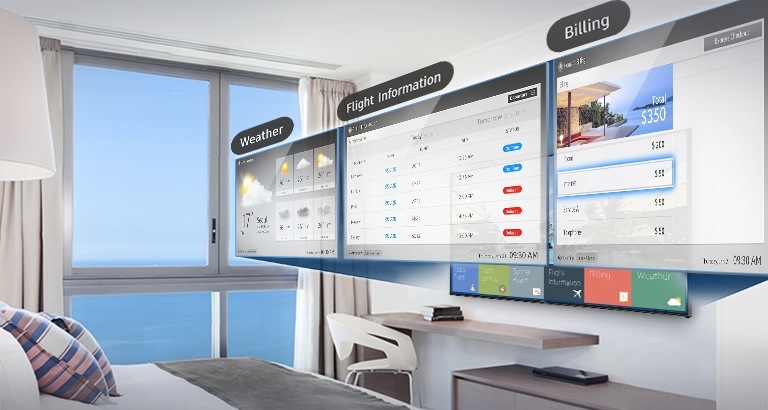 Enhance the Guest Experience with Easy Access to Valuable, Real-time Information
With LYNK REACH 4.0, hotels can provide guests with a specialized experience built around their schedules or reasons for staying. Guests can easily access web, video and app content including hotel services, tourist information, weather reports, flight information and more with multiple-language support on their in-room TVs. For example, TVs in conventioneers' rooms can display a custom UI and menu specific to the convention, including event locations, meeting alerts and entertainment options. In addition, videos and images promoting local event and tourist information, available discounts, and more can be displayed for quick and easy guest access.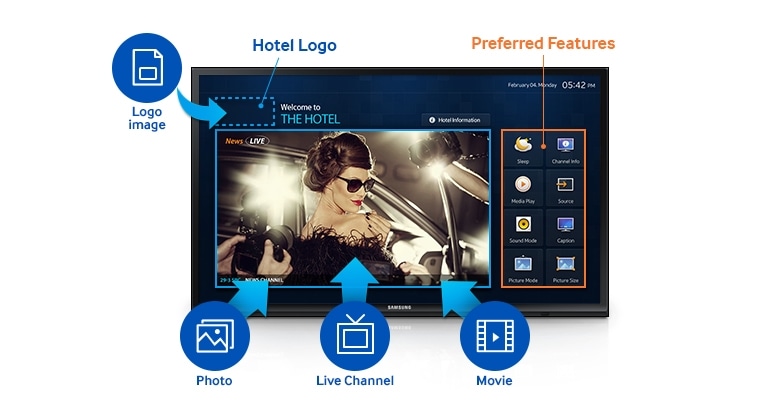 Treat guests with a customized, cost-efficient Home Menu
Deliver a wide array of content to guests with an enhanced Home Menu that does not require the additional purchase of a solution or installation of a network infrastructure. New enhanced features enable hotels to welcome guests with a brief video introduction along with the hotel logo before offering live TV. This way, hotels can enhance their brand without the need of an additional solution. Guests can conveniently view resources such as the time, date and hotel information, and access frequently used TV features in user mode. The customizable Home Menu reduces the cost burden for hotels that lack the budget for an additional solution while simplifying Home Menu creation with a solution-embedded Hospitality TV.
Protect content with advanced DRM technology
Samsung LYNK DRM technology provides a safe and cost-effective alternative to traditional hardware-based content protection systems. The solution allows encrypted live channel and VoD content to pass securely and display on hotel TVs. A software-only implementation, LYNK DRM technology reduces the need for additional equipment and provides quicker recovery for Conditional Access System (CAS) problems. To help ensure system reliability, coverage extends to the enlargement of head-end equipment for cable operators.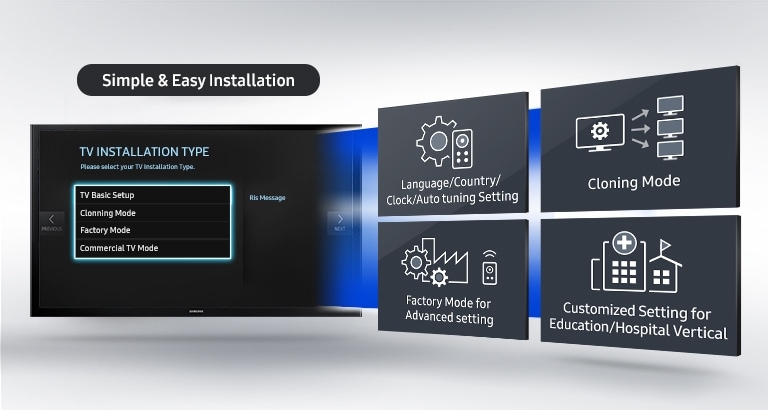 Enjoy More Efficient Installation through Improved Plug-and-Play Capabilities
In a busy hospitality environment, time spent on display installation and maintenance is time that could otherwise be devoted to more critical growth-related activities. Through advanced plug-and-play settings, hotel managers can activate hundreds of in-room displays with minimal effort required. Operations teams simply have to navigate three basic launch settings to synchronize multiple displays and servers while also defining connectivity and language needs:
• Basic Setup: A user-friendly interface lets hospitality managers define the language, picture and tuning, and clock settings.
• Cloning Mode: To further enhance multi-display control, hotel managers can replicate communication and content delivery functionalities across all on-site displays. Once the cloning process is complete, users can activate their displays without requiring any further installations or compatibility confirmation.
• Factory Mode: Hotel managers additionally can customize advanced display operations, such as audio parameters and connectivity settings, through an easy-to-access factory mode portal.
The plug-and-play functionalities also enable certain non-hospitality environments to enjoy the same content and system management benefits. A unique Commercial Mode setting accommodates the specialized requirements of commercial users, such as government and education entities, without compromising performance.
System Integrator (SI) compatibility
Save time and effort when setting up multiple protocols between SI-provided set-top boxes and displays. Samsung SMART Hospitality Display are compatible with various SI protocols at purchase.
Security Mode
Gain unique and strong display content management with Security Mode on HD470 Series displays. Using this feature, you can disable critical functions of the displays to easily prevent changes to the displays' settings. You can also block non-compliant content or the transmission of unwanted Teletext (TTX) with a signal to maintain complete control of content on guest room displays, including input through HDMI® and USB ports. This feature is also highly beneficial for controlling displays in environments that require tight security, such as prisons.
Hospitality Stand
Provide guests with an excellent view of the TV from anywhere in the room with a TV stand. The stand provides a flexible 20º, 60º and 90º swivel support and ensure the TV remains firmly in place.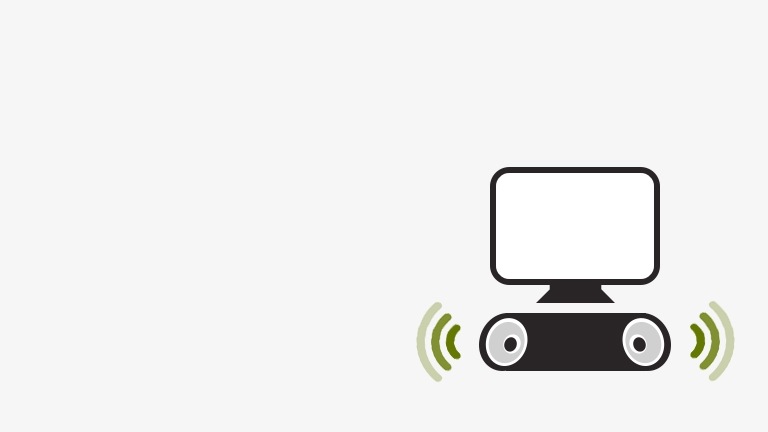 Sound Bar Compatibility
Couple a Samsung hospitality TV with a Sound Bar to let guests truly enjoy hearing their programming. Connected by a High-Definition Multimedia Interface® cable, settings are automatically applied, making installation a breeze. A single remote lets guests have full control over both the TV and Sound Bar.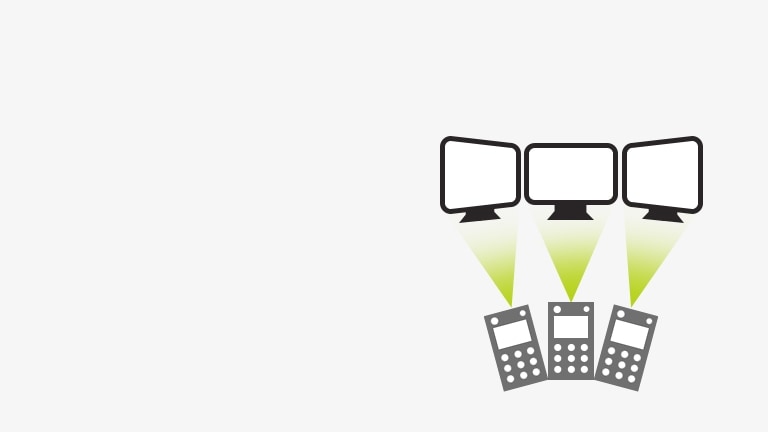 Multi-code Remote
Increase guests' TV-viewing enjoyment by eliminating annoying interference from other remote signals in applications, such as hotel fitness centers, where multiple TVs are in close proximity. The multi-code remote can control up to 10 TVs individually in the same room.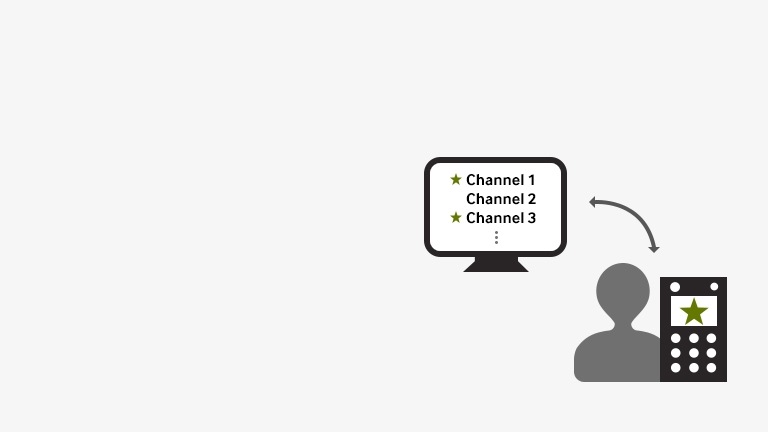 My Channel
Enable guests to easily find and enjoy the programming of their choice without having to manually scroll through hundreds of TV channels. My Channel's quick search function allows guests to find channels suited to their tastes, by country and genre.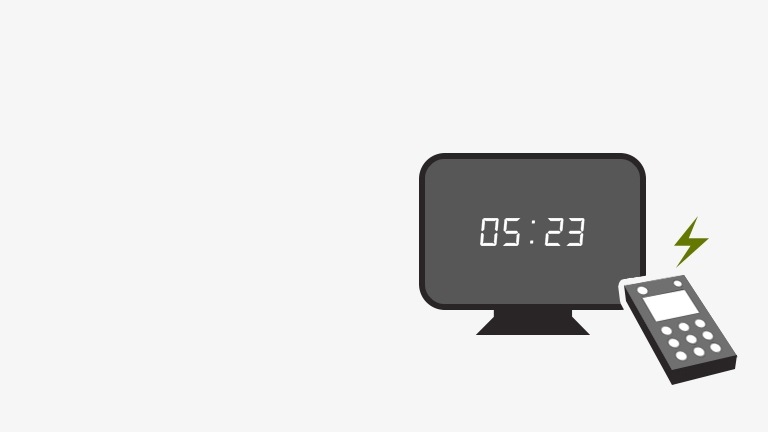 Software clock
Allow your guests to check the current time on the TV whenever needed. Software Clock is a clock display solution of in-room TVs using a remote control. The guests can easily check the time with the press of 'Info' button using the remote control, even when the TV is off.
Connect Share
Media entertainment including movies, music, and images come alive on the screen by simply plugging a USB drive directly into the TV.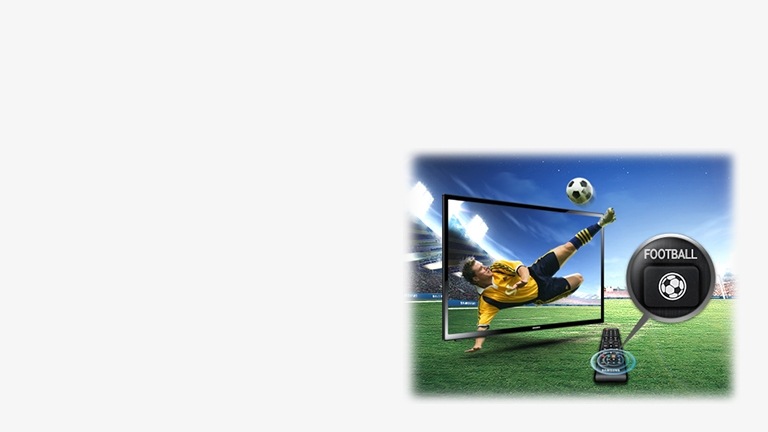 Sports Mode
Sports fans don't have to miss their favorite games when staying at your hotel. They can watch every goal or point scored with superior-quality picture and sound, right in their rooms. With Sports Mode, guests can use a shortcut to activate enhanced sound and picture quality. The enhanced sound creates a greater stadium effect and enriched picture quality displays the playing field in vivid color. With this feature, guests can have a truly immersive in-room entertainment experience-complete with key game highlights and audience cheers.

Sports mode availability may vary by region/country.
Specification
Display

Backlight

LED

Screen Size

43"

Resolution

1920 x 1080

Video

Picture Engine

HyperReal

Dynamic Contrast Ratio

Mega Contrast

Wide Color Enhancer (Plus)

Yes

Film Mode

Yes

Audio

Dolby Digital Plus

Yes

DTS Codec

Yes

Sound Output (RMS)

20 W (L: 10 W, R: 10 W)

Speaker Type

2 CH (Down Firing w / Bass Reflex)

General Feature

Digital Clean View

Yes

Auto Channel Search

Yes

Auto Power Off

Yes

Caption (Subtitle)

Yes

ConnectShare™ (USB 2.0)

Yes

EPG

Yes

Game Mode

Yes

OSD Language

English, Spanish, French

Picture-In-Picture

Yes

Sports/Football Mode

Yes

System
Hospitality Feature

Samsung LYNK™ SINC Compatibility

No

H.Browser Compatibility

No

Samsung LYNK™ REACH (RF)

REACH 4.0

Hospitality Home Menu

Home Menu 2015

Bluetooth Music Player (Mobile → TV)

No

Hospitality Plug&Play (Easy Set-up)

Yes

Auto Source Mode

Yes

Power On Mode

Yes

Hotel Channel List

Yes

Mixed Channel List (ATSC, DVB-T/T2/C/S2, Analog)

Yes

My Channel

Yes

Energy Saving Mode (BLU Control)

Yes

Logo Display with Time Out Setting (BMP/Movie)

Yes

Welcome Message

Yes

RJ12/IR Pass Through

Yes

External Clock Compatibility

No

Clock Back Up Supply

Yes

External Clock Dimming Control

No

Software Clock

Yes

Multi Code Remote Control

Yes

Screwed Remote Battery Cover

Yes

Soundbar Compatibility

Yes

Music Mode (Input: PC/AV/Component/HDMI)

Yes

Music Mode Backlight on/off

Yes

TTX Clock Update (Analogue)

No

USB Cloning

Yes

Smoovie Compatibility

Yes

Soft AP

No

On/Off Timer (Schedule)

Yes

Wake-up Timer (Alarm)

Yes

Samsung LYNK™ DRM

Yes

Pro:Idiom

Yes

bLAN

No

Security Mode

Yes

S/W EPG (Solution EPG)

Yes

Wake on LAN (WOL)

No

Input & Output

HDMI (Side/Rear)

1 / 1

USB (Side/Rear)

1 / 0

Component In (Y/Pb/Pr) (Side/Rear)

No

Composite In (AV) (Side/Rear)

1 / 0

Ethernet (LAN) (Side/Rear)

No

Headphone (Side/Rear)

No

Audio Out (Mini Jack / LR) (Side/Rear)

0 / 1

Digital Audio Out (Optical) (Side/Rear)

No

RF In (Terrestrial / Cable input) (Side/Rear)

0 / 1

Ex-Link ( RS-232C )

Common (RJP)

Pillow Speaker Jack (Side/Rear)

No

Variable Audio Out (Side/Rear)

No

Variable Audio Out Volume Control (Side/Rear)

No

Video Out (Side/Rear)

No

RJ12 (Side/Rear)

0 / 1

RJP (Remote Jackpack) (Side/Rear)

0 / 1

Headphone ID (Side/Rear)

No

Door-Eye Control (Side/Rear)

No

Door-Eye Video In (Side/Rear)

No

PC In (D-sub) (Side./Rear)

No

PC/DVI Audio In (Mini Jack) (Side./Rear)

No

Design

Front Color

Black

Stand Type

Square

Swivel (Left/Right)

90 / 90

Power

Power Supply (V)

AC110 ~ 120 V 60 Hz

Power Consumption (Max)

105 W

Power Consumption (Stand-by)

1 W

Power Consumption (Typical)

67 W

Dimension

Set Dimension without Stand (WxHxD)

985.5 x 575.3 x 72.2 mm

Set Dimension with Stand (WxHxD)

985.5 x 624.2 x 226.5 mm

Package Dimension (WxHxD)

1162 x 649 x 142 mm

Weight

Set Weight without Stand

7.7 kg

Set Weight with Stand

10.7 kg

Package Weight

12.8 kg

Accessory

Remote Controller Model

TM1240A

Batteries (for Remote Control)

Yes

Mini Wall Mount Supported

Yes

Vesa Wall Mount Supported

Yes

Power Cable

Yes

Quick Install Guide

Yes

Data Cable

Yes

Stand Mount Kit

Yes

Security Screws (Stand Base)

Yes

PureCare Remote(Seamless White Remote)

No
Features and specifications are subject to change without prior notification.
Manual Download
HE477 Series 43" (HG43NE477SFXZA)
Manuals

2017.06.14

Installation Guide ver 1.0

(ENGLISH)

2017.06.14

Installation Guide ver 1.0

(FRENCH)