Gas Chef Collection Cooktop with 22K BTU Dual Power Burner
NA36N9755TM/AA
Chef Collection
22 K BTU Brass Burner
Bluetooth Connected to the Hood
Wi-Fi Connectivity
Introducing the Samsung Chef Collection
Samsung Chef Collection's premium line of home appliances is an elegantly thoughtful combination of cutting-edge technology and truly useful, chef-influenced features that are coupled with a sleek, seamless design for ultimate flexibility that caters to how people cook and live today. Samsung's Chef Collection understands that everyone is a "chef" in their own kitchen – regardless of what they do or how they do it. The Chef Collection Cooktop with 22 K Dual Power Burner is designed for how YOU live and cook, with two independent heating burners offering intense heat and precise control to quickly boil water or slowly melt chocolate without scorching with a low simmer.
Modern Design
Sleek, smooth beveled front control design with edge to edge matte finish cast iron grates. The premium horizontal brushed stainless steel, also available in matte black stainless, brings beauty to any kitchen.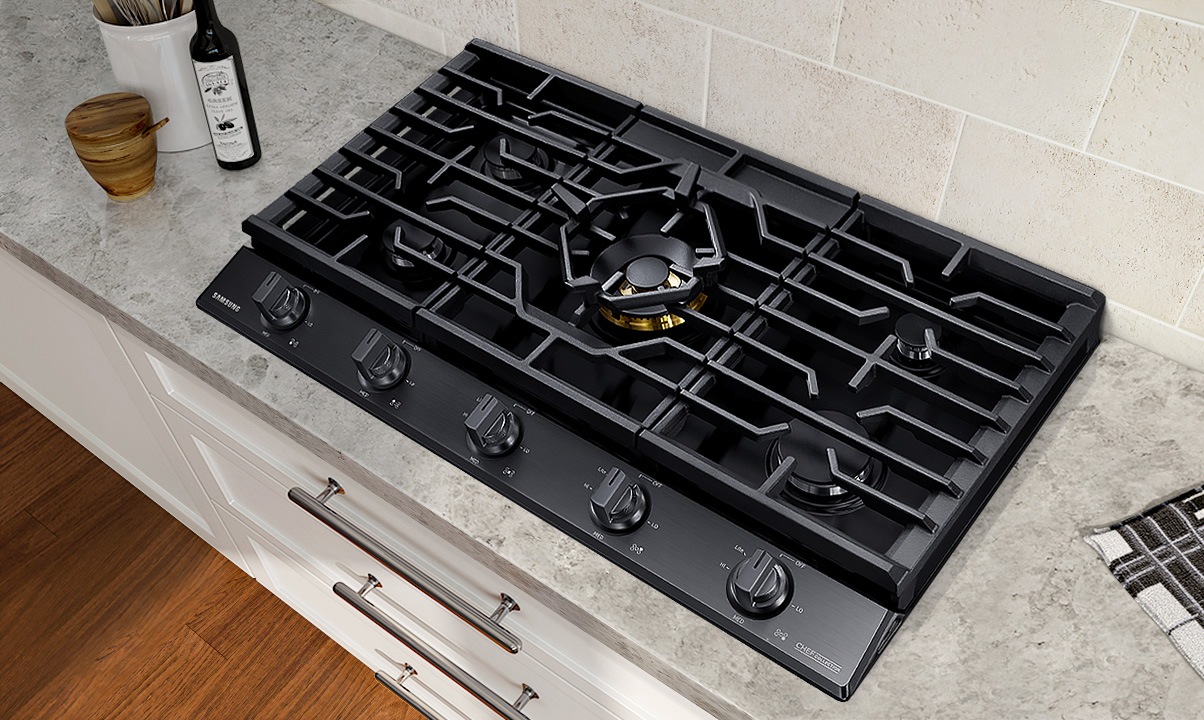 Powerful heat & precise simmering
22 K BTU Dual Brass Burner
Cook dishes quickly and evenly using the powerful heat and precise control of the 22 K BTU Dual Brass Burner. It can rapidly go to a high heat for searing meat, like a steak, and boiling water in a flash. Or you can turn it right down to a gentle simmer - ideal for melting chocolate or boiling milk.
Intuitive Burner Control
Blue Illuminated Knob
Distinctive blue LED lights illuminate when the cooktop is in use. You can easily check if the burners are on or off at a glance, even from a distance. The large, ergonomic design of the metallic knobs makes them easy to grip for precise temperature control. And they add a stylish, premium look.
Bluetooth Connectivity
Bluetooth Connected to the Hood
Bluetooth connectivity automatically starts the hood* when the cooktop turns on.**
*With compatible Samsung ventilation hood
**Wi-Fi module is located behind the cooktop. Down draft hood should be installed with a 75mm gap.
Monitor from a distance
Wi-Fi connectivity maximizes safety and offers peace of mind by letting you remotely monitor the cooktop at any time using a smartphone App.*
* Available on Android and iOS devices. A Wi-Fi connection is required.
Chef Inspired Performance
Wok Grate and Griddle
Removable Cast Iron Griddle makes cooking breakfast, grilled sandwiches, or sauté vegetables a breeze. And the Custom Wok Grate easily accommodates a round bottom wok for your favorite stir fry.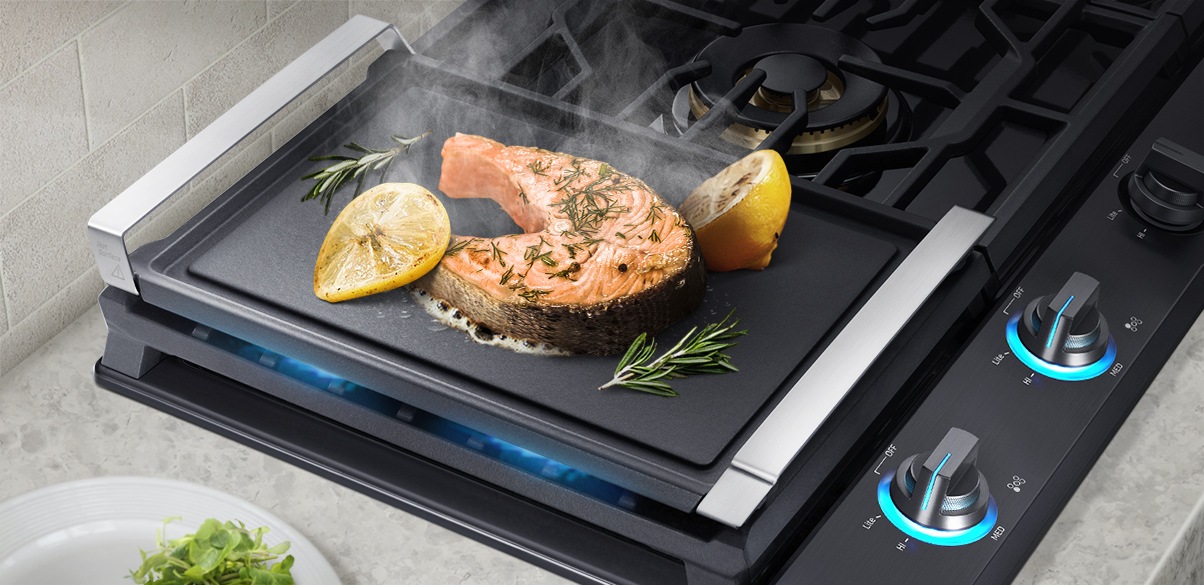 5 EA
59,000 BTU
914.4 x 79.3 x 533 mm
* Key feature may different from Key Spec