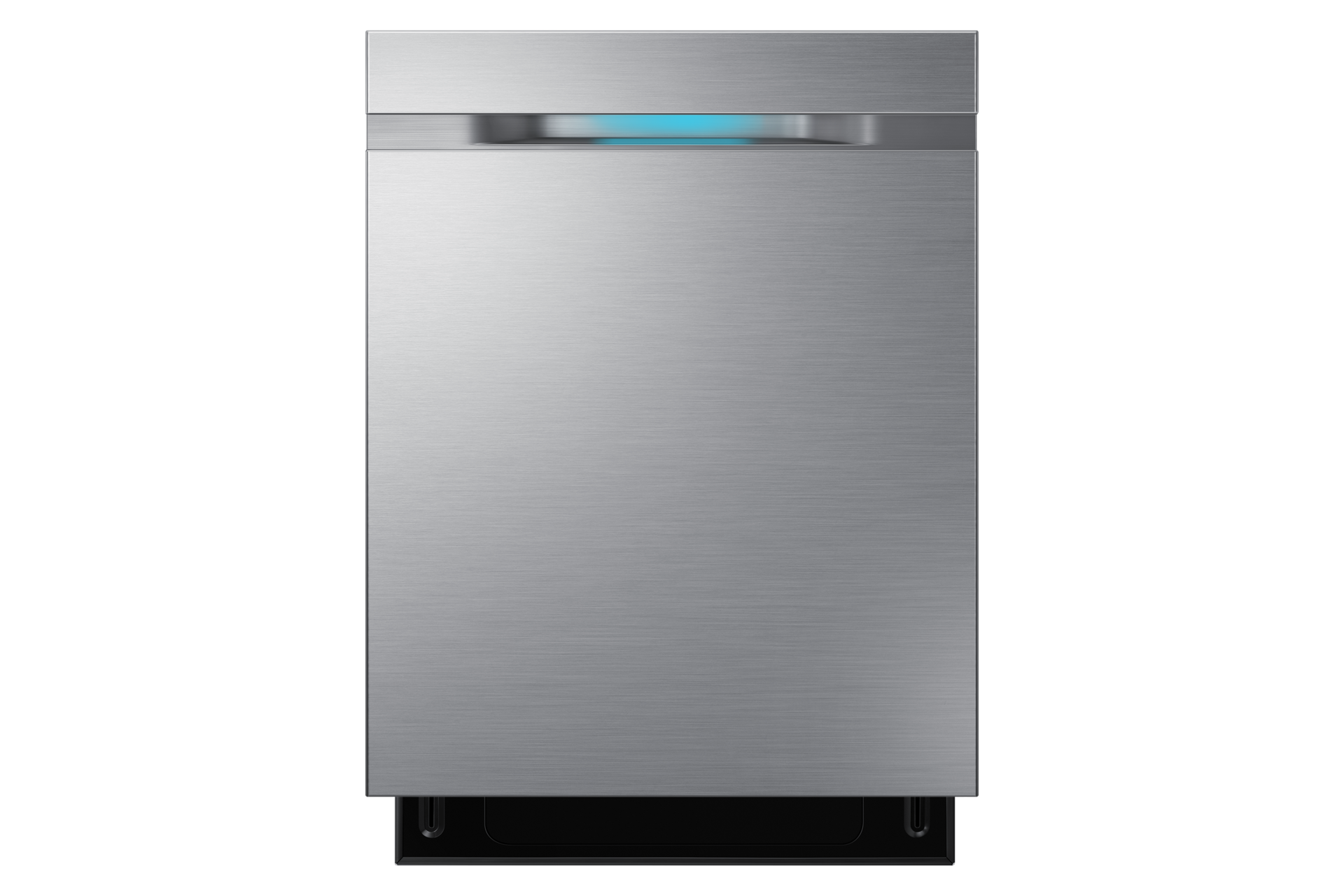 DW80J9945US Dishwasher with WaterWall™
DW80J9945US/AC
Energy Star
Flex Glass Rack
Hidden Display
WaterWall Technology
Revolutionary Washing Performance
WaterWall™ Technology revolutionizes cleaning with a bar, on the bottom rack, that glides back and forth to deflect high pressure water in all directions, creating a wall of water that gets into hard to reach places.
Cutlery Convenience
Designed for ultimate convenience, the transportable tray sits on the third rack and makes loading and unloading easier than ever.
Targeted Washing
Zone Booster gives heavily soiled pots and pans on one side of the lower rack a really intensive wash with high temperature and high pressure water, whereas little soiled items on the other side still get a normal wash.
* Water Pressure increases by 15% in the selected zone and temperature rises to 70 ºC max.
Fits Various Dishes
A Flexible Rack system can fit dishes of various shapes and sizes. Its upper rack has adjustable tines, which can be arranged at different angles, and the lower rack has tines that fold down.
Effortless Rack Operation
The upper gliding rack feature enables smooth and effortless loading and unloading with the Samsung WaterWall™ dishwasher.
One Hour Wash
The Express 60' option cleans your dishes much faster. It's ideal for smaller loads of lightly soiled items that don't need really intensive cleaning, such as cups, cutlery and dinner plates.
Dry More
A Dry Plus option adds extra time and heat to the drying cycle to ensure that all of your kitchenware and cutlery, especially hard to dry plastic items, are always perfectly dry and ready to put away immediately.
Simple Fingertip Control
An integrated Touch Control panel lets you select functions with a gentle touch. Located on top of the door for easy access, it offers simple and intuitive control with an ice blue display that is clear and easy to read.
Intuitively Stylish
Clad in sleek stainless steel, the ergonomic dishwasher offers a premium look. A stylish Pocket Light simply communicates the On and Off so that you know when your dishes are sparkling clean.
Safely Washes Wine Glasses
A portable Flex Glass Rack makes washing delicate wine glasses with stems much easier and safer. It grips any size wine glass* and creates a diffused water current that gently and thoroughly cleans.
* Loadable Size: up to 245 mm (Height) / Ø ca. 105 mm * The upper basket should be raised when using the wine glass rack. * The wine glass rack should be handled carefully otherwise wine glasses can slip out. * The lower basket can hold up to 4 wine glass racks. Additional racks can be purchased.
Features and specifications are subject to change without prior notification.