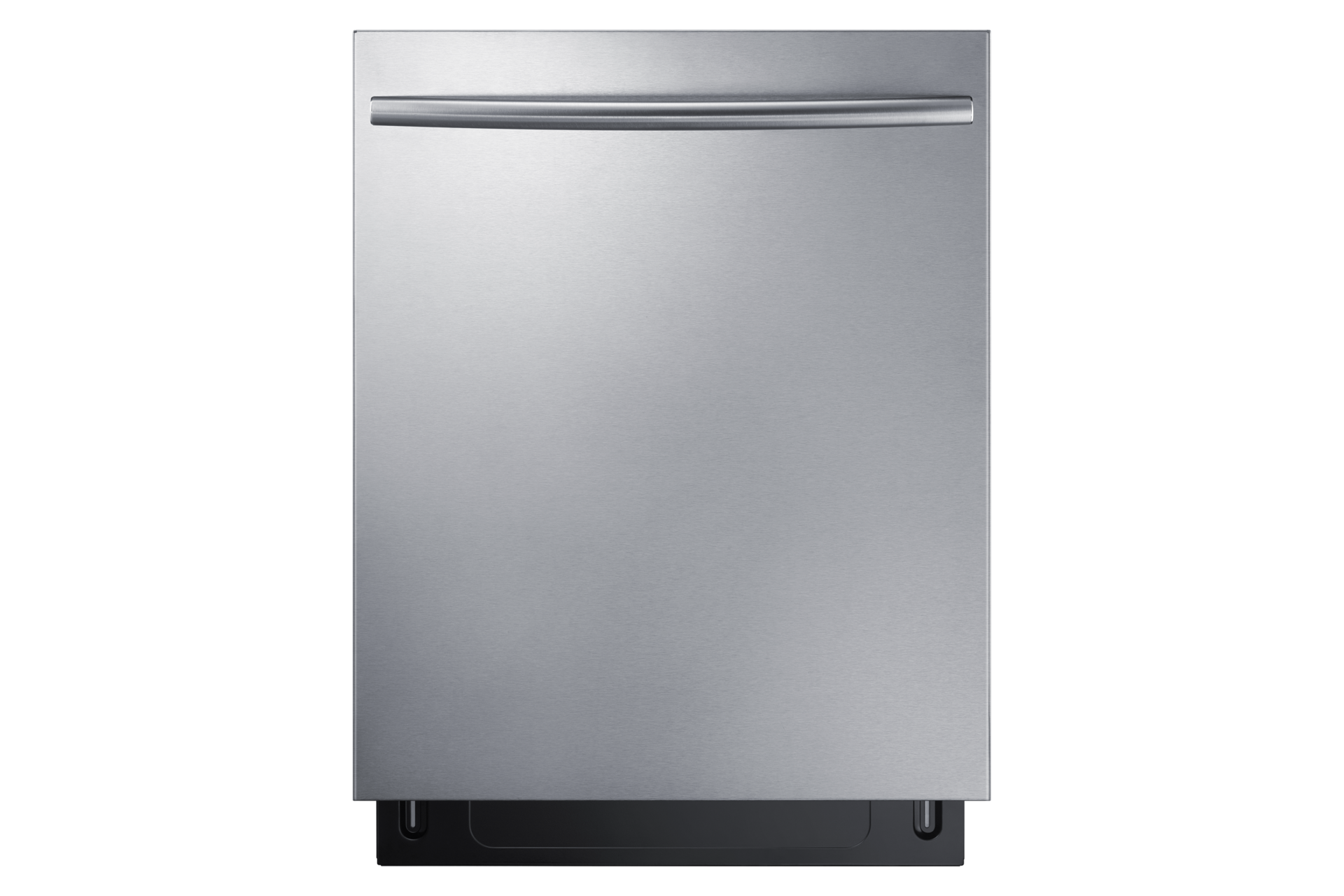 DW80K7050 Third Rack Dishwasher with StormWash
DW80K7050US/AC
DW80K7050 Third Rack Dishwasher with StormWash
is rated out of
5
by
17
.
Energy Star
Third Rack
Hidden Display
Ice blue
Display Light Color
Clean various dishes
The StormWash™ heavy-duty wash system gets the messiest pots and pans clean without pre-washing. An extra spray jet blasts water from every angle to clean heavily soiled dishes of various shapes and sizes.
Auto opens to dry faster
Enjoy sparkling clean dishes every time with the 'AutoRelease™ Dry' feature. At the end of a cycle it automatically opens the door to allow steam to escape, while a fan creates a curtain of air to protect your worktop.
More flexibility, more dishes
A 'FlexLoad™ Rack' makes it easy to fit in various shapes and sizes of dish. Its tines can be removed or adjusted, the upper rack moves up or down and a new lower rack handle design means less bending.
A quieter & more tranquil home
Its insulation technology is designed to create much less noise and disturbance. Its Noise insulation system absorbs sound and vibration when working, so it has the lowest noise level in its class, at just 44 decibels.
Check its status at a glance
The Light Indicator helps you intuitively know whether it's running, even if you're far away. The touch control panel's brilliant blue display is also easy to read and adds a beautiful visual aspect to your kitchen.
Load cutlery more conveniently
A 3rd Rack provides a dedicated space to place all of your cutlery and utensils. So items can be loaded and unloaded much more easily and it frees up to 30% more space than Samsung conventional two rack models*.
* Compared with Samsung conventional two rack dishwashers. Based on internal testing.
Easily save time and energy
Lower Rack setting gives you much greater flexibility as you can fill and clean the bottom zone only. So you can save time and energy by running a half load and have clean dishes whenever you want.
Simple fingertip control
An integrated Touch Control panel lets you select functions with a gentle touch. Located on top of the door for easy access, it offers simple and intuitive control and its ice blue display is clear and easy to read.
Ice blue

Display Light Color

Stainless Steel

Color/Material

Hidden touch

Control Type

Auto Door Open Dry

Dry System
Rated

5

out of

5
by
Tara
from
So very quiet and spacious inside. Beautiful design. Tara
Love this machine. Works extremely well. Have recommended it to others.
Date published: 2017-03-18
Rated

5

out of

5
by
bk-lazy
from
Amazing
I purchase the DW80K7050 after my Kenmore died. It has been flawless since we purchased it. The StormWash cleaned a pan coverd in chicken grease and chunks of who knows what stuck to it. The autorelease door is magnificent. It plays about 45 seconds of a song to let everyone know it is completed. However, it is not loud.... I cannot hear the music OR the unit running over my TV. Which is amazing... my other dishwasher was SO loud.... I'd have to turn the tv up... or run it at night while I was sleeping. I love love love love it.
Date published: 2016-11-02
Rated

4

out of

5
by
Manfromjam_1
from
Quiet and cleans great. No spot dry.
Very happy so far. Really clean dishes when done - even without storm setting. And quiet too. Dishes dry spotless
Date published: 2018-08-21
Rated

2

out of

5
by
Dckr
from
Quiet, Cleans well...when Working!
Purchased this dishwasher during an appliance remodel. Was very pleased with the quiet operation and does clean well. The top tray is great for large salad forks/spoons knives etc. Pots and pans don't fit well in bottom if you are trying to wash a full load. The biggest issue with this unit is the leak detection system, the dishwasher randomly detects a leak and the pump continues to run and will not wash. It started shortly after purchase 30 days or so. Looked for leaks but there were none. Tried resetting by trying off the power (at breaker) for 24 hours. Tried to run again by powering back up, but the same thing occurred. Called for warranty repair and powered off again so it would not run continually. A couple of days later a repair person came, checked for leaks but found none either. When they powered on dishwasher ran okay and said there was nothing they could find. I did have a video of problem but they could not find the problem if it was not ongoing. The issue has happened three times since but since it does correct itself after a day or so just leave it now. Would not buy again due to the unpredictablity of operation, we usually try to wash a full load, so now we are left hand washing a large amount of dishes at random times. The dishwasher is quiet was good features and cleans well. The problem is that it isn't available when we need it and appliance repair does not have a way to fix this design flaw. So I would recommend looking at a different product.
Date published: 2018-01-05
Rated

1

out of

5
by
Disappointed about this
from
Piece of garbage
I got this on sale too... when it was 1700 I got it for 1100 .. I had to take the top shelf out because nothing fits on second even with it out. You cant put big plates in the bottom or med plates on the top with rack out with out hitting the blades ... you have to lay it all down, so the water does not even get around well.. on top of that... it cleans like garbag since day one! Now only just a year later it's not cleaning at all. Sad I got the oven and fridge that changes freezer or fridge, for my new kitchen, so I was so disappointed on a cheap garbage like this!
Date published: 2019-01-06
Rated

1

out of

5
by
Katyaj
from
Worst dishwasher ever! Lemon from the start
Purchased an earlier version of this model 4 years ago. From the start it never cleaned dishes as well as my previous Bosch or whirlpool. First year the finishing knobs on the lower level came unglued and fell off twice. Second issue was the tub and sensor that controls water level became plugged giving a false OE error. That we fixed ourselves - thanks tube. Third issue was the mother board went causing motor to run all night after cycle ended. Could only be shut off by throwing the breaker. Third strike you are out Samsung! Will never buy this brand again as our Fridge is a lemon too!
Date published: 2018-12-20
Rated

1

out of

5
by
Brian G
from
Control Board
We bought this one because of reviews. Worked for 13 months then we started having issues. Kept saying water level was high. We had a person look at it and it was control board. Cost is $400. Basically we rented a dishwasher for 13 months.
Date published: 2018-12-17
Rated

1

out of

5
by
NoMore Samsung
from
Typical Samsung :(
Had it for 1 1/2 years now. It is quiet, a welcome change from our old one, which was about 15 years old. If you enjoy handwashing before AND after, this is the machine you need to buy. Makes no difference what detergent is used, it doesn't get the job done. It's impossible to clean properly and there's always a foul smell coming from it. Clean the screens, clean the spray arms, use a cleaner... makes no difference, nothing works - it smells like something died inside. Only enough room for 2 medium sized pots if you have 4 - 6 plates. Should have kept the old one... it wasn't a Samsung - so it actually cleaned and dried the dishes. After 15 years it still worked as well as it did when we first had it installed, never developed an ungodly odor.
Date published: 2018-12-17
Features and specifications are subject to change without prior notification.