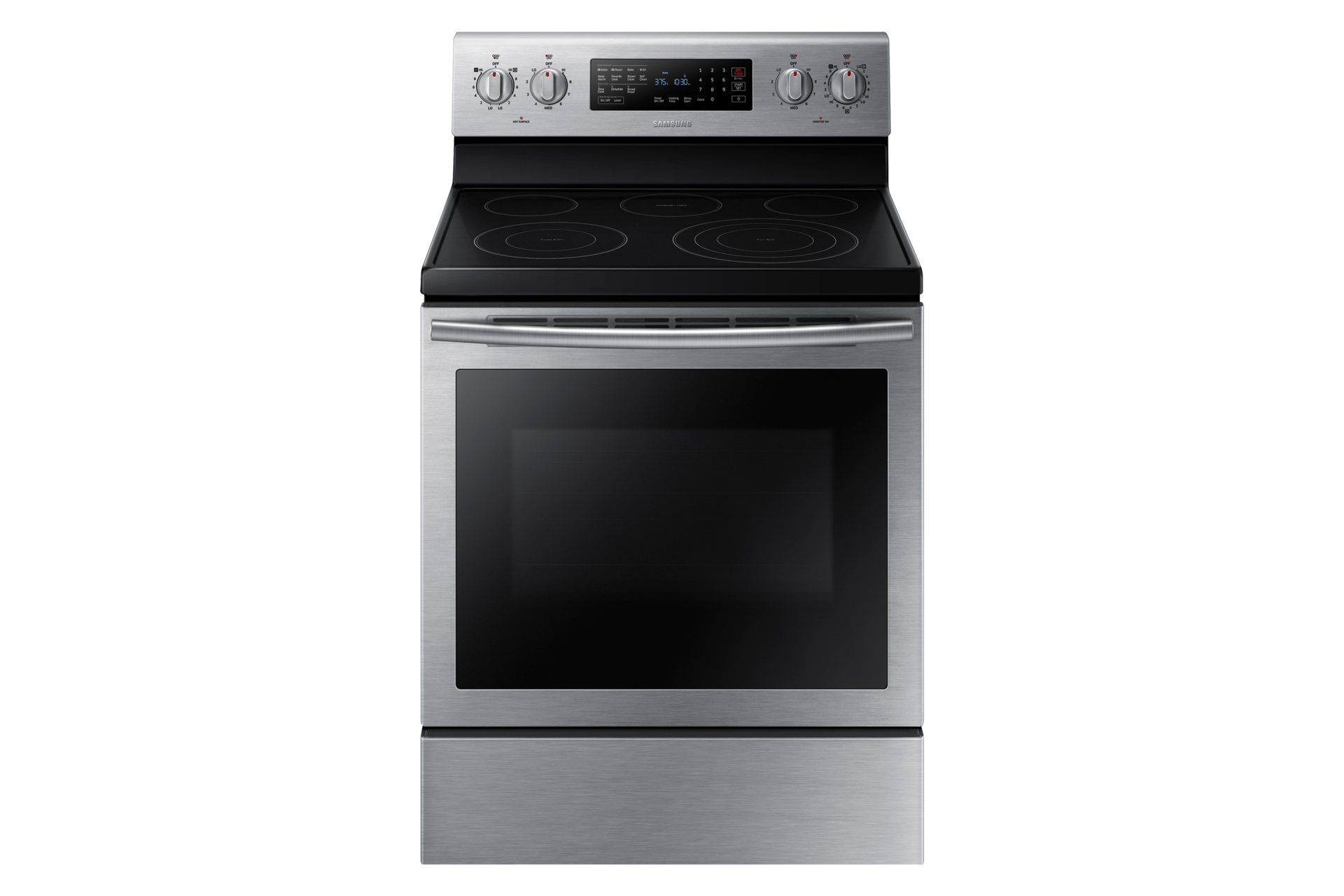 NE59J7630SS Electric Range with True Convection, 5.9 cu.ft
NE59J7630SS/AC
NE59J7630SS Electric Range with True Convection, 5.9 cu.ft
is rated out of
5
by
7
.
Touch Control
Self Clean
LED (Ice Blue)
Display Type
Powerful heat with precise control
The 3.3 kW Rapid Boil™ is the most powerful on the market. It offers intense heat and precise control – rapidly going from a low simmer to high heat for fast and even cooking, with surprising energy efficiency.
Fast and thorough cooking
A True Convection system cooks food faster and more evenly, so it's great for baking and broiling. A heated fan distributes heat all around the oven, so dishes are cooked thoroughly and you enjoy tastier results.
Convenient and precise controls
Its massive and premium looking metallic knobs are easy to grip, but electronically adjust the level of heat to ensure precise control. They offer a familiar user experience and are very intuitive and easy to use.
5 EA

Number of Burner

LED (Ice Blue)

Display Type

175 °F (80 °C) - 550 °F (285 °C)

Bake (Single)

75.4 kg

Weight (Net)
Rated

5

out of

5
by
Mamie
from
Oven clicking
Yes that is one thing that bothered me, at first. When I registered the stove the lady on the phone said that it's because the parts are new and should go away in 2 weeks. Well, 2 months later it's still doing it so I called Samsung back and they explained to me that that is normal. It's the relay. I always like to see the positive in things so here it is . My previous Kitchen Aid stove didn't have that clicking but I have on occasion forgotten to turn the oven off after use only to discover minutes to hours later that it was till on. The clicking may be annoying, but it will save on electricity as the clicking will be a reminder to me that it is still on. Lorraine from Orléans, ON
Date published: 2018-10-25
Rated

3

out of

5
by
Bobbins
from
Great Value...Except Repetitive Clicking!
This stove has the potential to be a great investment if you want great value for your money. It has many features (slow cook, bread proof, dehydrate, roast, steam self-clean as well as reg. self clean), plus the convection bake automatically adjusts regular bake temp. to convection bake temp.. It also looks very sleek in the kitchen. However, there is a constant loud clicking noise when oven is in operation, and apparently it's normal according to Samsung as it's "the elements heating", based on several other reviews. But it is quite irritating and disappointing considering most typical stoves do not make this noise, and it's a first for me. Because of this unfortunately, I have returned the stove to the wholesaler and have ordered a similar model up. Hopefully this is not a recurrent issue with similar models.
Date published: 2016-12-14
Rated

2

out of

5
by
LittleLou
from
If noise bothers you, I would not recommend this oven
I bought the Samsung Range NE59J7630SS because it had a sleek look and the RIGHT combination of features, for a good price. However, I ended up regretting the purchase. There are 2 issues: 1) Noise 2) Control Panel is Exposed NOISE When I started to use the oven, I immediately noticed that the oven made a clicking sound: click-click, then click-click-click. I thought maybe this happened just during preheat. However, the oven makes this noise using any oven feature (bake, roast), whether it is in the preheat stage or not. I have an open concept home, so I can hear the clicking in the living room, in the dining area and of course in the kitchen. It is very irritating! I phoned Samsung, and they determined that the clicking noise was not a malfunction. Rather, the clicks originate from the relay system, and the sounds were "as-designed". The company refused to acknowledge that the constant noise would in any way interfere with my enjoyment of the range. The company informed me that they offer a 30-day guarantee for defective merchandise. However, in my case there is nothing wrong with the unit, so they won't take my range back. CONTROL PANEL IS EXPOSED When I selected this range, I was shopping in stores that displayed ranges in very narrow aisles, and so I didn't get a view of the range from 10 feet back. Too bad for me. The first time I sat down at the kitchen table after receiving my new range, I immediately noticed that there is a gap between the cook top and the bottom of the control panel. The innards of the stove are exposed because of this gap. I believe the gap is there for venting purposes. However, I looked at other brands, and saw that their ranges either had no gap or very little gap. Samsung models looked worse. Again, I have an open concept home, so I can see the innards of the stove whenever I am sitting anywhere on the main floor of the house - the kitchen table, couch, etc. One more minor peeve: the buttons on the control panel require a very firm press. I find I have to press a button 2 or 3 times before it works. There is an annoyance factor to this issue as well.
Date published: 2018-03-16
Rated

1

out of

5
by
Liu Wu
from
Hot surface indicator light not turning off. Bad Q
hot surface indicator light not turning off. Disappointed about Samsung products. Bad quality!!!
Date published: 2019-02-20
Rated

1

out of

5
by
Unhappy Buyer
from
Cooktop Scratched on First Use
I've had this range for 1 week. The cooktop was scratched by a frying pan on my first use even though I was being very gentle. The second and third times I used the cooktop there were little scratches left by the pots even though I bought a new frying pan suitable for a glass cooktop. Also, spills leave marks and cannot be cleaned away even when using a special cooktop cleaning solution. I feel the cooktop is a bad design and cannot stand up to normal use. I bought a Samsung appliance because of their superior quality reputation and am very unhappy with this product. I would not recommend it.
Date published: 2018-12-19
Rated

1

out of

5
by
MAJR
from
Do Not Buy it
This is my first review ever. Please do not waste money buying this model. It start to break down after one year of purchase. Light stay on and regulators are broken and so on. Please stay away from samsung.
Date published: 2018-09-22
Rated

1

out of

5
by
Kent T
from
Do Not Purchase
The convection fan relays make a very loud clicking noise when the oven is on. Samsung have refused to acknowledge this is a problem so I cannot return the stove under warranty. I don't understand how this product was approved for sale, less so how the average rating is over 4 stars.
Date published: 2018-09-20
* Key feature may different from Key Spec