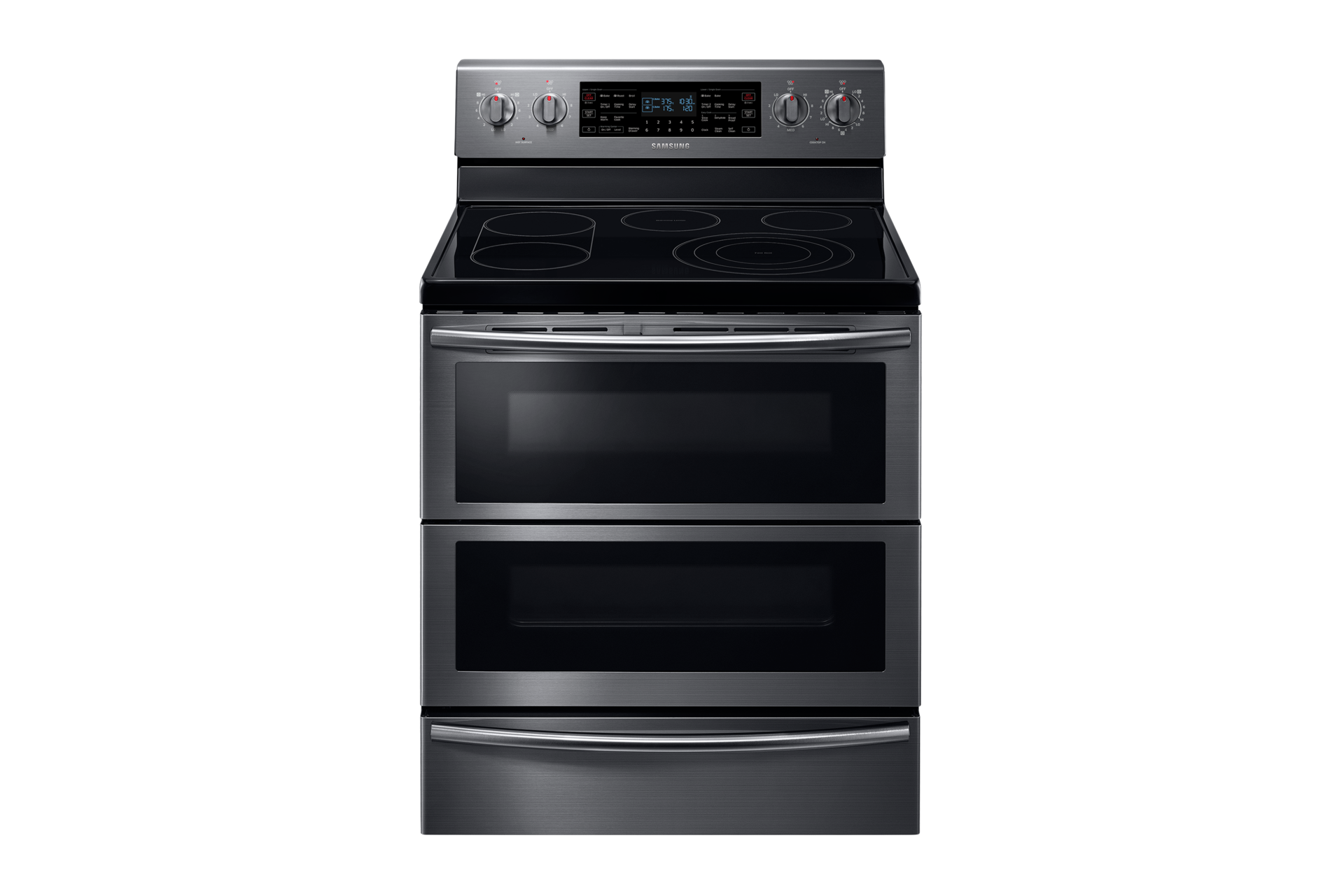 NE59J7850WG Electric Range with Flex Duo™, 5.9 cu.ft
NE59J7850WG/AC
NE59J7850WG Electric Range with Flex Duo™, 5.9 cu.ft
is rated out of
5
by
11
.
Soft Close Door
Self Clean
Flex Duo Technology
Three ovens in one
The Flex Duo™ system gives you ultimate control with upper and lower cooking zones that can be used independently or together – offering flexibility, while saving time and energy.
Easier, energy efficient oven access
A unique Dual Door is hinged in the middle, so you only need to open the top half to access the upper cavity. So you can use the Flex Duo™ capability much more easily and energy efficiently.
Simple to control your cooking
Has an ergonomically enhanced control panel with a clear blue graphic display and separately grouped buttons on both sides that control the top and bottom ovens, so it's easier to program and control your cooking.
Cook more dishes together
The Samsung oven's ceramic glass cooktop has a Bridge Burner that can be used as one long cooking zone. So you cook with various shapes of cookware at the same time and prepare everything much faster.
Convenient and precise controls
Its massive and premium looking metallic knobs are easy to grip, but electronically adjust the level of heat to ensure precise control. They offer a familiar user experience and are very intuitive and easy to use.
Fast and thorough cooking
A True Convection system cooks food faster and more evenly, so it's great for baking and broiling. A heated fan distributes heat all around the oven, so dishes are cooked thoroughly and you enjoy tastier results.
Keep cooked food perfectly ready
A Warming Drawer keeps dishes perfectly warm until you're ready to serve. And by helping you to manage the balancing act of preparing and serving multiple dishes, you're free to focus on the rest of the meal.
Rated

5

out of

5
by
macfinn2
from
great features and love the double oven!
We bought this oven and the rest of the kitchen appliances 3 yrs ago when we remodeled and have been very happy with samsung appliances. The double oven is super handy and we loved the black stainless look.
Date published: 2019-03-05
Rated

5

out of

5
by
Jessimica
from
Could not be better!
I am in love. This could not be a more perfect oven, the designers have really though of everything with this one. Thee fact that it can be either 1 or 2 ovens is brilliant and has certainly simplified my life as we tend to cook large amounts for the week on Sundays. The colour is just stunning!
Date published: 2016-06-11
Rated

4

out of

5
by
Frustrated
from
Love my stove, customer service is lacking
I have had my range now 6-7 months. Right from the beginning we had an issue with the temp being way off we called customer service and it took weeks for anyone to show up and he wasn't even given the right information about the issue do he had the wrong part. That was in January. We have called customer service 4 or 5 more times since then and have gotten no where. We called the service guy directly last week and he said he is no longer servicing Samsung because he has not been getting paid. I love the features of my oven, the double oven is the whole reason I bought this oven. We love to entertain our huge family for holidays. If the erratic temp was fixed this oven would be amazing. As it stands right now everything takes way longer at a higher temp to cook or it ends up completely undercooked if I follow cooking directions. I got this range close enough to Christmas that I did not have much opportunity to use it enough to know that I was going to undercook my turkey so I ended up having to cook it longer while everything else was ready..it was my third time hosting Christmas and I had 26 people in my house..I was completely mortified! I was planning on still replacing my dishwasher with the matching dishwasher when we replaced cabinets and my washer and dryer is due for an upgrade but with the issue we are having with the range and getting nothing but apologies from customer service I am at a loss as to what to do. I paid enough for it, I just want my oven to work properly or be replaced.
Date published: 2017-07-08
Rated

4

out of

5
by
Country cook of 50 years
from
unsure about the heat in oven
I have only had the stove for a month and while I am pretty happy with it , I am not sure why but it is taking a lot longer to bake in it than my last stove did. I think my last stove was always running too hot , but .... It has always taken me 20-22 minutes to bake cinnamon rolls and now it is taking me about 35 minutes. Does that seem right to you? Another thing is I cannot hear my fan running when the convection oven is on. Is that normal or is it not working? Maybe I am just not used to it yet. Also I like larger numbers on the clock myself and so this was a disappointment , I can no longer read it from my desk chair across the room like I am used to doing. I so love the fact that it has a plug in on the top of it for when I use my beaters on the stove. A lot of stoves no longer have this wonderful feature and you have to stretch a cord from another outlet when you make boiled icing or your soup puree machine. The glass top does scratch easily unfortunately, but they warn you about that and how to prevent it in the manual. I have just taken out another batch of cinnamon rolls a few minutes ago and although they took me longer to bake - 35 minutes and are not as dark as those in my old Kenmore oven, They seem well baked and not as dry. The pretzels I made earlier were baked at 475 for 8 minutes and worked perfectly. I absolutely love the dough proofer! The cooktop works well and the controls are easy to follow once you used them once or twice. The steam clean is a real bonus. I liked it better than conventional self cleaning ovens that burn stuff away. I spilled some food in the oven and cleaned it with the steam feature and loved it. After I get used to this a bit more I should review again. the price was reasonable and it looks great in the kitchen! I probably will recommend this stove to others but just want to be sure. I took one star off for performance and design just because of the reasons I gave already.
Date published: 2017-02-11
Rated

4

out of

5
by
TnMom
from
Love the Look
I went with the Black Stainless Appliances & there is not much selection or I would have looked over this more. The oven is beautiful but scratches very easy, hard to clean therefore what's the reason in buying if it will look bad after 1 month. I feel this is a design issue. I'm very careful with all of my appliances but by cooking on this should not result in looking so bad.
Date published: 2016-08-26
Rated

3

out of

5
by
Anonymous
from
Good stove, but hot surface light won't go out :-(
We have had this stove for almost 2 years and we like it, other than the hot surface light started acting up a few months after the warranty ended. Now it never goes out, so we really have no idea if the surface is actually hot, so this safety feature has now become a liability. I would have given it 5 stars if not for this issue. Seems like a common issue with Samsung stoves as it is all over the USA Samsung forum. Our old stove from other manufacturer work flawlessly for 14 years. Never had hot surface light issue and that stove is still working perfectly at the cottage.
Date published: 2018-10-14
Rated

3

out of

5
by
Not cooking tonight!
from
Not a reliable product
Spent a ton of money on this stove and love it when it works. Glass top scratches and cracked easily, control panel went bad in 18 months. You don't expect to have to replace parts regularly on a stove in this price range. My mother has a glass top stove from the early 80's that has been heavily used and hasn't had an issue in nearly 40 years. This one with low usage won't last 2. Shame on Samsung!
Date published: 2018-10-13
Rated

2

out of

5
by
Laddydi
from
I have the range and also bought refrigerator
Ihave problems because all the numbers are errasing after a use of 3 years and in those 3 years every 6 months we live in the states for the winter . As for the fridge it broke 3 times I bought a new one this year and its not a samsung that is for sure
Date published: 2019-04-15
* Key feature may different from Key Spec