NE59N6650WS Electric Oven with Steam Assist (Stainless Steel)
NE59N6650WS/AC
NE59N6650WS Electric Oven with Steam Assist (Stainless Steel)
is rated out of
5
by
7
.
Steam Assist
Illuminated Lighting Knob
3.6kW Express Boil
Wi-Fi Connection
Crisp & juicy food
Steam Assist
Get deliciously succulent and crispy baking results easily. Steam Assist heats water to a high temperature to fill the oven with steam. Food retains more natural moisture, so it's juicy inside, but nicely crisp and brown outside.
Intuitive control
Illuminated Lighting Knob
Worry less with the added peace of mind of the Illuminated Lighting Knob. You can easily check if burners are on or off at a glance, even from a distance. And they add a stylish, premium look.
Convenient control
Slanted control with large knob
The large, ergonomic design of the metallic knobs makes them easy to grip.The angled design and stainless steel finish of the Slanted control enhance the range's sleek, modern styling.It also ensures that the control knobs are ergonomically positioned for maximum visibility and convenience.
Powerful & flexible
3.6 kW Express Boil
Boil water or cook anything in a flash. A 3.6 kW Express Boil dual burner provides great power and flexibility. It has two concentric ring sizes, 6" or 9". So you can efficiently heat or gently simmer different sized dishes. Or turn it up all the way to boil water and cook food faster.
Simple to control
Wide Membrane
Select the functions you need much easily, without pressing too hard. A Wide Membrane display is very sensitive. It only takes a gentle touch to control every function. Its wide display screen with separately grouped buttons also makes it much easy to find the right program settings.
Sensitive & precise
Sensitive Touch Display
Enjoy simple and easy control. The Sensitive Touch Display features a new coating that offers enhanced touch sensitivity and precise finger recognition. So there is no need to press hard on buttons. Instead you can quickly and conveniently adjust the settings with a light and gentle touch.
Sleek, solid styling
Stainless Steel Edge Frame
Enjoy a stylish new design that fits harmoniously with modern kitchens and improves usability.The Stainless Steel Edge Frame large cooktop surface. It also looks elegantly sleek and stylish.And its smooth and durable edges mean it can fit safely and neatly into your existing kitchen.
Large Capacity
5.9 cu. ft. Large Capacity
Create more variety and cook larger dishes with a massive 5.9 cu. Ft capacity oven. You can cook a variety of different types of foods with two wire oven racks.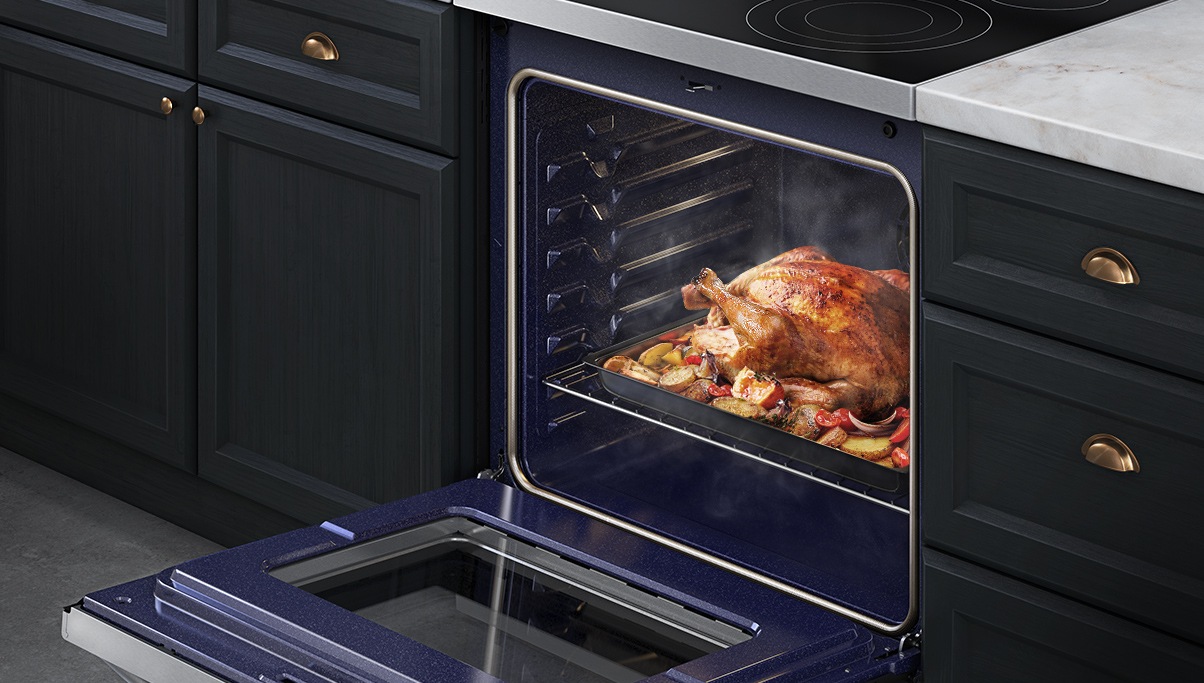 Fast & even cooking
True Convection
Save time and cook food more evenly with a True Convection system, which is great for baking and broiling. A heated fan distributes heat all around the oven and keeps the temperature constant everywhere. Dishes are cooked quickly and thoroughly and you can enjoy tastier meals every time.
Remote monitoring
Wi-Fi Connection
Enjoy greater peace of mind with Wi-Fi Connectivity.You can remotely monitor the cooktop using the App*. It lets you check if the burners are on when you're not home and saves time as you can remotely set the cooking timer and receive real time alerts.
* Available on Android and iOS devices. A Wi-Fi connection is required.
Keep neat with heat
Self Clean
Keep your oven brilliantly clean without any time-consuming scrubbing. A Self Clean system heats the oven cavity to a high temperature to burn off any grease and residue left from cooking. So it is completely clean inside with just some finely powdered ash left that you can easily wipe away.
5 EA

Number of Burner

Freestanding

Type
Rated

1

out of

5
by
Bad Pandemic purchase
from
Never buying Samsung again!!
After 15 years I had to replace my range. A few years back I bought a washer/dryer combo from Samsung and then a couple of years ago a Samsung overhead microwave. When my range bit the dust my husband and I decided to go Samsung as we have been relatively happy with our previous purchases. Unfortunately, it was the worst mistake we could have made. After only a few weeks and little usage of the oven as it was bbq season, I decided to bake a couple of chicken breasts. Unfortunately, when I pulled the dish out of the oven it slipped and some of the grease from the sun dried tomato sauce spilled. After dinner I used the self cleaning feature. Needless to say the grease splatter did not come off the bottom of the compartment nor the glass. I then used Steam Assist hoping that would help....it didn't. I have stains on the bottom of the compartment and scrubbed the glass so hard that it left scratches! A technician was sent. He advised me that the oven was heating to the right temperature and there was nothing he could do. I guess this is how they check to see if the compartment heats up to the appropriate temperature when using the self clean? I also showed him the stovetop. There is something on one of the elements that can not be removed. Scared to scrub as I don't want to scratch. White markings that identify size of element is already rubbing off. I also have noticed that the stove top becomes hot to touch when using the oven. As my kitchen reno was 15 years ago I will eventually need to replace the fridge and the dishwasher as well. We definitely will not be looking to purchase Samsung. Got sucked into 4 year extended warranty on the range. Trail Appliance, where we bought the range is doing nothing to rectify the problem. Overpriced, performance is poor and Samsung could care less! Lesson learned!!!!
Date published: 2020-09-09
Rated

3

out of

5
by
Kdder
from
Not to Expectations
I have had this stove since September now, I guess the most honest thing I can say is I would buy a new stove if I could. The stove is ok just some things I can not figure out like boiling water!! The Front Right element has a mind of its own. It is a duel element that will not boil water unless you go high heat on both elements. You turn down the heat and it get hotter you turn it up the single element and it just cycle almost at the boiling temperature, it is just all over the place. It has Wifi but can't figure out the time automatically. I haven't used the oven very much but seems to work as expected
Date published: 2020-08-09
Rated

1

out of

5
by
Suezl
from
No qa for product?
Bought this and the warming drawer was built in too close to the oven door. When you open the oven door the bottom edge will completely scratch the warming drawer as it opens. Just even opening the warming drawer is a nightmare as it gets stuck and you have to forcefully try to pull it open or close it. Did no one open any of the doors during qa??
Date published: 2020-06-30
Rated

1

out of

5
by
Rich
from
Don't Buy This For the WiFi Connectivity
The WiFi connectivity is terrible. It is satisfactory, and in the instructions, that if you open the over door, the Smart Control is disabled, but what's not in the instructions is that if you turn the oven off with the app, it also disables Smart Control. Can you imagine having a remote for your TV that doesn't work once you turn the TV off? It's exactly like that. If the software is updated, I will change my review, but I spent extra for the Smart Control feature, only to find out it is essentially useless.
Date published: 2020-06-30
Rated

5

out of

5
by
Geno
from
Great Product
I am happy with this product except for the Smartthings App which does not work, we have reached out to them quite a few times and still hasent been resolved, last time we reached out to them never heard anything back, pretty dissappointed with not being able to use this feature.
Date published: 2020-05-16
Rated

1

out of

5
by
naz7
from
Don't waste your money
Bought it the same stove had to make two service calls already for the main board and now the stove top cracked for no reason(thermal crack), even supposed to be under warranty and they didn't honor it saying it's cosmetic , what a shame.
Date published: 2020-05-05
Rated

1

out of

5
by
————-
from
Bad oven
Problems in the first six weeks Oven not working after self clean feature used
Date published: 2019-02-07
How It Stacks Up
Steam Assist

Illuminated Lighting Knob

3.6kW Express Boil

Wi-Fi Connection
Large Capacity

5 Burners

Self Cleaning

Wide View Door
* Key feature may different from Key Spec