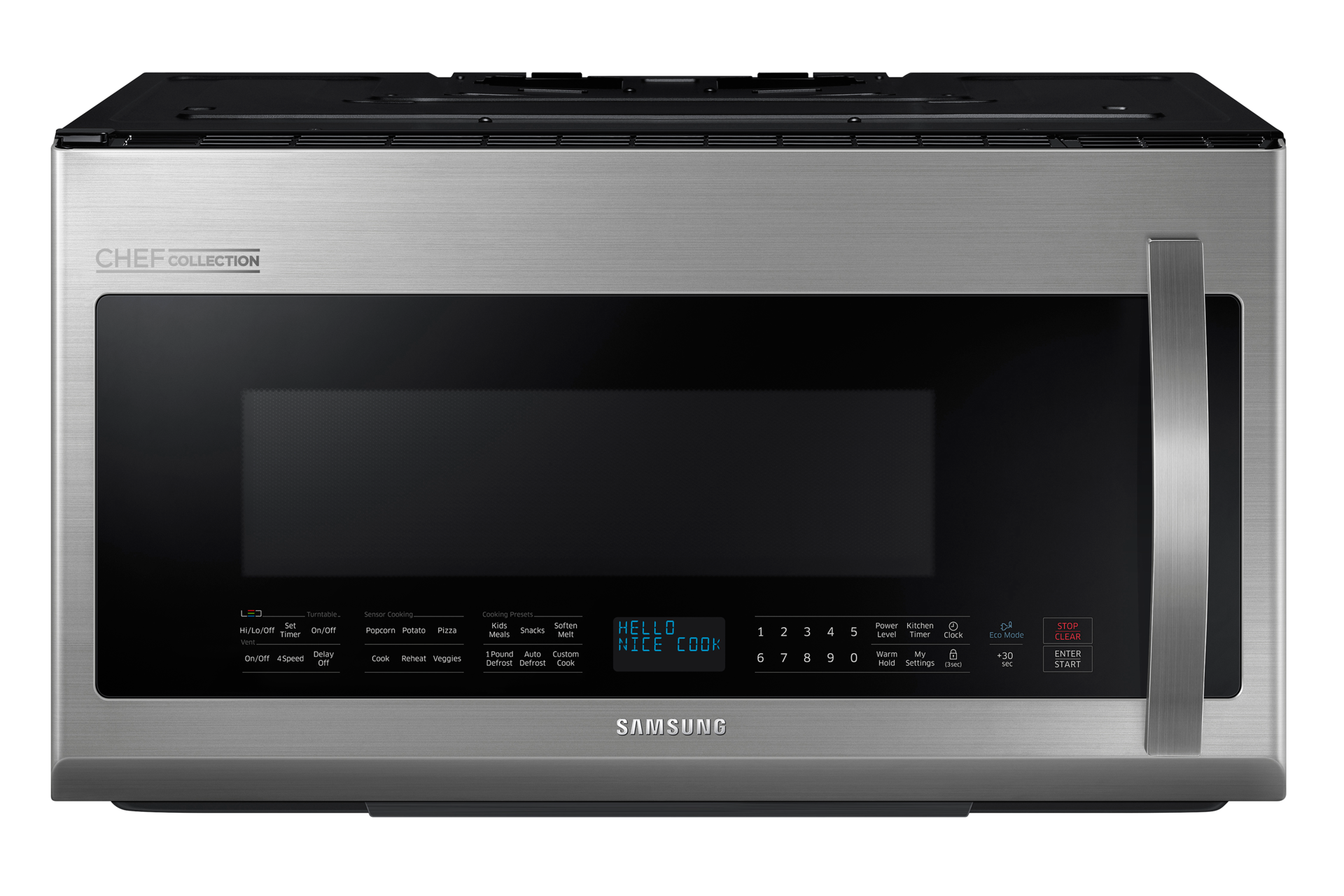 ME21H9900AS Over the Range Microwave with Grease Procleaner, 2.1 cu.ft
ME21H9900AS/AC
COOK WITHOUT WORRYING SMOKE AND ODORS
As professional chefs know, proper ventilation is essential to ensure a comfortable and healthy cooking environment. With the Samsung Chef Collection Over-the-range's power ventilation system, you can cook without worrying smoke and odors. Its amazing 430 cu. ft. per minute suction capacity gets rid of steam,fumes and odors from the kitchen extremely quickly and quietly. So it can clear the air in a 1400 sq. ft. room in just half an hour.
EASY TO CHECK AND CLEAN
The Samsung chef collection over-the-range's Grease ProCleaner makes it easy to maintain professional quality cleanliness in your kitchen. Located underneath and at eye level, it's easy to see when it needs cleaning. This reusable filter quickly pops in and out of the main body with the touch of a finger and can be easily cleaned in your sink or you can pop it into your dishwasher to give it a thorough clean.
SEE MORE, SAVE MORE
The Samsung Chef Collection Over-the-range's dual LED lighting makes it easy to see what your cooking by evenly distributing light over your entire cooktop. And despite being noticeably brighter than traditional incandescent or halogen lamps, LED lights consume less energy and last longer than, so they also help you save money on your monthly energy bills and the cost of replacement bulbs.
NO MORE SCRUBBING OR SCRATCHES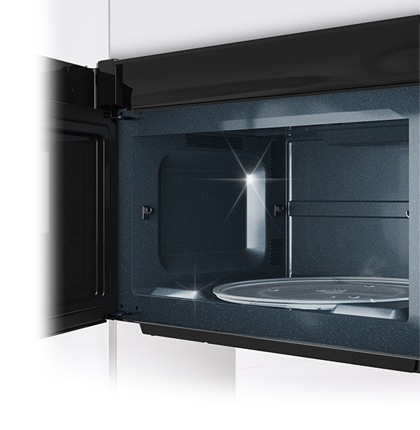 The Samsung Chef Collection Over-the-range's durable CERAMIC INSIDE™ is easy to keep clean and scratch-free. The smooth surface of the ceramic interior can be cleaned without scrubbing and won't discolor over time due to high temperatures or oil and grease residue. The cavity is also highly rust and scratch-resistant, providing a long-lasting, superior quality performance, compared to normal stainless steel and epoxy interiors.
* Key feature may different from Key Spec