DW80N3030US Dishwasher with third rack
DW80N3030US/AA
DW80N3030US Dishwasher with third rack
is rated out of
5
by
5
.
Easily load cutlery & optimize space
Easily check and control with one touch
More durable, stain resistant Hybrid Tub
Easily load cutlery & optimize space
3rd Rack
A 3rd Rack provides a dedicated space at the top for small and light items, such as cutlery and utensils. It also frees up more space in the rest of the dishwasher for other items.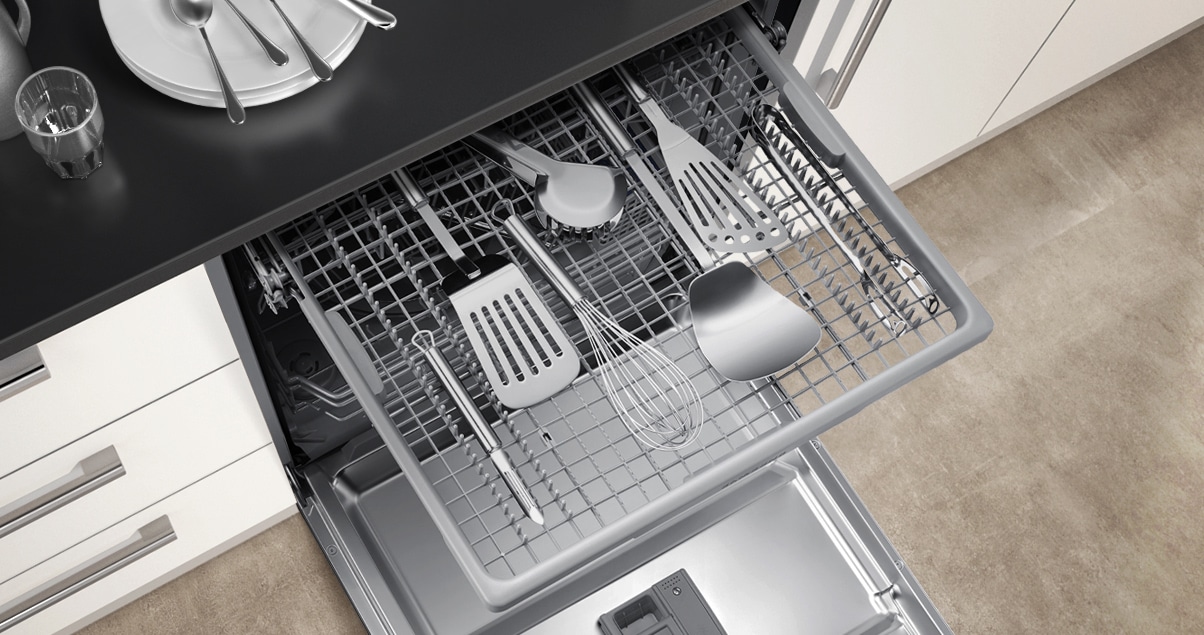 Easily check and control with one touch
Touch Control
Take control with one touch using a fully integrated Touch Control panel with soft touch technology. Located on top of the door, you can easily select functions with a gentle touch and intuitively check the status of each cycle. It also creates a modern kitchen style with a clean, minimalist look.
Durable, stain resistant Hybrid Tub
Hybrid Tub
Keep your dishwasher looking like new. The hybrid tub featuring a stainless steel door interior is durable, quiet and clean.
Rapid water leak detection & protection
Leakage Sensor
Leakage Sensor is located below the dishwasher so it detects small traces of water. If any leaks are found, it stops the cycle, drains the water and shows an error message.
Easily fit in taller and wider dishes
Height Adjustment
The Height Adjustment feature allows the upper rack to be moved up or down by an extra 2 inches to create more space in the lower rack. So cleaning tall pots, wide platters and oversized plates is no longer a problem.
Cleaner dishes – automatically
Auto Cycle
The Auto Cycle feature ensures that your dishes are cleaned efficiently. It detects how dirty they are and then automatically selects the optimal cleaning cycle.
Less noise. Less disturbance at home.
Quiet operation
The Hybrid Tub, with a stainless steel inner door, is designed to create less noise. It absorbs much of the sound and vibration when it's working, so it operates quietly. At 51 decibels it is quieter than a normal conversation.
Certified energy & water efficiency
ENERGY STAR
Become more environmentally friendly, while also spending less. The dishwasher is ENERGY STAR® certified. So you save money using less energy and water with each cycle without sacrificing performance or functionality. Its exceptional energy efficiency also reduces the impact on the environment.
Rated

1

out of

5
by
MamaOf3
from
Incredibly Disappointing
I just recently installed this as part of a kitchen renovation. I was SO excited..but have been SO let down. 1. There is no rinse only cycle. 2. If it is stopped mid-cycle (say, by a child's wandering hand) there is no restarting it where it left off. 3. It is super sensitive. I have started it, stopped it, and turned it on just by brushing it as I walked by or leaned over it. 4. The heated dry cycle is useless. 5. It just doesn't clean as well as my old one. I would return this if I could. That should-be-amazing third rack that was so enticing is just not worth it.
Date published: 2019-05-18
Rated

1

out of

5
by
ScottishOne
from
Horrible Piece of Equipment
Put the Samsung DW80N3030US Dishwasher with third rack in our Brand new kitchen, I wish I had never heard of it. On our 2nd repair in less than 2 months of having it. It gets half way through a wash and it quits.
Date published: 2019-06-25
Rated

1

out of

5
by
Trish99
from
Terrible
I bought this dishwasher because of the utensil rack and i needed a new dishwasher. Very disappointed...the items on the utensil rack do not get washed properly, and my/ my husbands/ guest "hips" keep turning on the dishwasher all the time. That's so annoying. I know about the feature for locking the keypad, however it shuts off after an hour. I need to return this dishwasher now.
Date published: 2019-06-24
Rated

1

out of

5
by
Loveblackstainless
from
Not at all what I expected!
I purchased this dishwasher a couple of months ago and had it installed professionally, first of all that thing is not quiet! Second the red zone did not clean my casserole at all, my cups were not cleaned as good as my 10 year old Kenmore washer and there is still water inside even though the whole cycle was done a few days ago. I really need to know if I am supposed to pay the whole thing dry myself....? I wouldn't recommend this to a single person!
Date published: 2019-05-08
Rated

3

out of

5
by
TubeSwarn
from
Decent dishwasher but hate front controls
This is a decent dishwasher but warning to the buyers out there who are planning to buy any dishwasher with touch buttons in the front. The touch is quite sensitive and gets turned on when your pelvis touches the buttons when you are leaning towards the kitchen counter top. You cannot lock the controls without turning it On. Also this is too early to tell how it is performing. My last GE dishwasher lasted for 8 years without any trouble. It was still working when I replaced it with stainless steel Samsung to match my other appliances. I hope it lasts longer.
Date published: 2019-02-25
Features and specifications are subject to change without prior notification.